We love our gadgets, don't we? Each year, we get to witness a series of new tech launches and developments being rolled out to the market. (The next moment, we see ourselves browsing an online catalogue for the 'next' device to complement the other devices, most probably, that we are currently using.) In this modern day and age, technology is almost inseparable from one's daily life. According to the statistics on BankMyCell, the number of mobile users in the world today is 6.648 billion, as of October 2022. This means, approximately 83.32% of the world's population owns a smartphone. (Cover image credit: eslbrains.com)

Image 1: According to Statista, the number of smart phone users in the world reaches 6.648 billion (as of October 2022). Source: Statista / BankMyCell
And in these two years, with the pandemic taking the world by storm — particularly during the lockdown phase — the number of time people spend on their phones and tech gadgets, connected to the internet has spiked tremendously, as well. In addition, GWI's ongoing survey of internet users around the world also reveals strong growth in the adoption of smartwatches and smart wristbands over recent months.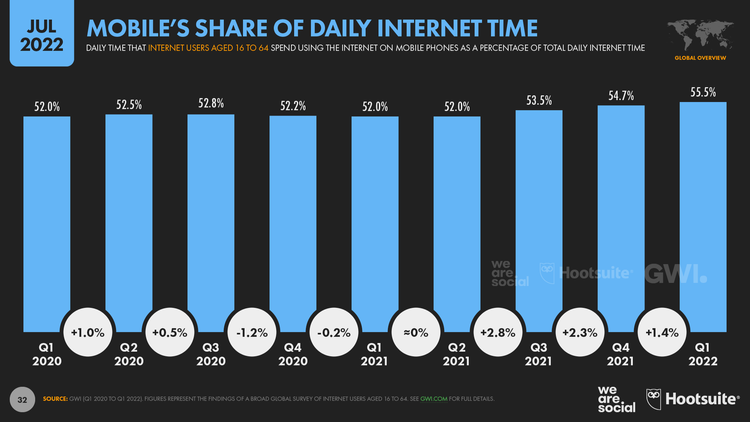 Image 2: One of the top takeaways from the survey by Data Reportal reflecting the daily time spent on the internet. Source: "Digital 2022 July Global Statshot Report" (We Are Social / Hootsuite)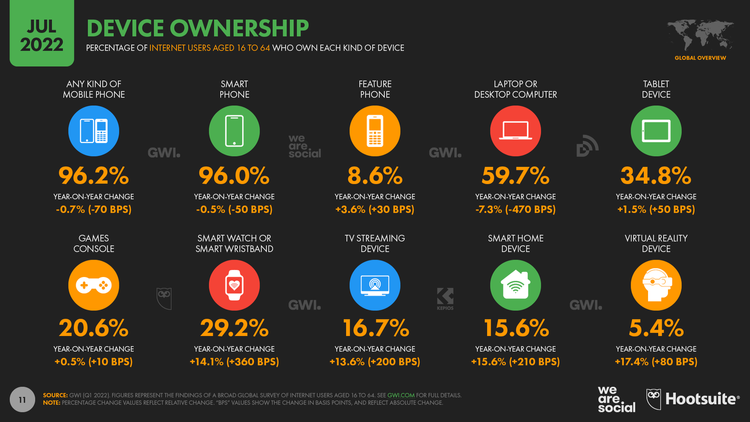 Image 3: The survey by Data Reportal shows the breakdown of device ownership. Source: "Digital 2022 July Global Statshot Report" (We Are Social / Hootsuite)
Reflecting on the stats from these surveys, it goes on to reveal just how relevant and impactful tech or mobile gadgets would be, by incorporating them in your list for promotional gift items. The market for promotional and branded merchandise and gifts is ever changing. In order to keep yourself on track with the pace, you need to be up to date with the latest tech gifts that are popular, or 'in demand'. When paired with well-planned marketing campaigns, the selected tech gift can be used to your company's advantage.
Appealing to a wider audience

Tech gadgets have always been a gift item that almost no one would say to. Whether it is to express your appreciation towards your clients, or a "good job, well done" gift to reward your employees, tech or mobile gadgets make a brilliant corporate gift that's perfect for any occasions. And in recent years, the volume of corporate gifting has also increased. A survey conducted by Coresight Research revealed that 66% out of 300 corporate givers (sampled in May 2021) claimed that the reason they opt for corporate gifting is to keep employees motivated (during the pandemic). On other hand, 59% hoped that corporate gifting could improve the relationship with their clients or prospects — keeping them connected.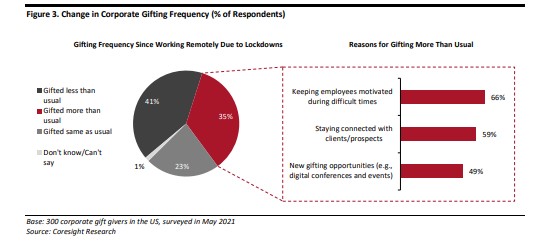 Image 4: A research study depicting the frequency and reasons of corporate gifting in the US, 2019 – 2020. Source: "Unwrapping the American Corporate Gifting Opportunity"/Coresight Research
From adding a personalised touch to providing your clients with gifts that carry genuine utility, corporate gifting is a warm gesture to convey your appreciation and gratitude. At DTC World, we are always looking for ways to make corporate gifts more meaningful and memorable — for your recipients. We believe that corporate gifts can be fun, useful, and more importantly, engaging. Let's face it, electronics are the way to their heart — so, we have compiled a selection of some cool tech gadgets and accessories for you to give!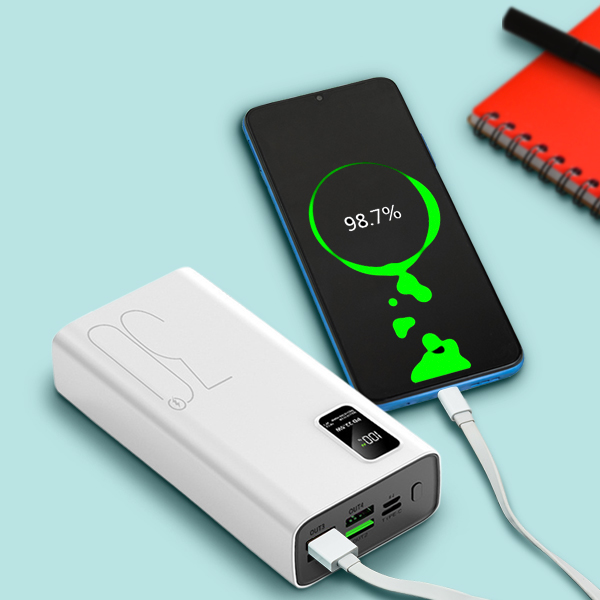 This portable charger keeps your gadgets fully charged with any of the 3 types of cables. The built-in intelligent safety system ensures complete protection for you and your devices — including over-heat, over-charge, over-discharge and short-circuit protection. Sleek, easy carry, and convenient. A perfect gift for unlimited gamers, for camping, hiking and all kinds of fests — making sure you're all charged up, whenever you're on the go.


Listen to your favourite music 'wire-free' with this bluetooth speaker. Small in size, but surely loud in sound. Stream effortlessly from your smartphone, or connect it to your audio devices via the AUX port. Featuring a subtle print area to capture your logo — this portable speaker makes an ideal introductory gift for your prospects, or highly prized complimentary gift for your marketing campaigns. Simple, yet unique, with a variety of colours to choose from.


Keep your workstation neat and tidy with this durable desktop organiser. Its multi-compartmentalised design displays convenience and practicality — from holding mobile phones or tech gadgets to smaller stationery pieces, like notepads, sticky notes or office clips and pins. Ample print space to incorporate company logo or a personalised text. An ideal item that's worth considering to include in your new employee welcome kit, or as a complimentary gift to accompany your next tech product launch.
Want to delight your clients or employees with corporate gifts like these? Visit us and learn how to pick your ideal gift — because corporate gifting can be impactful, practical; without feeling boring!


A good phone mount in your car is an essential accessory for any vehicle that doesn't have a built-in navigation system. Choose from the two types of phone mounts: mounts that attach to your air conditioner vent or mounts that attach to your dashboard or windshield. Either one, you could effortlessly customise it with a company logo or a personalised text, for corporate branding. Small and portable, this handy gadget makes a cool promotional swag gift piece for your customers during your next campaign.


Slim, foldable, and a 'barely there' presence — this mini laptop stand is ergonomically designed with comfort and practicality in mind. Effortlessly raise your notebook to get the most comfortable viewing position, for easy watching and typing. Available in durable plastic or aluminium alloy for a stronger lift and sturdiness. A cool gadget to be given away to customers as an introductory gift in your promotional swag or 'welcome onboard' kit.
could be something you opt for.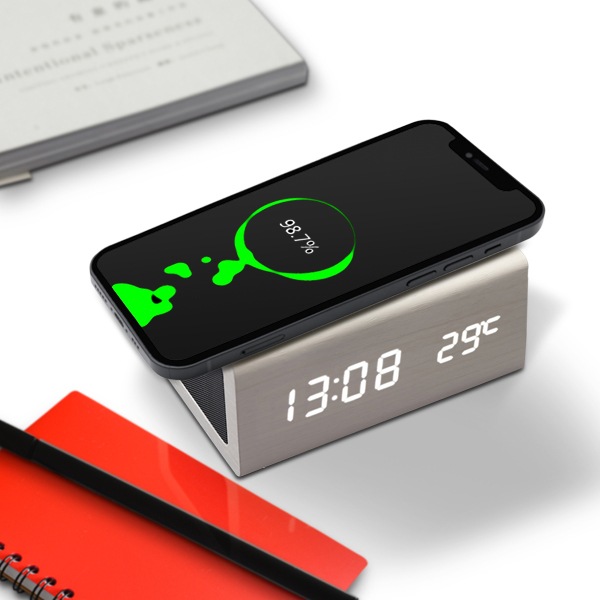 Looking for an eye-catching accessory to furnish your room, office space or retail counter top? This digital clock with wireless charging functionality may be something you want to consider. A simple and sober design that exudes a lot of personality — this gadget will surely stand out with its presence and functions. Brilliant as a corporate gift for clients or a promotional swag item during any events or campaigns — add a logo for a touch of exclusivity to your corporate branding.
What's in: Trends to look out for when picking the right promotional tech gifts for your business


New and innovative tech devices are constantly heightening consumers' day-to-day lives in unexpected ways. It can be big and bold, like a 100-inch 8K television set, or sleek and portable, like the latest generation of smartphones, wireless speakers, and watches. With endless options to pick from, how do we know which ones make the ideal gifts for our customers? Hare, we share some of the major 'criteria' which you could use when deciding the perfect tech gift for your next marketing campaign:-
– Gifts items made of environmentally-friendly materials are a big trend at the moment.
– Choosing gadgets that are more sustainable shows that your company embraces greener values in its brand.
– When selecting a company gadget, always consider 'who' the receiver is.
– Choosing a tech gadget showcases a sign of innovation; indicating that the company is up to date with the tech wave; while keeping its clients constantly in mind.
Image 5: A research study depicting the frequency and reasons of the corporate gifting in the US, 2019 – 2020. Source: "Unwrapping the American Corporate Gifting Opportunity"/Coresight Research


Designed with a comfortable soft surface that is nice to touch while optimising the precision of the mouse, this personalised mouse pad also features a 10W wireless charging pad (for use with your compatible devices). Its portable design (30cm x 22cm) makes it convenient to carry around. Not to mention the flexibility to incorporate your preferred design and company logo — in full colour printing — is sure to draw attention to your brand.


Your perfect travel accessory to ensure your tech gadgets are well charged. Great for home, work or travel, this wireless charger (weighing less than 120g) can be folded (when not in use) to fit in your pocket or bag. Its built-in safety features enable the right charge to be delivered to each device, protecting the batteries from overheating and overcharging. Compact, portable and very convenient — impress your customers with this tech gift during your next corporate event or campaign.


Designed with water-resistant fabric material that is breathable and soft — offering a superior protection to your laptop and other items from dust, scratches and spills. Light-weight and fashionable, this laptop case is perfect for working and daily usage. Ample personalisation space for logo or text, make it an exclusive gift for a promotional campaign or corporate event.


Here's your "one cable to rule them all' charging companion for your devices — at one go. To top it off, its flat design makes sure the cable stay tangled-free always. Embedded with multiple charging connectors and is effortlessly retractable — this cable is highly portable and convenient with a built-in phone stand. Durable, sleek and cool all the same time. A must–have tech gadget that makes a brilliant corporate gift!


When it comes to electronics and everyday carry, a tech organiser bag helps keep your techy valuables secure, tidy — and easy-to-manage while you're on the go. No more fishing things out of the bottom of your bag, and no more chargers going MIA. Standing at a compact size (24cm x 17cm), this storage organiser is a worthy alternative to your regular bi-fold organisers, much thanks to its dedicated compartments and portability.


Hold your mobile phone steady in place with this magnetic holder which mounts to the side of your laptop. Its adjustable bracket makes dual screen viewing even more effortless. Easy retract and release, the magnetic attachment also comes in handy to hold your earphone. Convenient to store in your laptop bag — less space, less worry, more productivity! An ideal tech gift for an event or conference.
Closing Thoughts

Regardless of the type of corporate gift ideas you choose, it is best to keep it useful, purposeful, and impactful — all while being fun. Never lose sight of the overall purpose of your corporate swag (gift): to leave a memorable impression on your target recipients. Put a little thought and effort into the swag items, you will be surprised by the delight on your client's face when they receive it. If you are looking for more gift ideas and inspirations to 'wow' your clients this year, speak to us and our team is ready to spruce up your gifting experience.
More ideas and inspirations for your perfect corporate gifts:
Top 8 Bluetooth Speakers for Corporate Tech Gifts

12 Unique End of Year Corporate Gifts That Say the Perfect "Thank You"
Take Corporate Gifting Up A Higher Level With Unique Leather Gifts!
Best Corporate Gift Ideas for Different Industry Themes in 2022