Cork is one of the planet's most sustainable materials. Every decade, the heavy bark of the cork oak can be stripped off from the cork oak tree through a skilled trade that's passed down over generations. Once the cork natural material is harvested, the biodegradable cork material can be used to produce an array of cork products, including manufacturing of bags, wallets, wine stoppers, accessories in the fashion industry, and furniture, to name a few examples.
What is Cork Fabric Made of?
The extraction of cork fabric starts with harvesting of cork, where the outer section of the bark of the cork oak tree is peeled back to reveal the inner cork. Because the tree's outer bark has the ability to regenerate, this can be accomplished without causing any damage to the tree. In fact, some believe that harvesting cork can actually help to lengthen the life of the tree.
Once it's 25 years old, the cork can be harvested every 9 to 12 years without causing permanent damage to the bark. In the cork oak forests, for the average cork oak (which can reach 200+ years old), 16 harvesting sessions can sustainably take place.
In addition, no machines are necessary for the cork harvesting process. It only requires a simple axe to accomplish this, ensuring no damage is inflicted on other plant species in the forests, and biodiversity is maintained.
After the cork is harvested, it's laid out to dry for about 6 months. Then, the cork is boiled in water, flattened, and molded into whatever material it will be used for. Typically, it's rolled until extremely flat and thin, then supported by a fabric backing (usually cotton, polyester, or polyurethane).
Is Cork Eco-Friendly?
Not only may cork be harvested without causing harm to the tree, but the cork production is also significantly less harmful to the environment. When it is extracted or processed, it does not generate waste, and it does not contribute to air or water pollution. It does produce wastewater, but it may be returned to the environment without causing damage.
Due to the versatility of cork, even when scrap cork is produced, it can be reused by other businesses. If this does not occur, the material can be returned to the environment because it is 100 percent biodegradable and compostable.
Is Cork Sustainable?
To answer this question, consider the sustainability of the cork tree itself.
One of the benefits of using cork is its ability to remove CO2 from our atmosphere. When cork is harvested, the tree is left intact, allowing it to continue its carbon dioxide sequestration function.
While it is re-growing its bark, it actually consumes more carbon than usual, making cork a carbon-negative product, removing tons of co2 from our environment.
As a result of its sustainability nature, many companies are considering cork-based merchandise as a great choice for their promotional or corporate gift. Below are some unique cork-based merchandise that we have complied for you.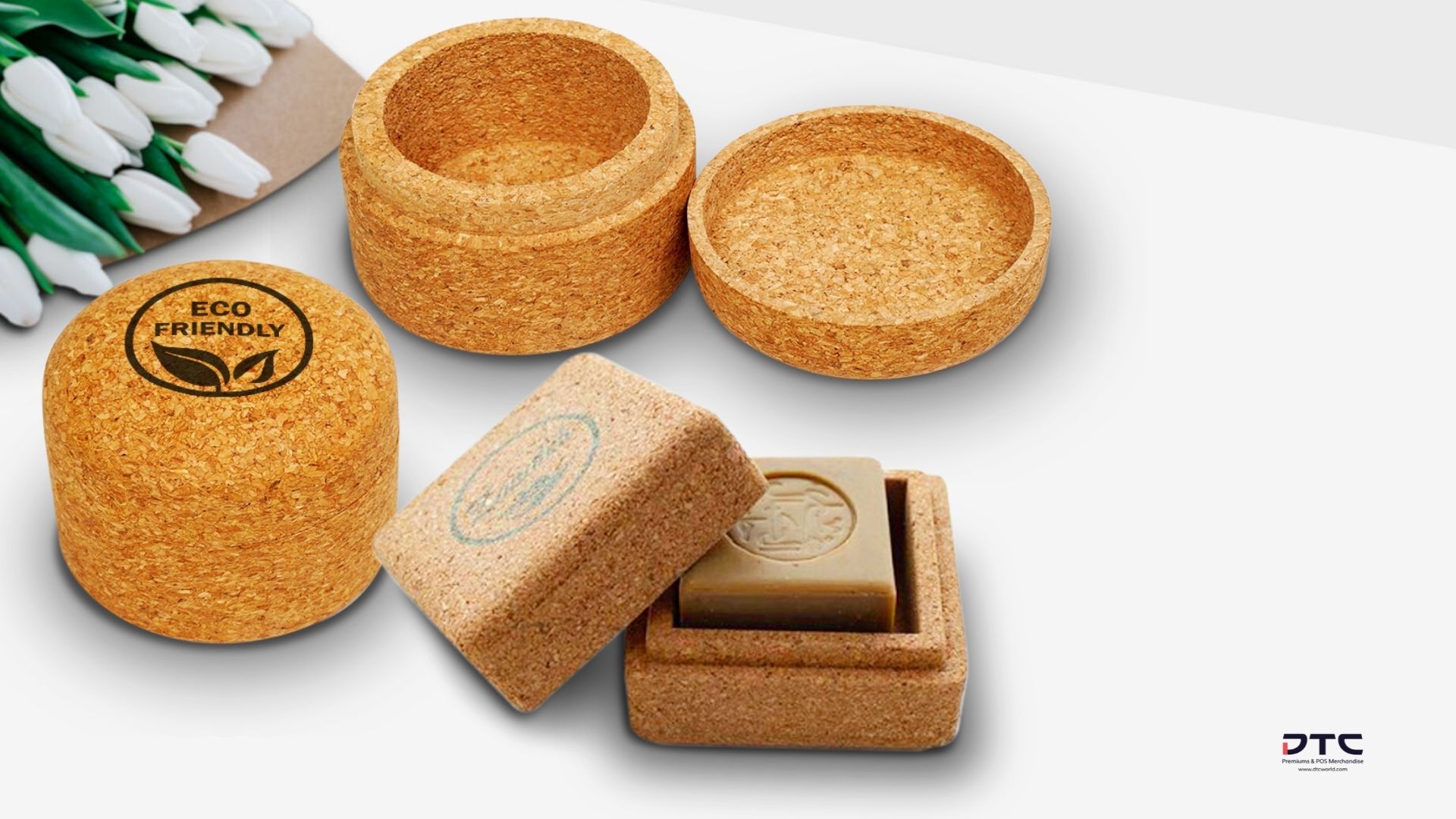 This unique cork box looks spectacular. It's a great container for storing soap and small accessories. We use full color UV printing to add your brand logo or custom design. Utilize it as your next sustainable material promotional gift.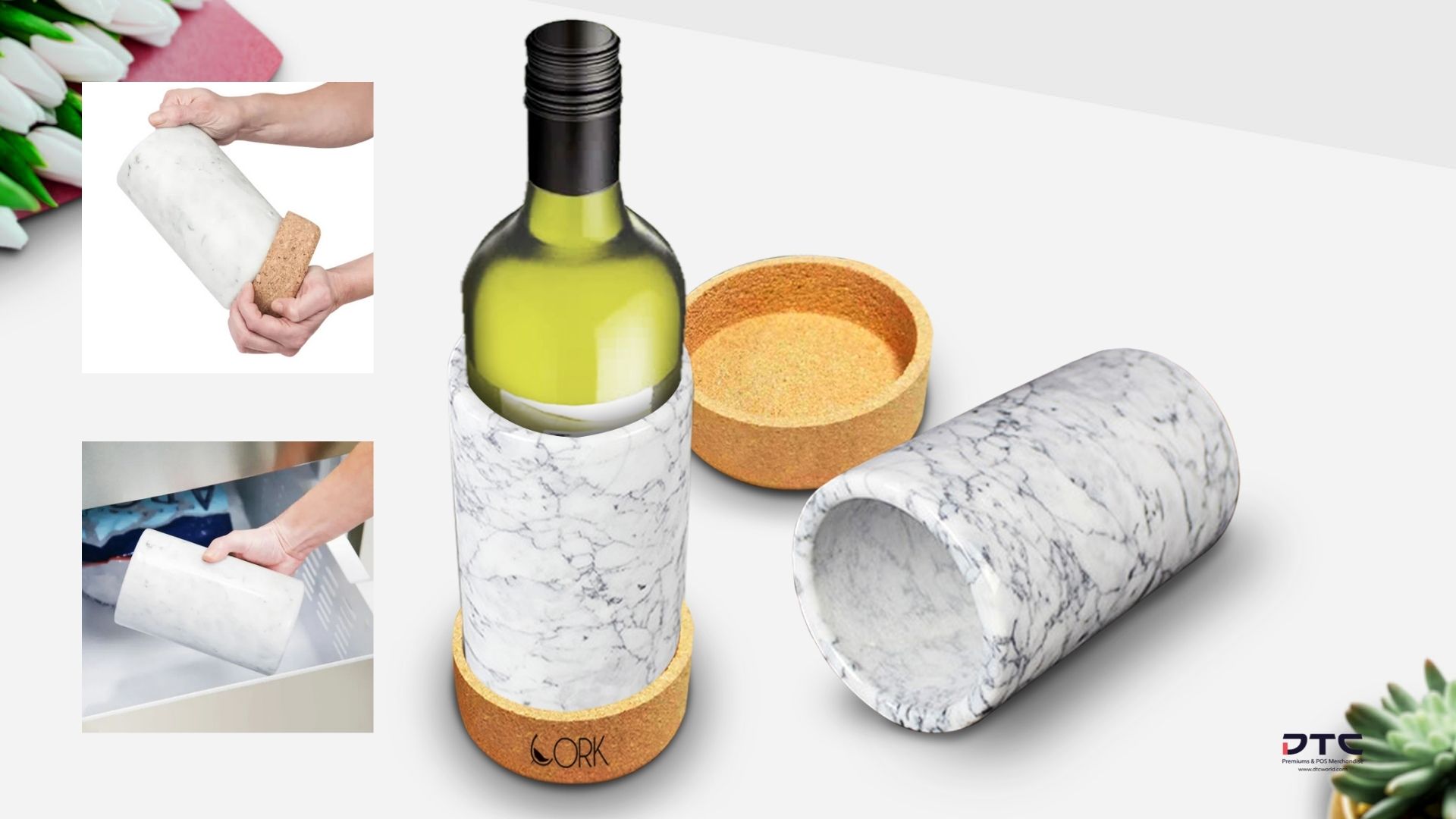 This gorgeous Marble and Cork Bottle Chiller will keep your favorite wine chilled for hours! Just freeze the marble and insert your favorite bottle for extended chilling time. A great promotional gift for the wine industry.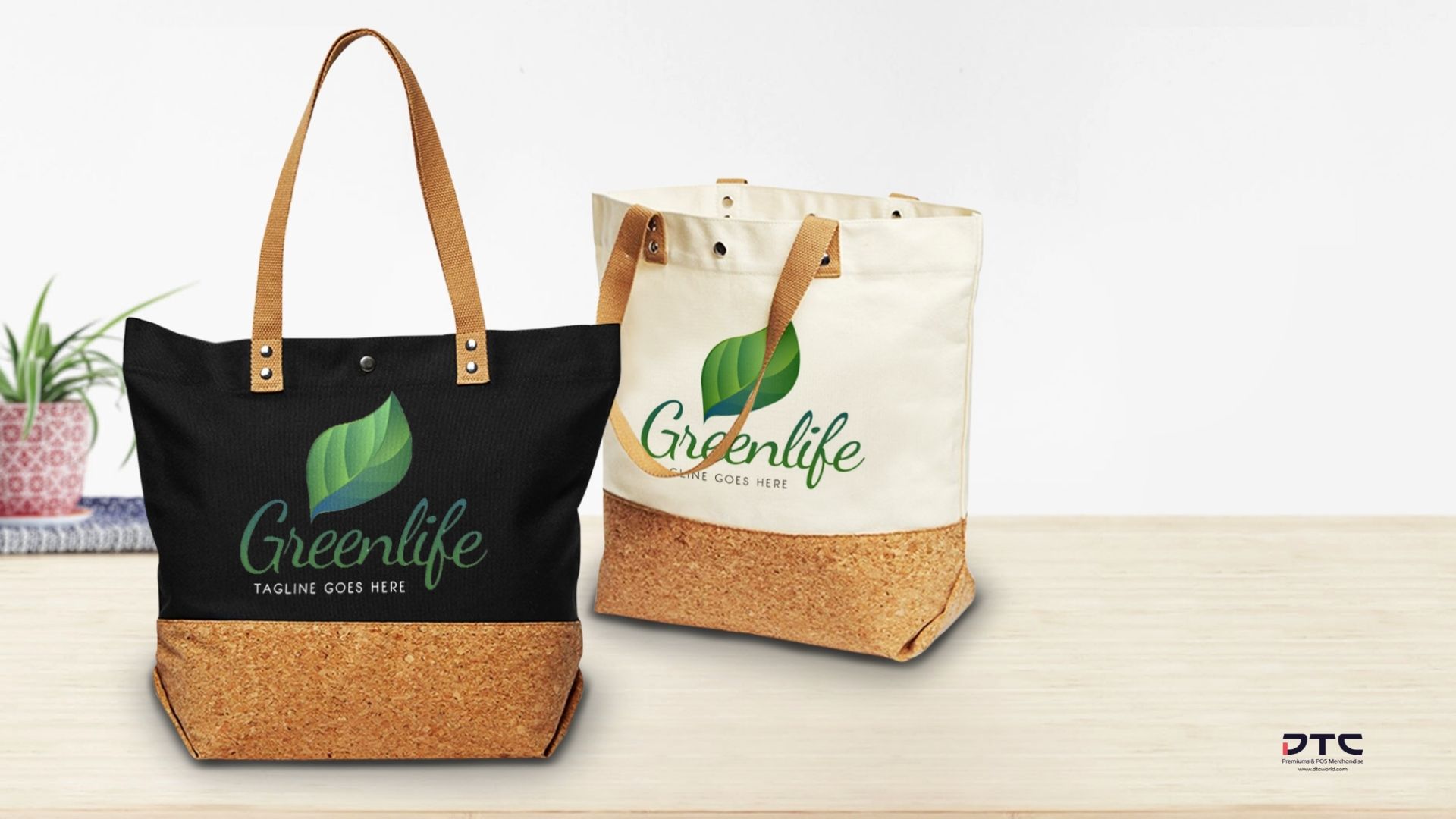 Large open tote bag made of 12 oz. Cotton Canvas with Cork base. Add your brand logo and message; ready to be given out as a sustainable and durable gift.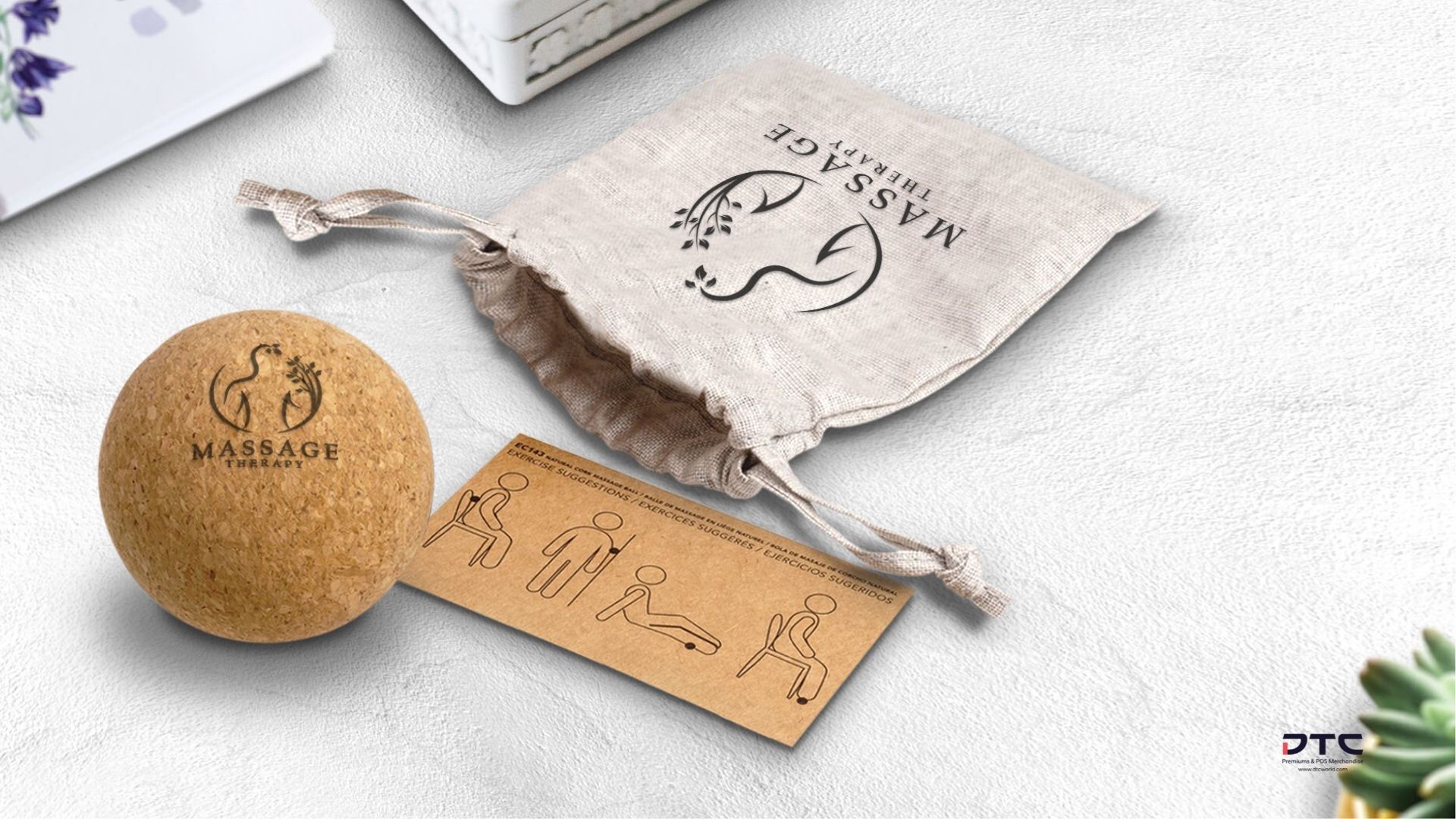 The natural cork massage ball is the ideal companion to release muscle soreness and tightness after long hours spent in the office or after a workout. When not in use, store the massage ball in the included drawstring pouch. Show your love by gifting this eco-friendly gift to your employees or customers.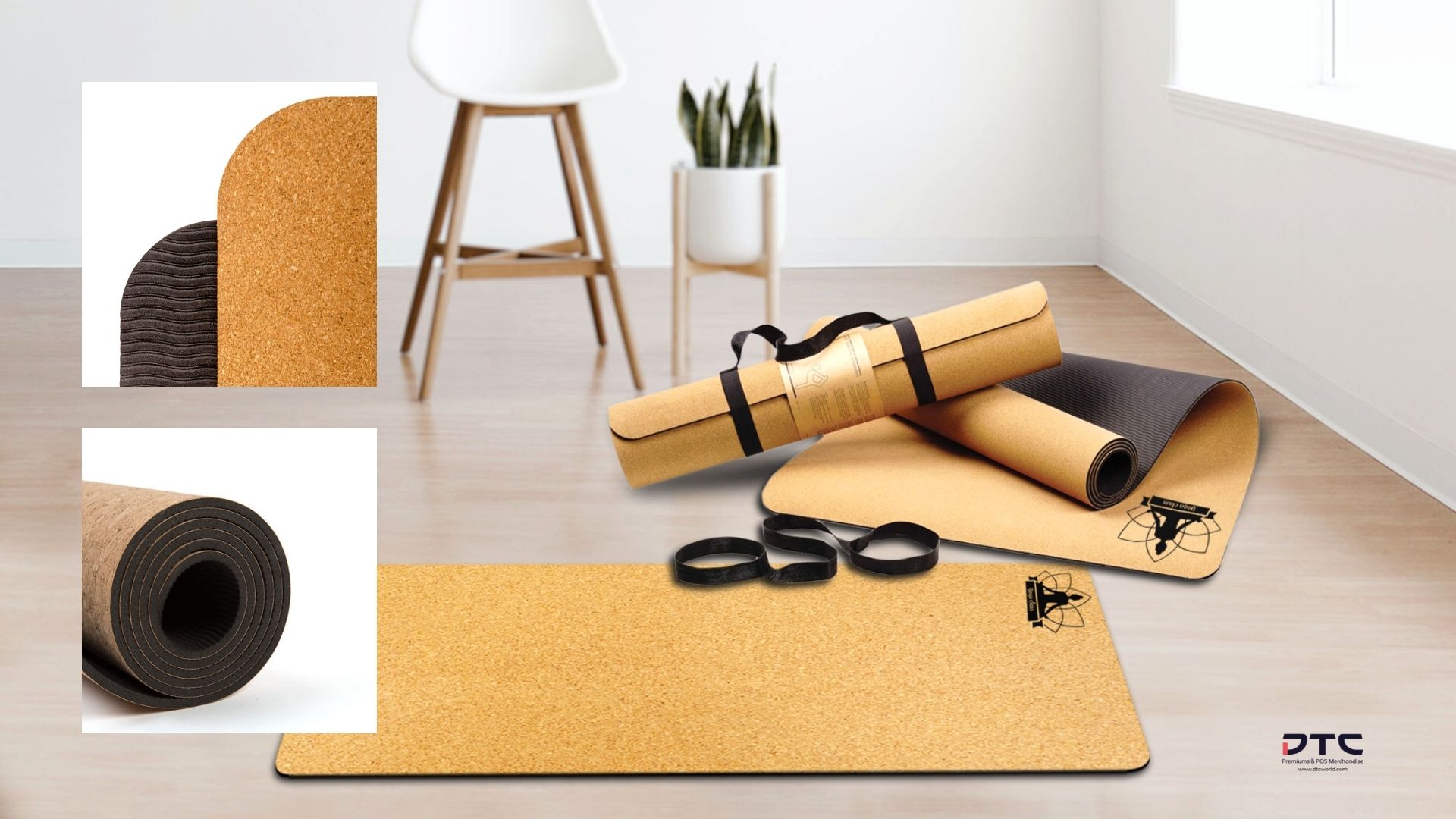 Lay it all out on the cork yoga mat! The top layer of the mat is made from natural cork which provides good cushion, grip and traction, while the soft, anti-slip backing is made from TPE. Cork is naturally and organically antibacterial, which provides the perfect clean and healthy surface for your yoga session every time. Showcase your branding with silk screen printing. Ideal sustainable gift for fitness brands and eco-friendly products.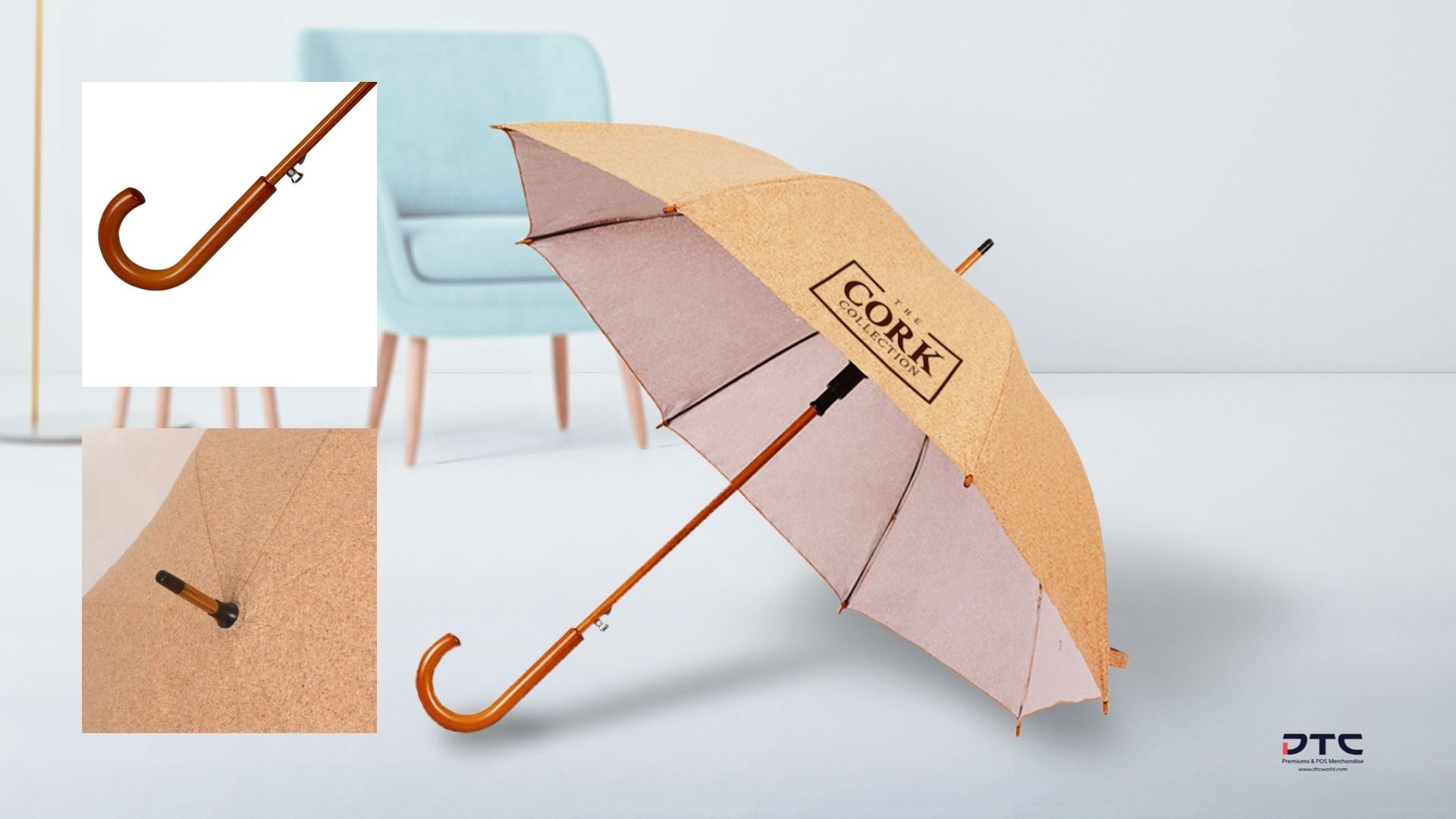 Water resistant Cork umbrella with wooden shaft and handle. A sustainable alternative material for making umbrellas. Automatic opening. Sustainable gift idea that is functional and practical.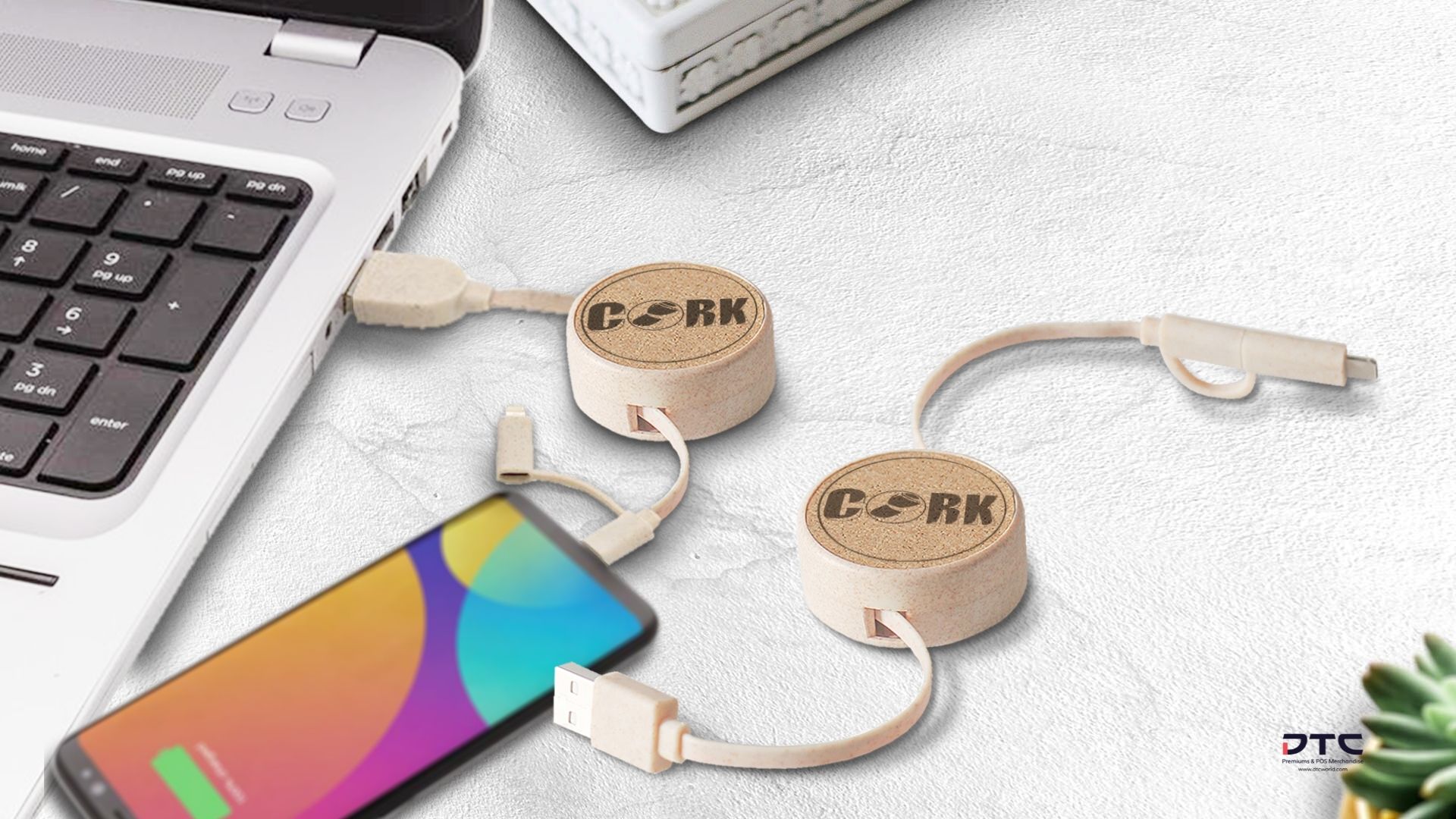 This tangle-free retractable cable extends to 100cm and retracts conveniently for storage. Made from cork with wheat straw. This cable is the ideal onboarding employee gift or as a trade gift.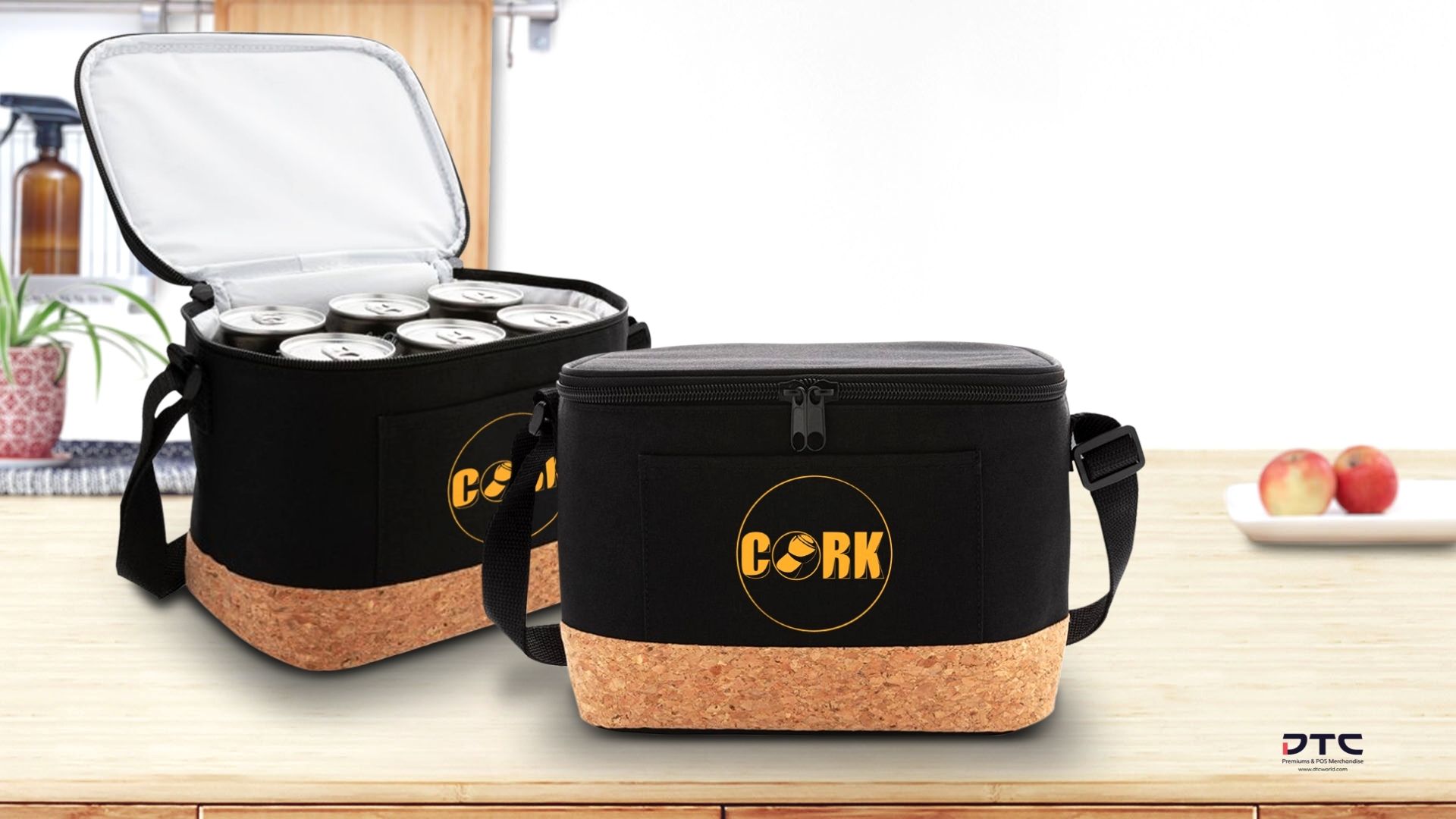 Generously sized, duotone cooler bag made from 600D polyester and natural cork. With a combination of two different materials, this cooler bag has both a contemporary and natural look. The lining is made from 100% PEVA. Supplied with a handy carrying strap. A terrific promotional gift for beverage brands.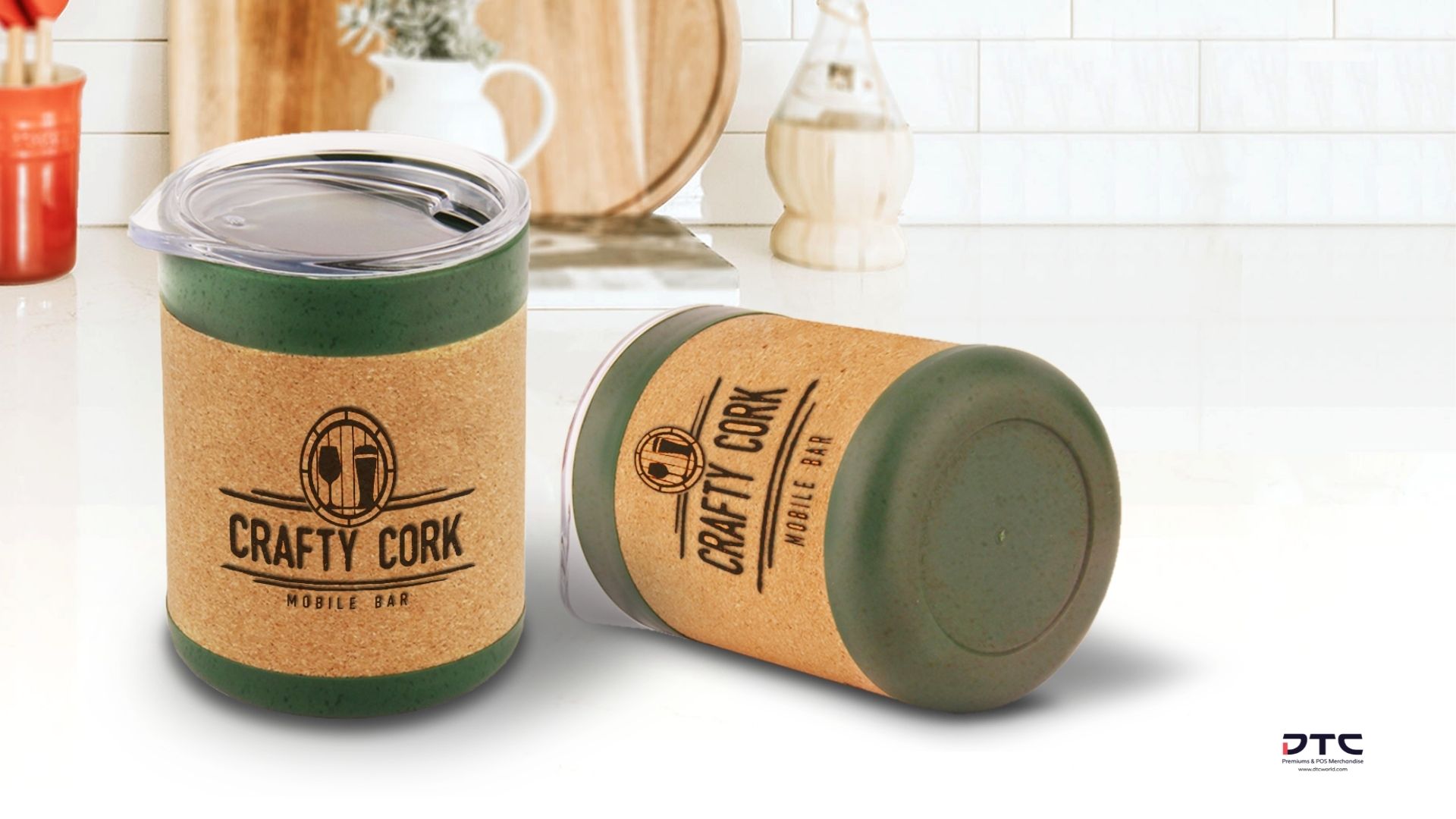 Reduce your daily waste and contribute to the preservation of the environment by using this environmentally friendly wheat straw cork coffee cup. Perfect for your next marketing campaign if you are considering a sustainable gift.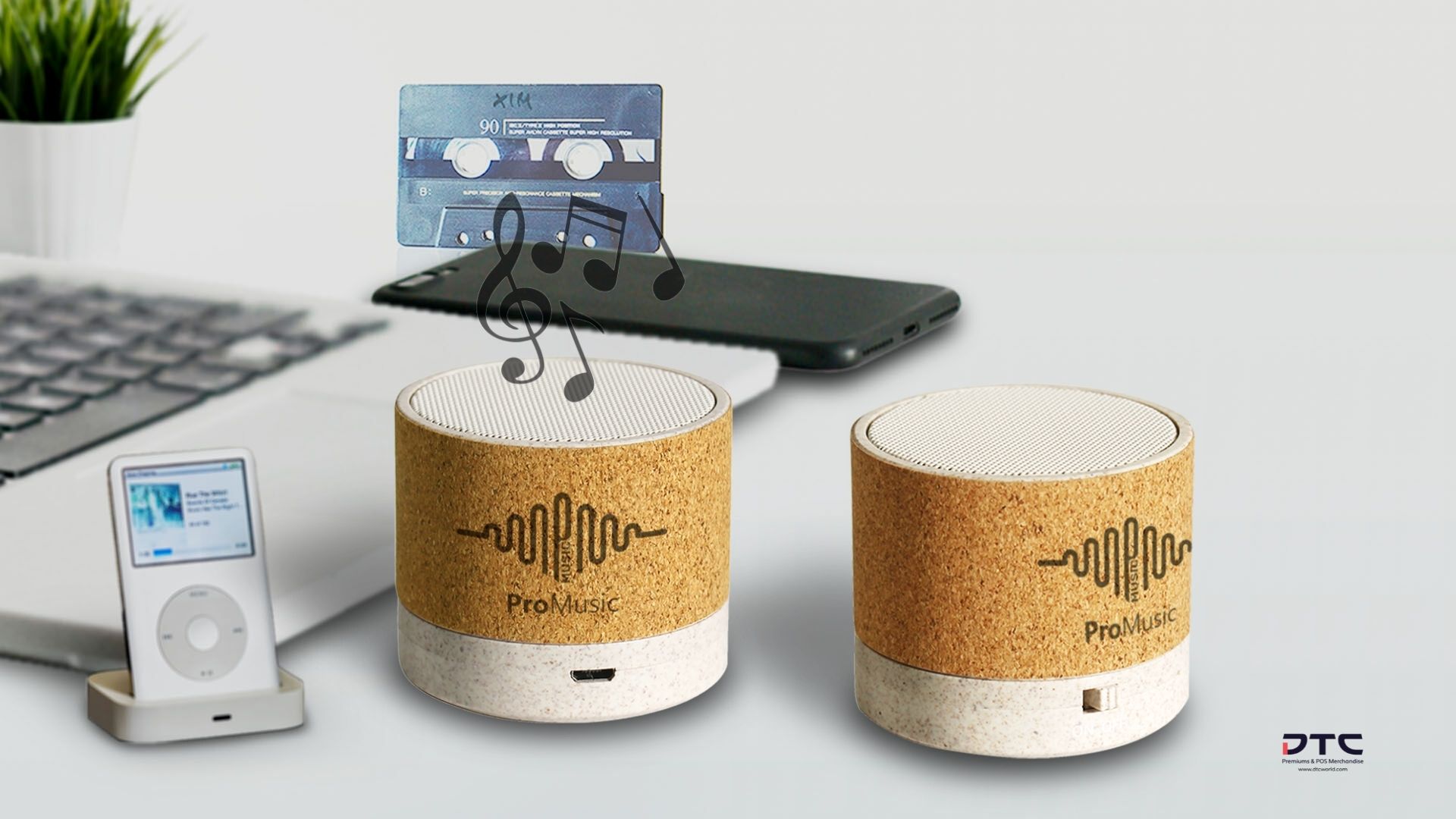 Enjoy music on the go with this Bluetooth speaker! Compact and portable design. Made of wheat straw and cork, it is sturdy, long-lasting, and not easily cracked. Ideal for corporate gifting!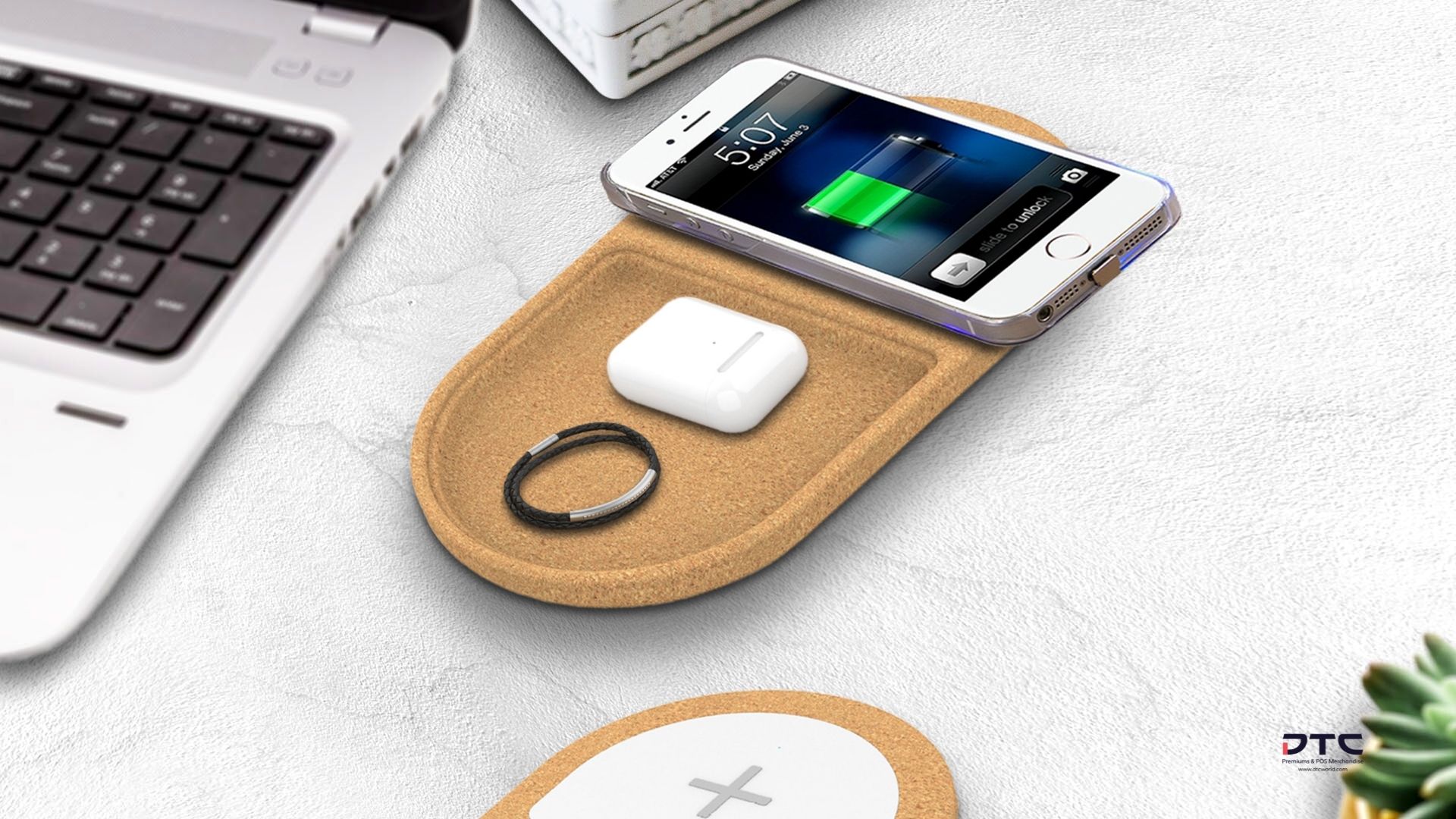 Put a charge into your promotion! This charging catch-all is a charging pad and an organizer in one! The charging pad charges Qi®-enabled devices and features a 5V/1A output. Includes a USB-A input cord and a storage tray. Surprise your clients and employees with this functional corporate gift.
Have not come across anything that catch your attention yet? No worries, click here to see more cork-based merchandise.
At DTC World, we are big advocates of sustainability for the future.
Our awards for sustainability:
1) EcoVadis Sustainability Leadership Awards 2022
2) 2021/ 2022 Brands for Good Winner (Distinction)
3) 2021 Singapore Apex Corporate Sustainability Awards
4) Platinum (Top 1%) Ecovadis 2021 Sustainability Rating
5) Asia's Best Sustainability Report (Finalist 2020) - ASRA
6) 2020 Sedex Members Ethical Trade Audit (SMETA)
Contact DTC World if you are planning to give sustainable gifts to increase your brand exposure.
You may be interested in the Blog posts below: