Offering a gift with purchase (GWP) is an effective great tool for attracting customers into your retail stores and e-stores, creating greater sales for your products. They are also great for your customers, as they get to receive more products for the money spent.
Let's take a look at what are some of the GWP promotions in the market that our DTC Singapore Team has gathered.
Free Laughing Cow Cheese J-Hook Umbrella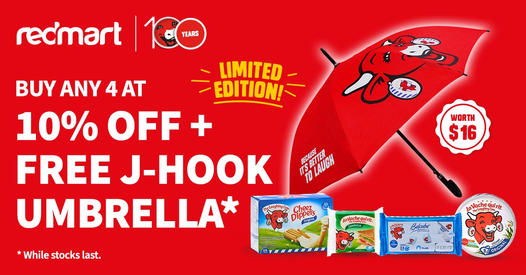 Image: The Laughing Cow Singapore
Limited edition adorable umbrella with striking branding design of The Laughing Cow. Umbrellas have always been a highly sought after useful product. They come in handy in tropical countries like Singapore and Malaysia, most families will not mind having more, and are definitely willing to stock up on more cheese so as to be entitled to this free gift!
Click here to take a look at the range of umbrella products that DTC has.
Ben & Jerry's Ice Cream GWP Promotion: Free Ben & Jerry's Insulated Bottle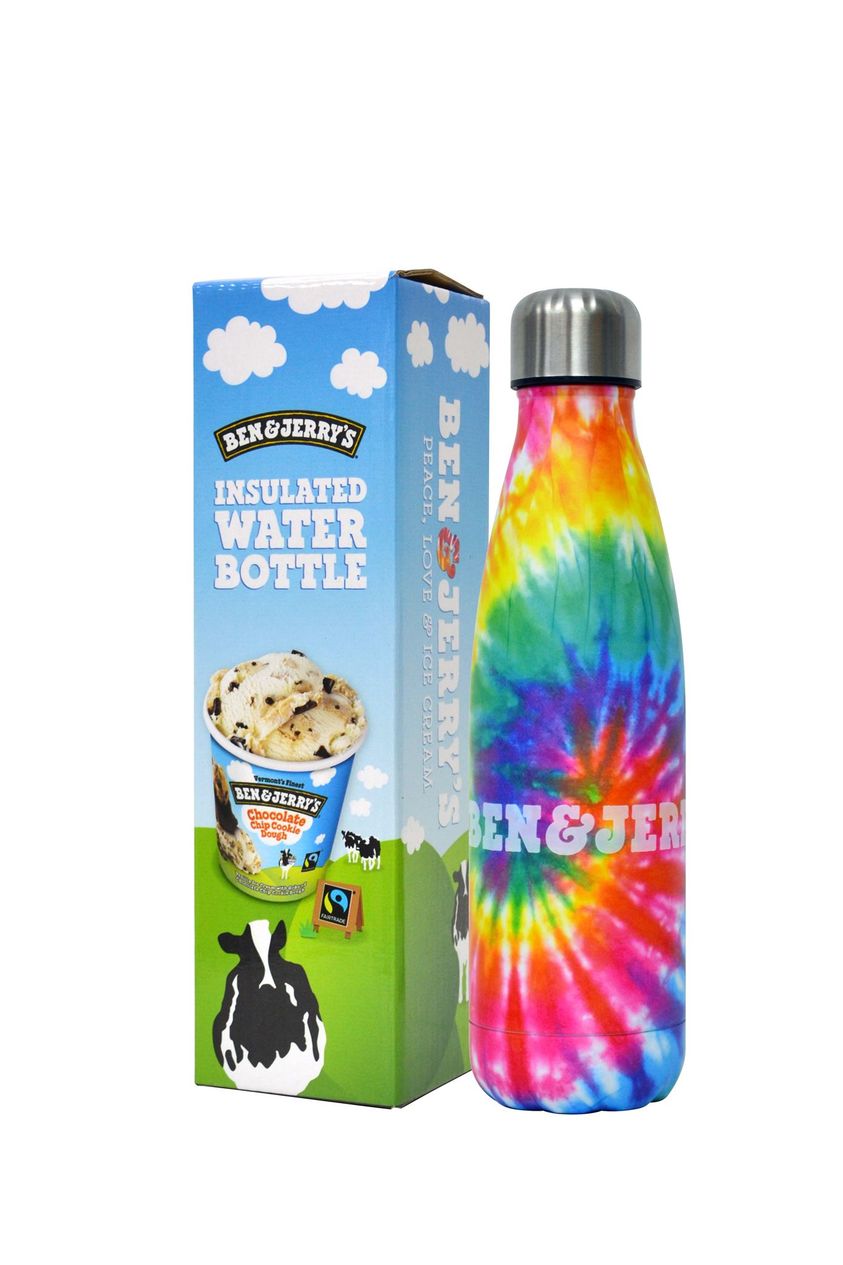 Image: Ben & Jerry's Singapore
Water Bottles are a popular gift-with-purchase (gwp) gift idea, as everyone needs a bottle for every occasion. There are different types of bottles for varying uses, such as plastic bottles, metal bottles, glass bottles etc; sports bottles, thermal bottles, and not forgetting the trending eco-friendly bottles.
Insulated bottles are also highly sought after gift premiums, as they can keep drinks cold or warm longer for consumption. Ben & Jerry's has made their unique trendy insulated bottles a special collection by giving it a fanciful galaxy design with collectible packaging box.
Free Ribena Phone Holder, Ribena Simply Strawberry Tote Bag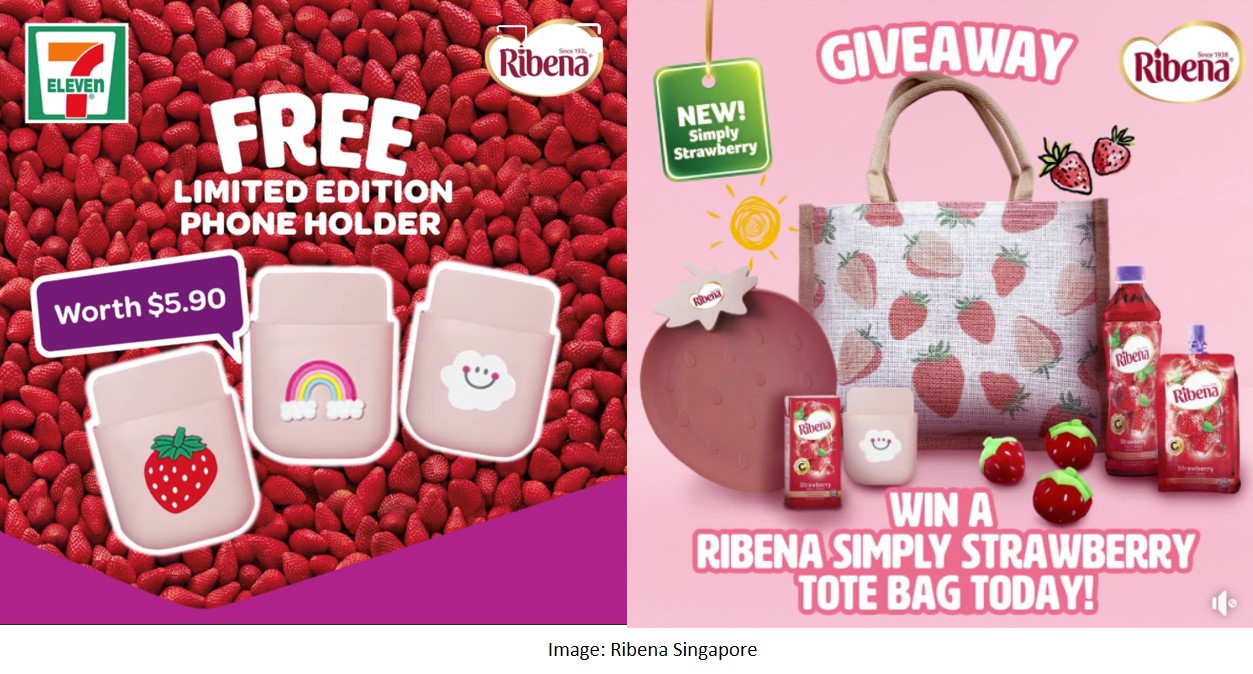 Ribena, being a sweet and tasteful beverage, is giving away sweet and lovable free gifts as well. Customers who buy 2 bottles of Ribena Strawberry 450ml at any participating 7-Eleven outlets are able to receive a free limited edition phone holder. These are available in 3 adorable designs. Ribena Singapore is also carrying out a social media contest where 3 lucky winners would be able to receive goodies packed in a eco-friendly tote bag with pleasing strawberry design.
Click here to view more mobile phone holders designs, tote bag designs.
Free OETEO Wet Bag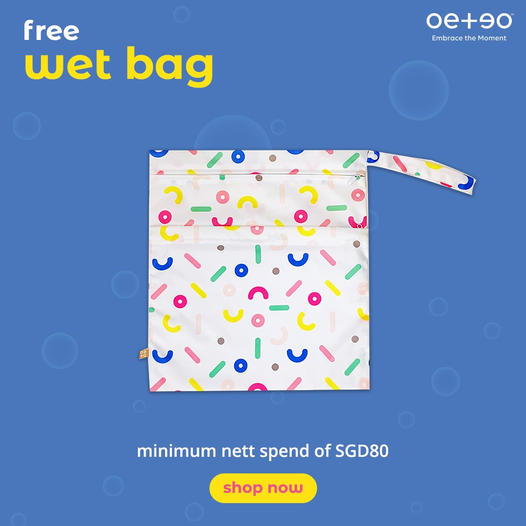 Image: OETEO Facebook
OETEO is a local brand selling kids and children clothing. And when you are selling apparels and kids' products, it is always useful (and thoughtful) to give away items such as mummy's bag, diaper bag, wet bag, changing mat, nursing shawl etc as freebies. You can customise adorable designs for these, so that customers will remember your brand.
View more options for kids' friendly gifts and products here.
Many merchants are leveraging popular sales dates on online sales channels such as Lazada 8-8 sales and Shopee 9-9 Super Shopping Day, to create more value for customers to make more purchases by giving free gifts.
Free Uniqlo Pocketable Tote Bag

Uniqlo, with its own e-store, had a one day sales event, where customers who spent at least S$100 would receive a pocketable tote bag. Foldable bags or carriers are convenient, eco-friendly promotional gift items.
Free Laundry Basket for Purchase of Unilever Products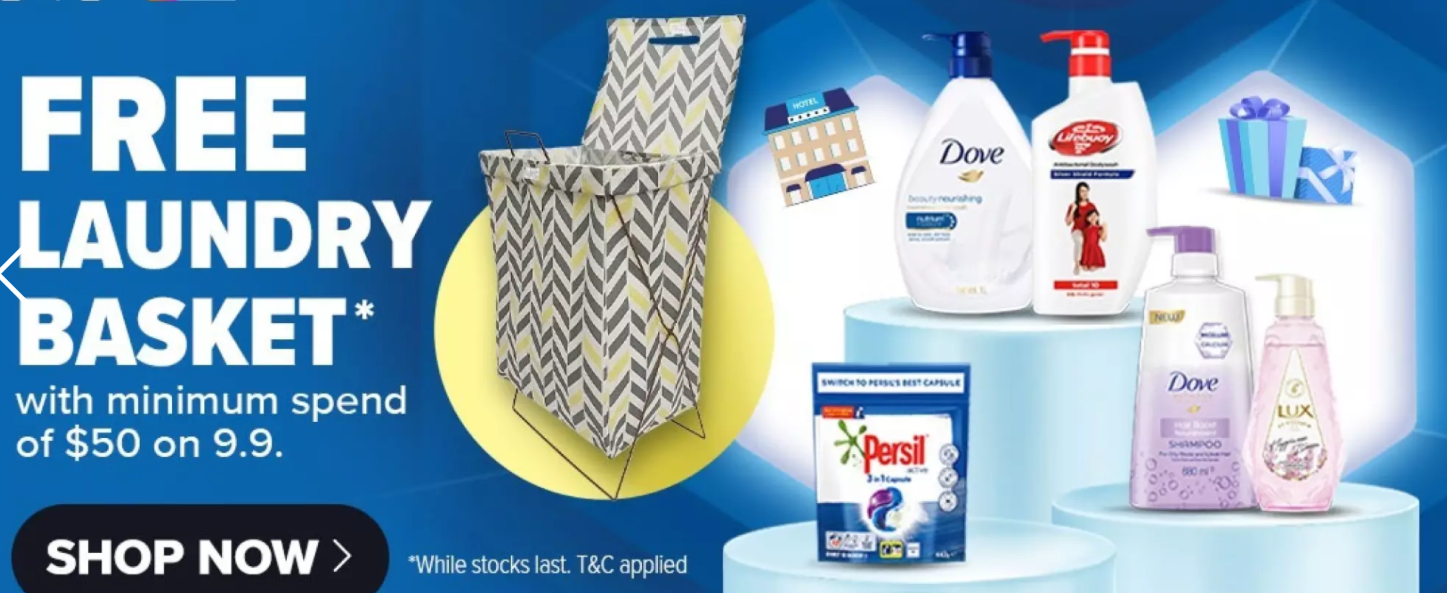 Image: Lazada
Free Dove Botanic Selection Gold Ceramic Coasters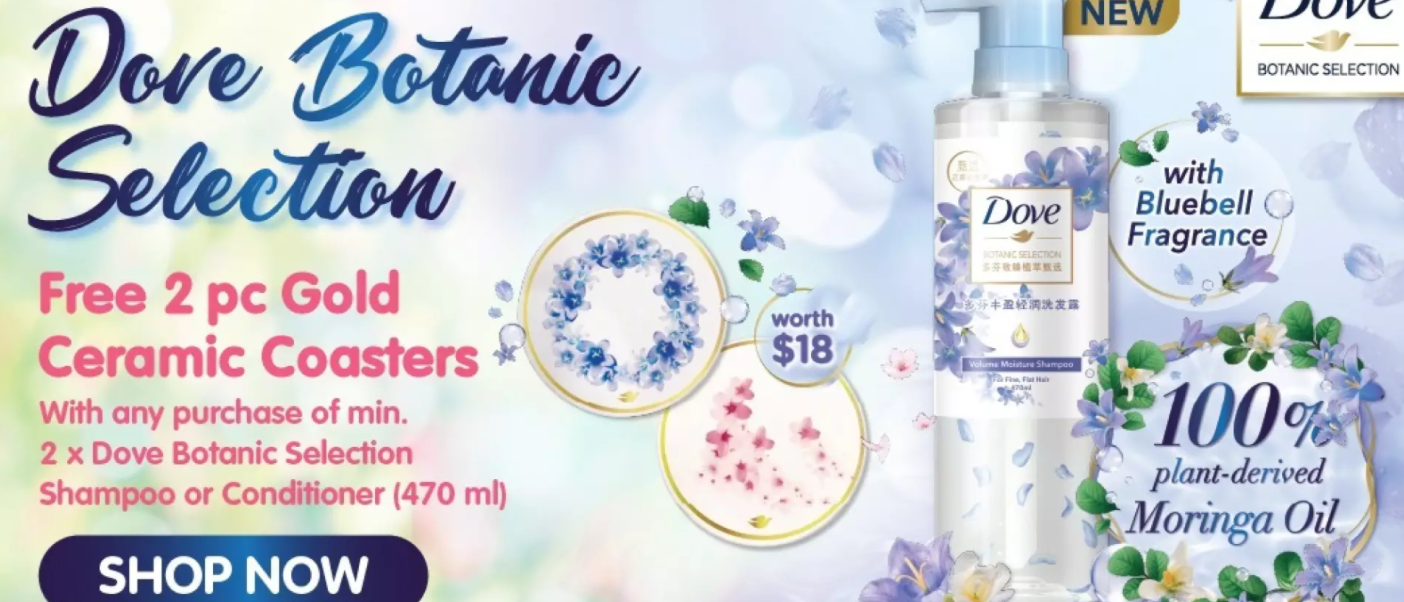 Image: Lazada
Unilever had promotions for its brands of household products, such as Dove, Lifebuoy and Persil, on Lazada shopping platform, giving away free laundry bags. To promote the Dove Botanic Special Selection of hair wash products, Dove had a gwp promotion of ceramic coasters, which looked really elegant and attractive as pictured in the online advert.
View some of the Coasters range that we have.
Free Colgate and Palmolive Tote Bags, Silicone Ice Trays

As many people would be looking out for good deals during those popular sales event dates, it is also a great time to increase sales volume by having bundled sales for your products, just like the Colgate toothpastes and Palmolive shower gels adverts above. Sweeten the deal by giving away a simple gwp, such as tote bag and ice tray, and it may just encourage buyers to stock up more of your products.
Free Heineken Cooler Box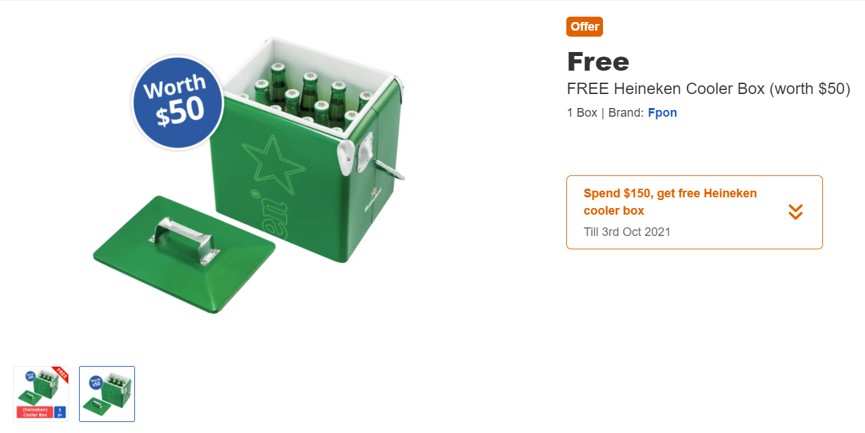 Image: Fair Price
Cooler boxes and Cooler bags are favourite gwp merchandise used in beverages and beer products. Cooler boxes and Cooler bags are usually more durable, and consumers will tend to use and reuse them for a longer period. The shapes and sizes of these items also allow for more customisation and branding possibilities. Just like the Heineken Cooler Box above, it can be customised into the Heineken colour, imprinted with the Heineken logo. Even if the contents inside the cooler box are not Heineken beer bottles, people are still seeing the Heineken branding when the box is being carried around!
Free Kotex Nail Stickers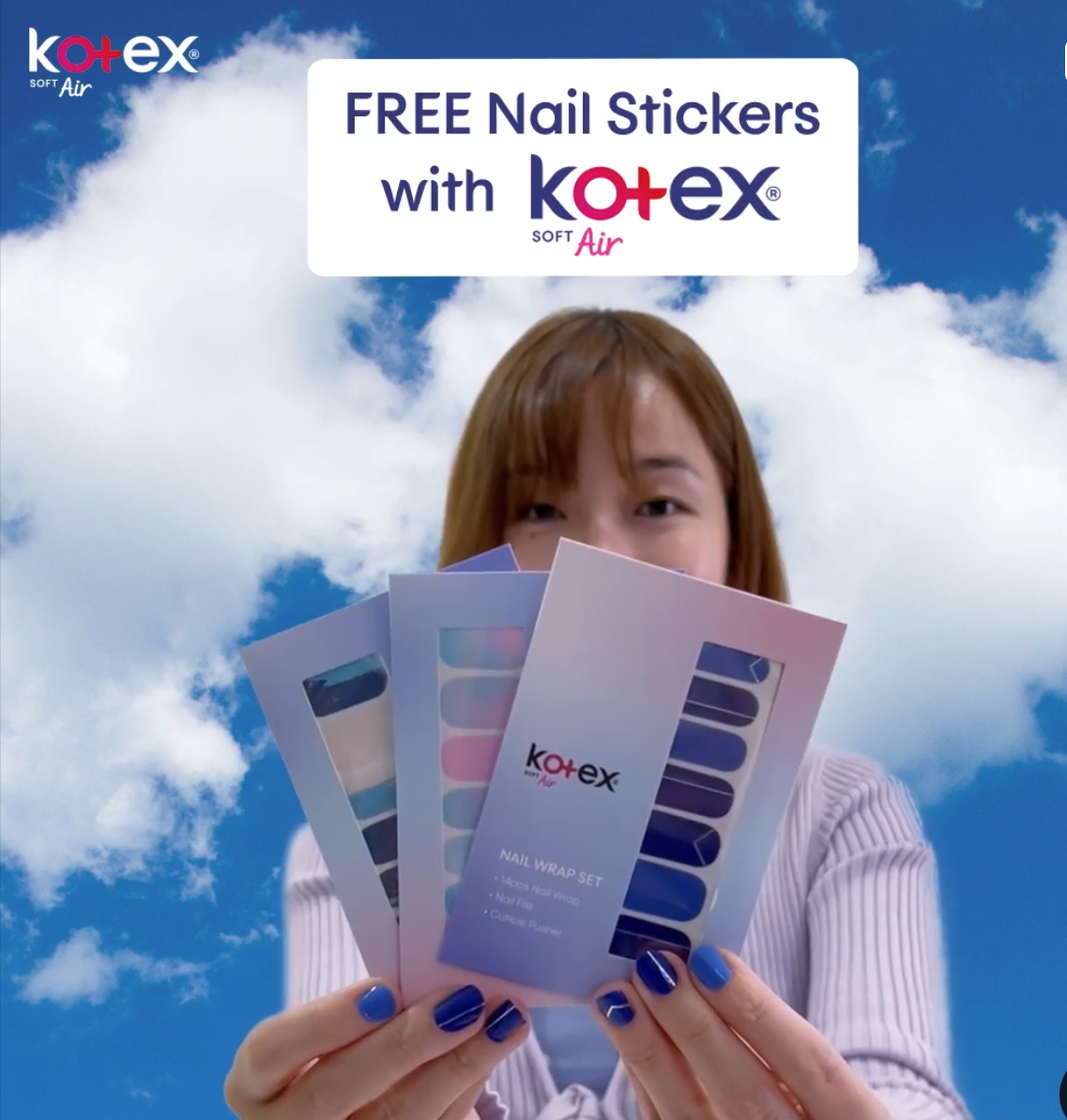 Image: Kotex Singapore
Kotex is wooing female consumers with free nail stickers. What we like about this Kotex gwp promotion is that removable nail stickers are a relatively fresh gift idea, not widely seen. Nevertheless, nail stickers are welcomed by females, as everyone would love to feel good and look good. Nail stickers are a fun way to engage consumers. The stickers are easy to pack together with the Kotex pads as they are light and flat; many fanciful designs are also possible for the nail stickers. Most importantly, it is a cost effective way to produce large volumes to be used as onpack promotional gifts in the market.
Free Kellogg's Spider Man Pencil Case, Free KoKo Krunch Magic Painting Book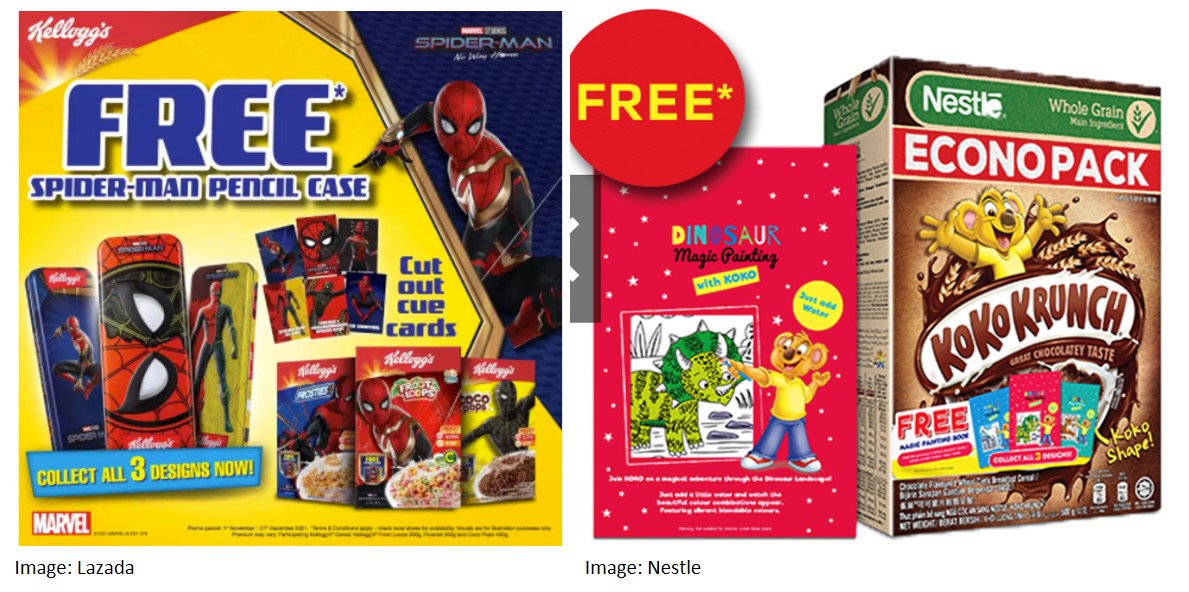 Cereals are considered healthy and great food or snacks, especially for kids. Some ideas of free gifts for children can be licensed characters pencil cases and coloring activity books.
Free Marigold Peel Fresh & Marigold PowerBeans Microfibre Towels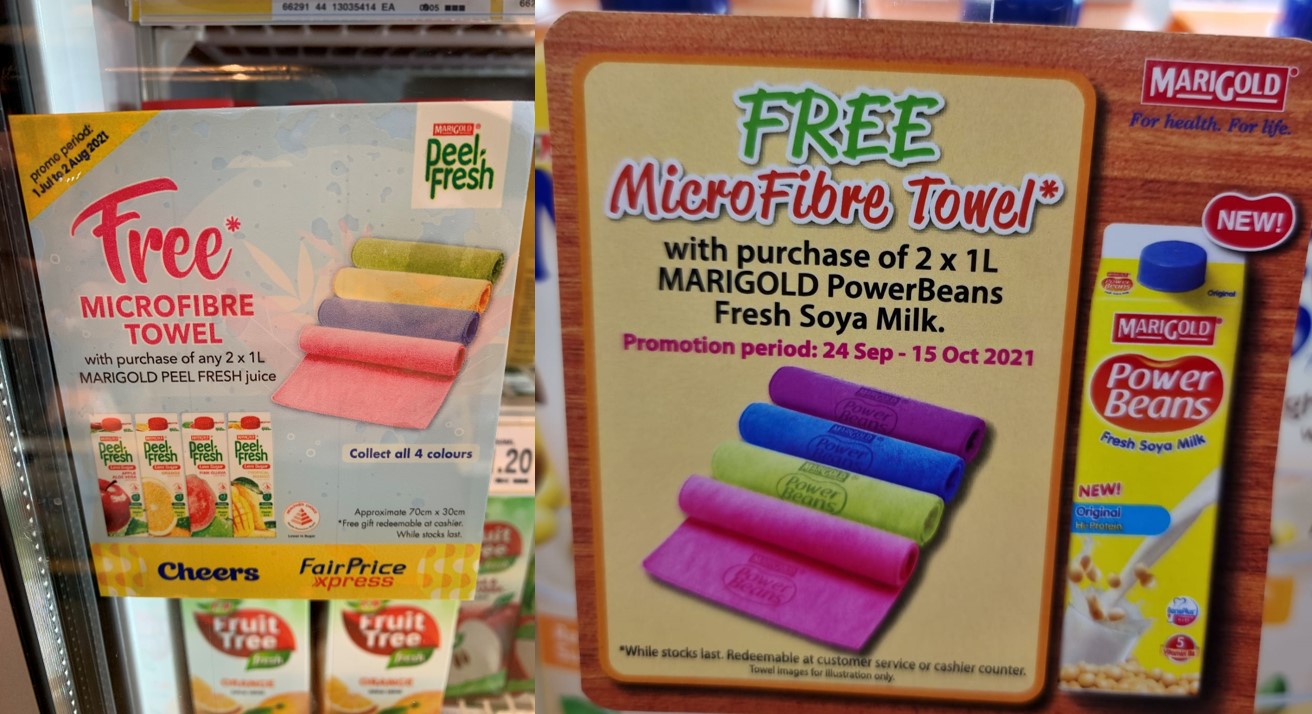 Another favourite gwp gift is the towel. These towels can be used almost everywhere, at homes, in offices, for cars etc. They are reusable, easily customised with your branding, and come in all shades of colours!
Wish to know how you can better leverage a GWP to create more sales? At DTC, with our years of experience in the industry, we have created numerous promotional products and marketing POSM merchandise for our esteemed clients. View our Showcase projects.
We are able to assist you in your marketing campaigns, from product conceptualisation to design, all the way to sourcing and production of the final product. Contact DTC today!
You may also be interested in reading the blogs below:
Gift with Purchase Promotions in Malaysia that Consumers Like
Gift with Purchase Promotions in Vietnam that Consumers Like
Gift with Purchase Promotions in Singapore in the past months

Back to Blogs.