Gifts with purchase promotional campaigns can drive more sales and add value to your brand. After all, who doesn't love receiving free gifts?
Let's take a look at what are the trending gift-with-purchase promotions for this month.
Nissin Cup Noodles - free Nissin Cup Noodles Canvas Tote Bag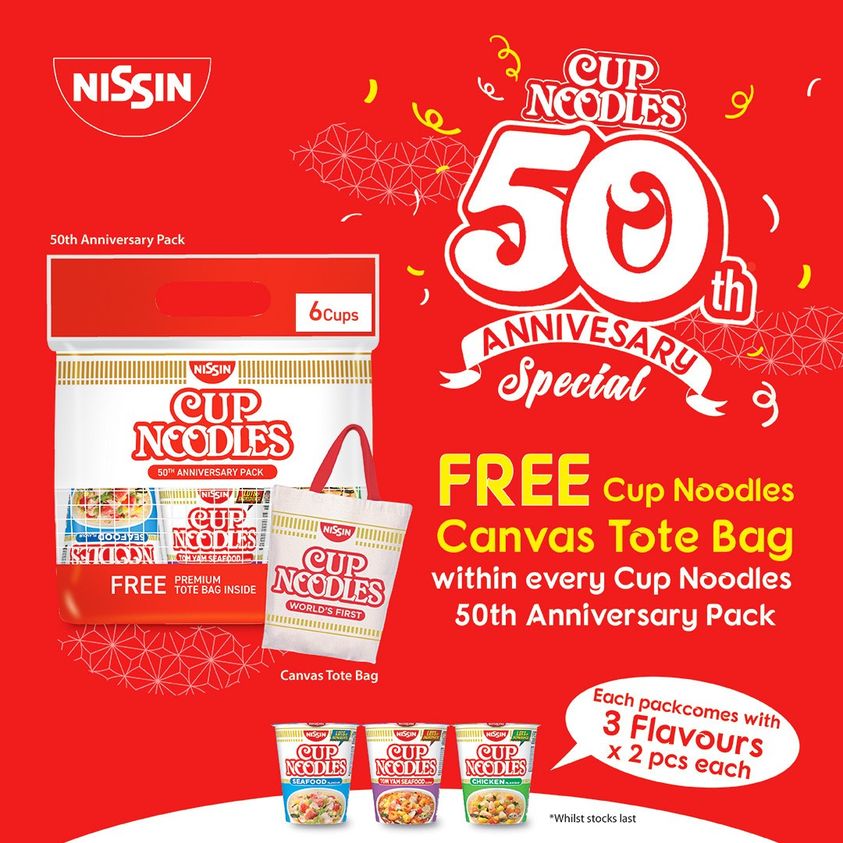 Image credit: Nissin Foods Singapore
This must be one of the free gift-with-purchase items that everyone wants to get hold of currently. Creative branding idea to transform the Nissin Cup Noodles product into a collectible. Purchasers of a 6-cups pack of Nissin Cup Noodles 50th Anniversary Pack will be entitled to receive a free tote bag that is designed exactly like the cup noodles product. An extremely cute limited edition bag that is bound to wow many people.
Meiji Paigen PROBIOTICS QUEST - chance to win an Apple Watch Series 6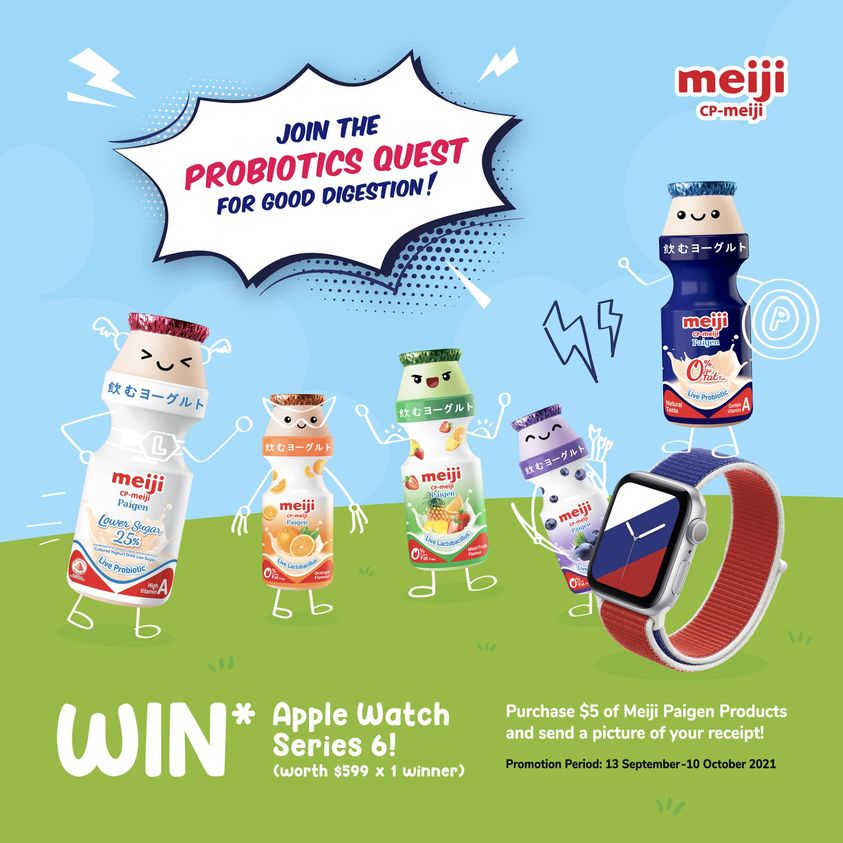 Image credit: CP Meiji Singapore
Meiji Singapore is having a very attractive promotion campaign currently. Simply purchase S$5 worth of Meiji Paigen products, submit an image of the receipt electronically, and you stand a chance to win a branded Apple Watch Series 6.
Given that the price of the gift here is on the high end, it is not the usual GWP promotions we see, where almost anyone who buys the product gets a free gift; there is only one winner here. However, it is so easy to enter this "contest" as the minimum purchase required is low, and it is also convenient to submit the e-receipt. The barrier-to-entry for this is low for consumers, and everyone will hope for a chance to be able to win the prestige Apple Watch.
This is one effective marketing promotion to boost sales for your product, and it also allows you to give branded expensive gifts to your customers, enhancing your brand image too.
Zespri Kiwifruit - free Zespri Reusable Foldable Shopping Bag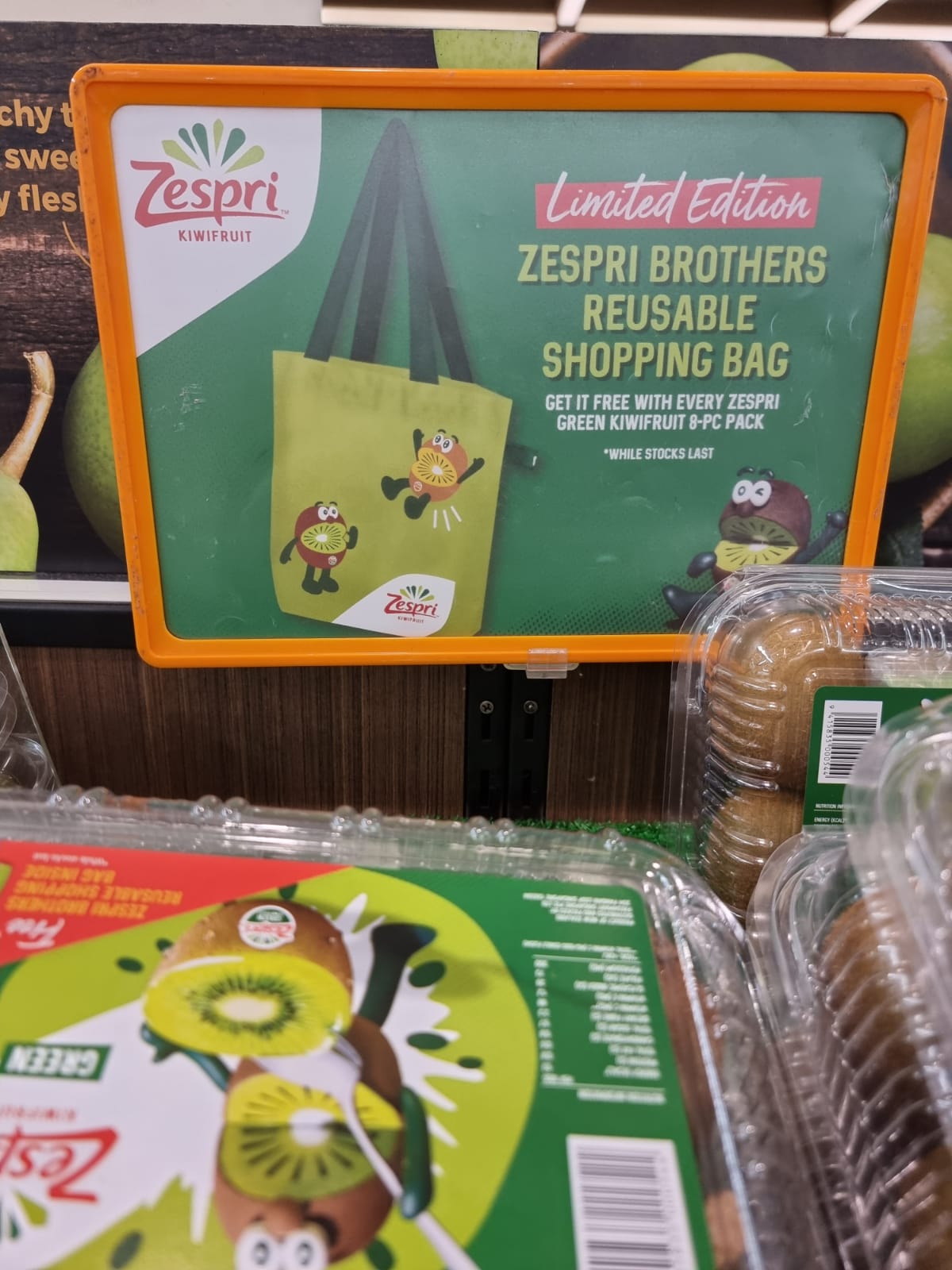 Everyone knows the Kiwi fruit is like a super fruit, rich in vitamins, and very tasty. This Zespri gift with purchase promotion is giving more reason to buy Zespri kiwi fruits now, as customers will be able to receive free foldable shopping bags. Many people are seen carrying these limited edition Zespri reusable shopping bags.
Wisteria Mall - Minion Sipper Water Bottle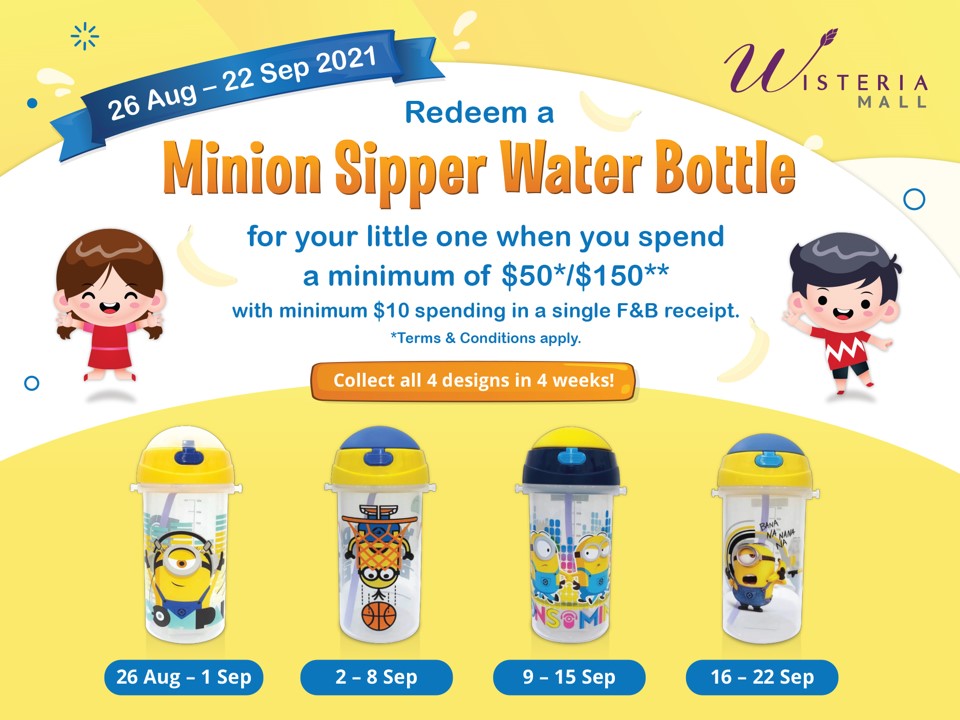 Image credit: Wisteria Mall
To entice and boost shoppers' expenditure at Wisteria Mall, the shopping mall is also using a licensed character - The Minions - on free gifts in its redemption programme. As this is generally a neighbourhood mall targeting families staying nearby, especially families with kids, free water bottles do seem like a kids-friendly gift. Marketing technique of having 4 different collectible Minion designs, each available only during a certain period, adds fun elements into this shopping mall redemption campaign.

Kellogg's Marvel Series Cereal Bowls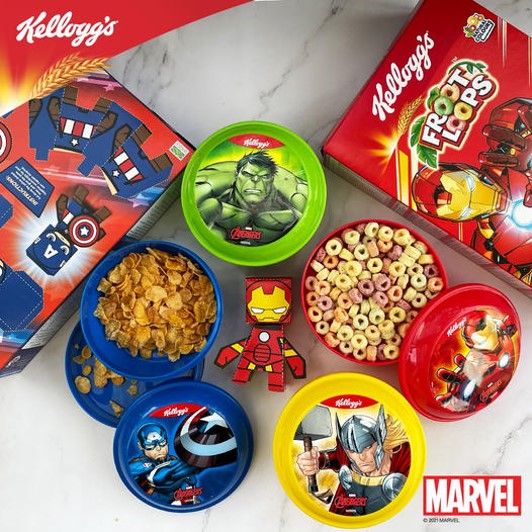 Image credit: Kellogg's Singapore
Kellogg's cereals have always been portrayed as yummy and healthy food, especially as breakfast and snack options for children. Using licensed characters, such as the Marvel characters, as the main theme for gifts suitable for kids, make this an attractive promotion. When kids adore it, parents love it too!
FairPrice Supermarket - free Tote Bag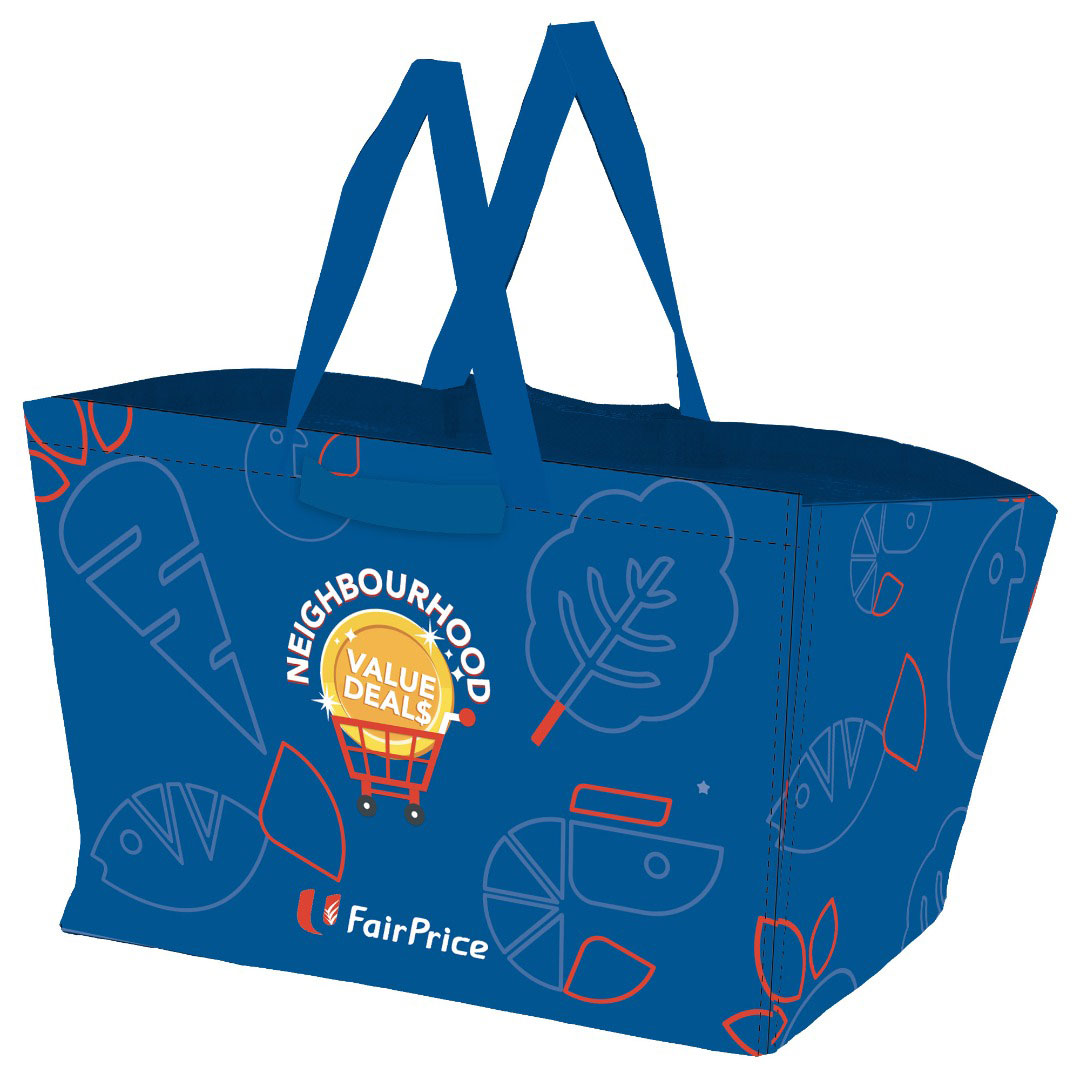 Image credit: FairPrice
To encourage more people to purchase local produce, FairPrice is having a redemption promotion where spending a minimum of S$30 in a single receipt on any local produce is entitled to redeem a functional large capacity shopping bag that can be used in future grocery shopping.
Nestle Koko Krunch cereal - free Koko Krunch Bowl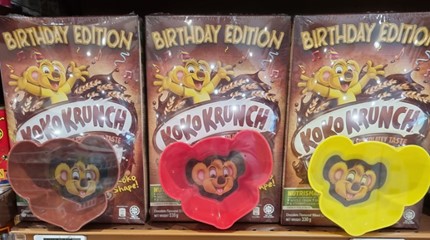 Kids friendly cereal bowls are definitely a hot favourite for cereal products. Nevertheless, there are still many ways to differentiate your cereal bowls from other brands. One good illustration is this KoKo Krunch cereal bowl, where the shape of the bowl is customised to the KoKo Krunch bear's face.
Kikkoman Soy Milk - free Kikkoman Jute Bag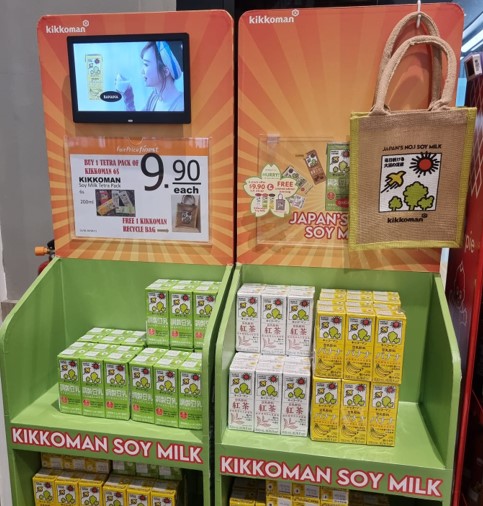 This marketing set-up will attract attention easily in the supermarkets. Conspicuous display shelves customised to the colours of the Kikkoman Soy Milk products packaging, with a display screen showing the video of the products. It is hard for one to miss noticing these POSM set-ups.
Guinness Beer - free Guinness Tote Bag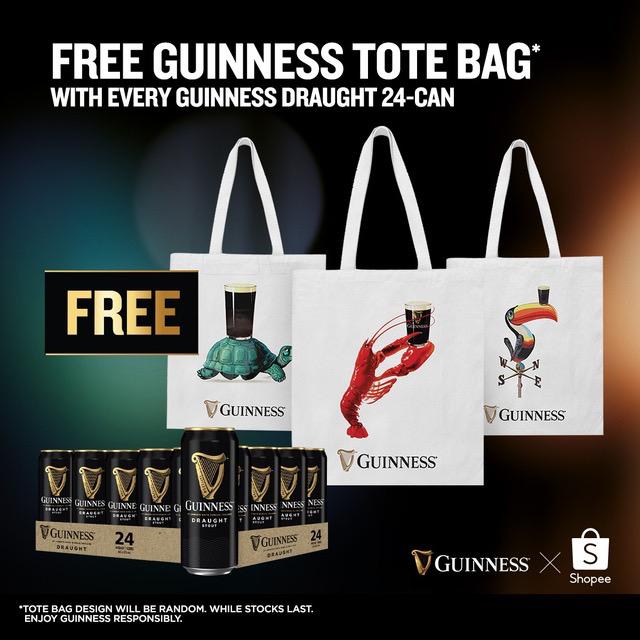 Image credit: Shopee
Having collaborated promotions with online stores is also in the trend these days, as more people are shopping online. Guinness has used this opportunity to giveaway humorous designs of Guinness tote bags for its promotion on the Shopee platform.
Golden Village - We Bare Bears Tumblers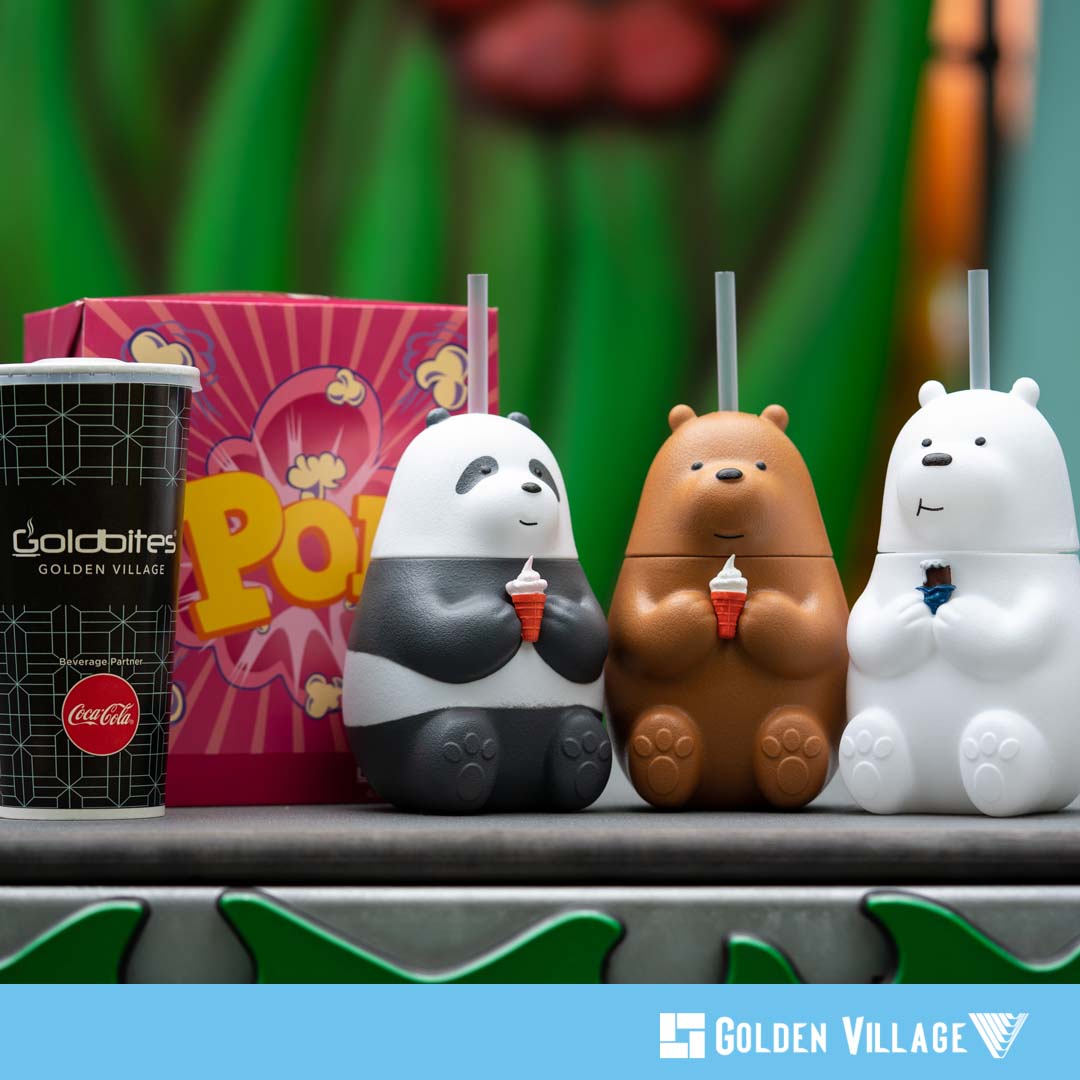 Image credit: Golden Village
As cinemas start to welcome customers back, and the consumption of food and drinks are allowed, Golden Village attracts and rewards its customers with these adorable We Bare Bears reusable tumblers. Using licensed cartoon characters to create collectible marketing merchandise is one way to boost the brand image.
Kellogg's gift-with-purchase - free Kellogg's Fruit Tote Bag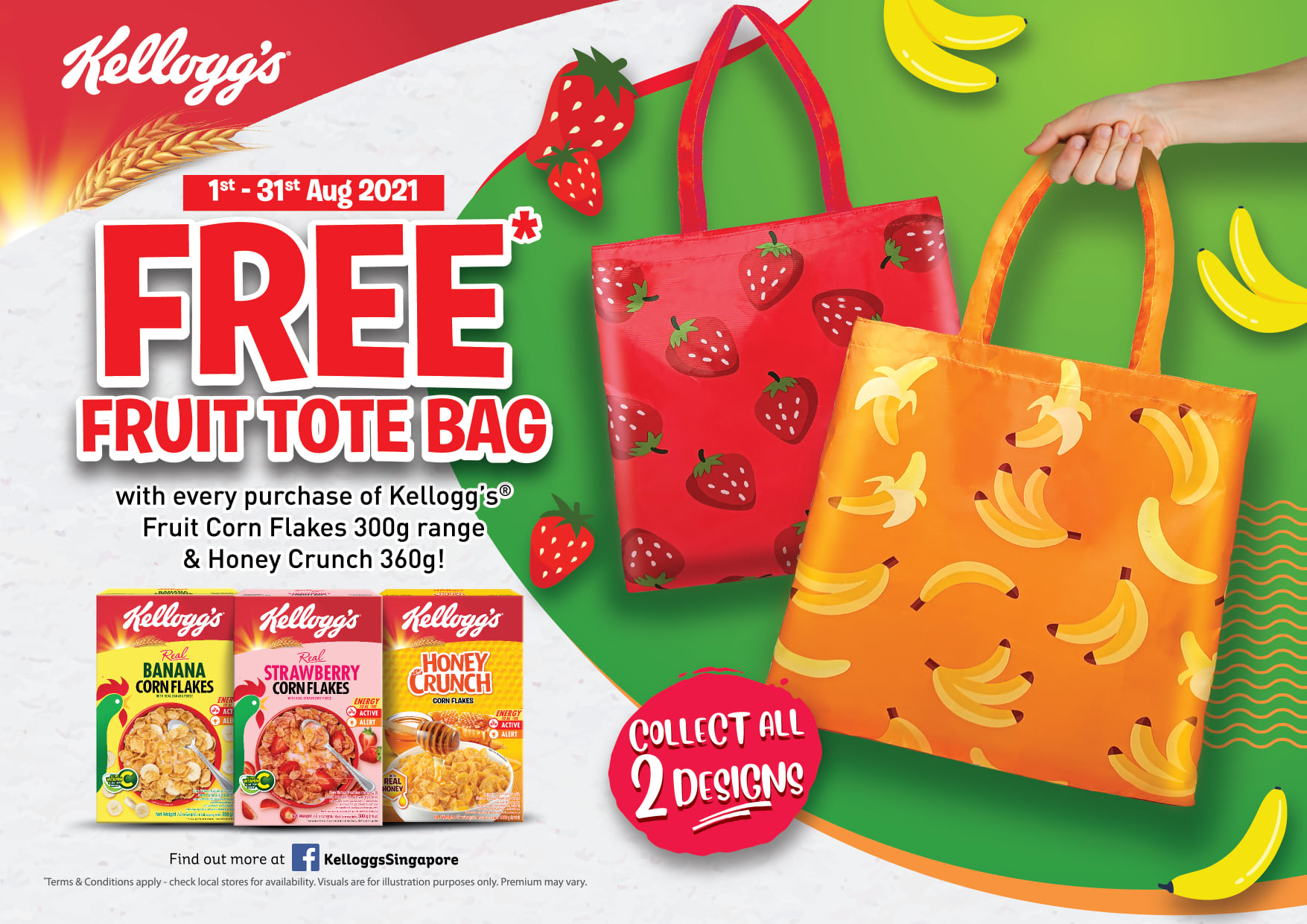 Cereals and Corn Flakes are typical breakfast items, especially for health-conscious consumers. Purchasing the fruity flavours Kellogg's corn flakes is entitled to free gift of fruits-designed tote bags.
F&N Fruit Tree Fresh - free Fruit Tree Fresh Cooler Bag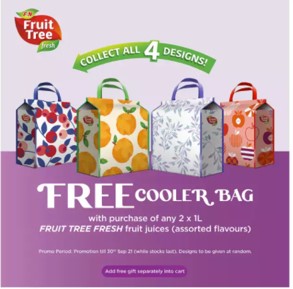 Image credit: Lazada
Keep drinks cool for ideal consumption with cooler bags. Free cooler bag with brightly-coloured full colour printing, when consumers buy any 2 x 1L of Fruit Tree Fresh fruit juices. 4 designs available, which makes it attractive for consumers to collect all designs by making more or repeated purchases.
Free gifts with purchases are marketing tactics used by brand owners to advertise their products, and to boost sales. However, being free doesn't necessarily mean that consumers will want it. Consumers are discerning too. If the free gift is something that they have no use for, or not of acceptable quality, they would not want the free gift, and this will likely have a negative impact on the brand name as well.
How to ensure that your gift with purchase promotional campaign is a success, and your free gift is in the spotlight for the right reason?
Contact DTC today to find out more!
Click here to view DTC Projects Showcase.
You may be interested in
Gift with purchase promotions that consumers like Sept (MY)
Gift with purchase promotion that consumer like Sept (VN)
Gift with purchase promotion in the market Aug (SG)
Read other Blog posts.
Disclaimer

This blog space is where DTC shares with our readers the Marketing Premiums, Promotional Products, POSM merchandises & Advertising Campaigns that we have come across in the industry. DTC does not advocate any brands or products mentioned in the blogs.