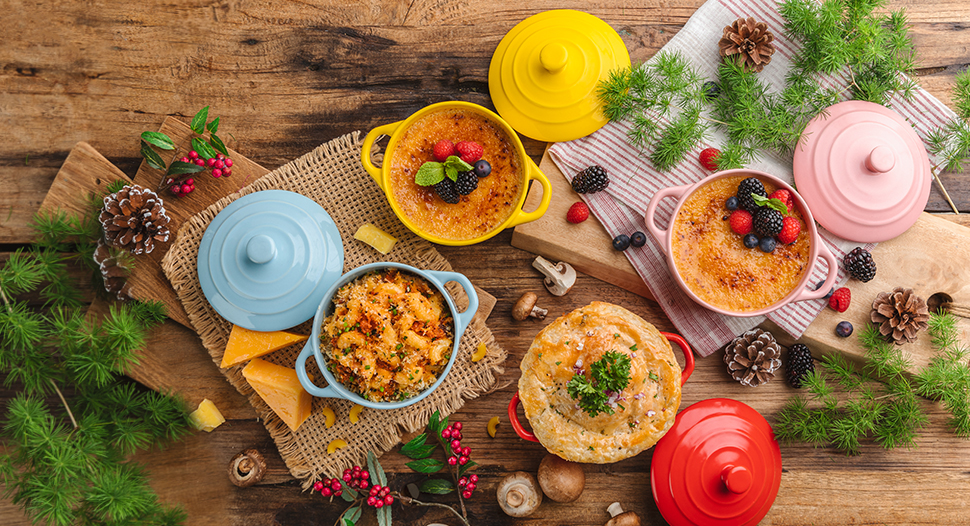 Image: FairPrice Xtra

As more and more companies use gift-with-purchase techniques to woo customers, we can see that this is a viable strategy for attracting customers. For years, cosmetic firms have taken advantage of Gift With Purchase promotions, with top names such as Clinique, Estee Lauder, and Lancome all participating for years. Unquestionably, this is a proven and true technique, right?
A gift with purchase is a great reward for customers, especially if they are already planning to purchase the item in question. It serves as an incentive for brands to encourage their customers to make a purchase. However, how can you determine whether or not a gift with purchase is worthwhile? When it feels like you're essentially giving away stuff for free, you might wonder when you'll start to see a return on your initial investment.
Entice buyers by offering them a gift when they make a purchase from your company using a gift with purchase (GWP) strategy, which has become increasingly popular. As a result, the gifts are frequently of equal or more value than the goods in order to raise the brand's value.
When businesses and brands give out free gifts to clients in exchange for their business, the free gifts can be anything from digital products to discounts to household items to lifestyle merchandise to nearly everything! The finest gifts are those that make your receivers excited and, more significantly, ones that they will want to buy again!
Below are some of the latest GWP Promotions In Action For the Month of December 2021 in Singapore.
Coca-Cola - free Tumbler

We previously mentioned that GWP promos and deals can be used across numerous brands, which is true. Customers would be eligible to receive a gorgeous tumbler if they purchased at least two 1.5L bottles from the participating brands in a single receipt, such as the Coca-Cola free gift with any purchase.
This approach not only allows clients to save more money on specific brands but also exposes them to a variety of new product options that they may not have otherwise known about or considered. Moreover, it is becoming increasingly popular since corporations are attempting to spend their marketing resources more efficiently by providing consumers with freebies that can encourage them to spend more money.
VivoCity Kids Club - Free Parent-Child Dual Mask Set
Image: VivoCity website
VivoCity Kids Club, Gift The Joy of Christmas, where customers get to redeem a free parent-child matching dual mask set when they spend a minimum amount at qualifying stores.
FairPrice Xtra - Free Festive Pots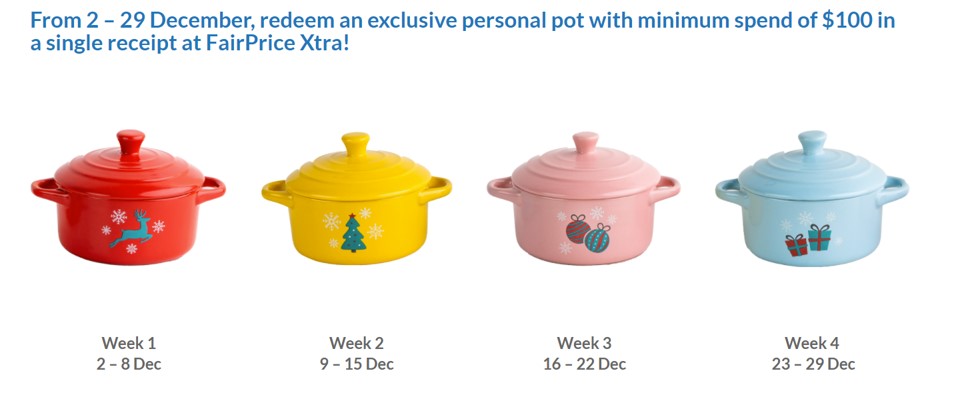 Image: FairPrice Xtra
Supermarkets run promotions, particularly during the holiday season, in order to increase foot traffic in the malls and encourage shoppers to spend more money there.
FairPrice Xtra launched an interesting GWP over the festive season to commemorate the occasion. Many people were driven to this exclusive personal pot. As a result of mall-wide promotions such as these, increasing their likelihood of spending money at FairPrice Xtra. Customers who receive a free product from a business such as FairPrice are more likely to return to spend more money in the future.
Kitkat - Free Bubble Tea Cushion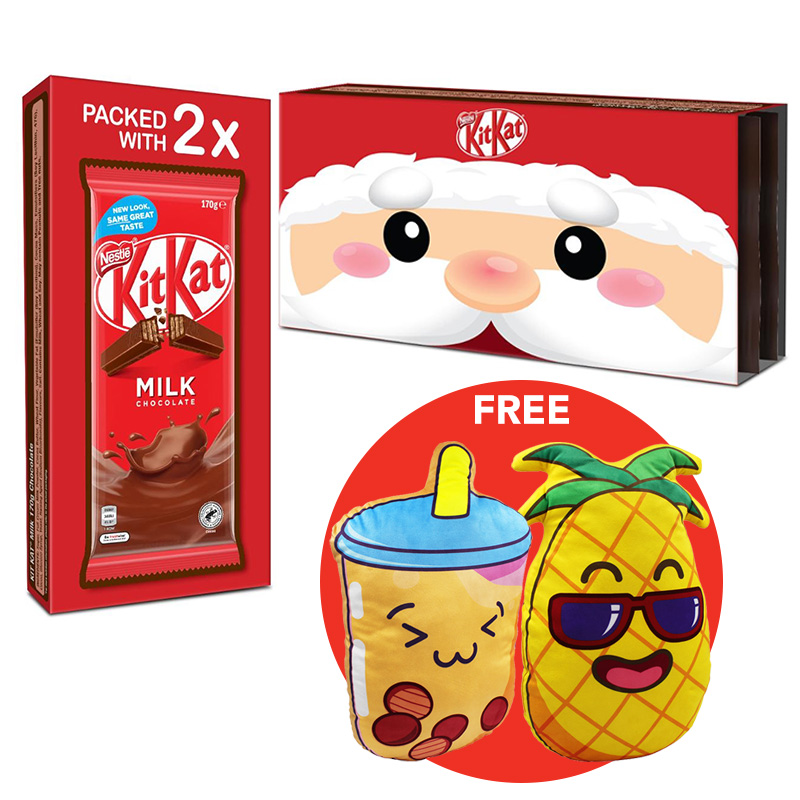 Image: FairPrice
To mark the holiday season, Kitkat organized an innovative Bubbletea Plushie Giveaway Promotion over the festive season. As a result of campaigns such as these, a large number of visitors were drawn to this attractive plush toy freebie, increasing their likelihood of spending money on Kitkat products.
Nissin - Free Big Canvas Cup Noodles Tote Bag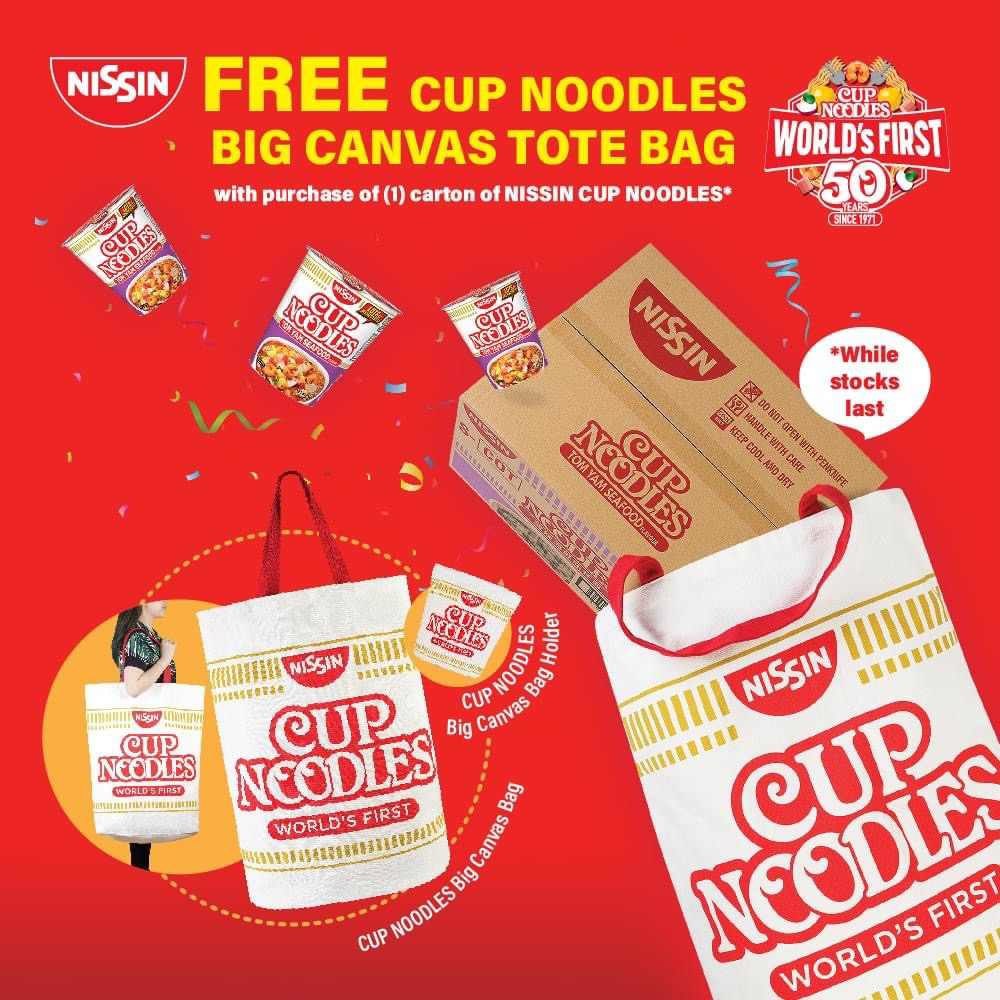 Uniqlo - Free Net Tote Bag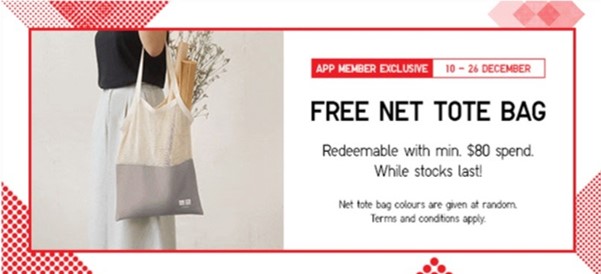 Image: Uniqlo
Canvas tote bags are great gifts with purchase promotional items. Nissin Singapore has launched a special anniversary pack to commemorate the company's 50th anniversary.
With every purchase of the Nissin Singapore 50th anniversary pack, you will receive a FREE limited edition Cup Noodles small canvas tote bag. Uniqlo is also doing a free tote bag, redeemable with a minimum spend.
Fair Price - Mini Finest Collectibles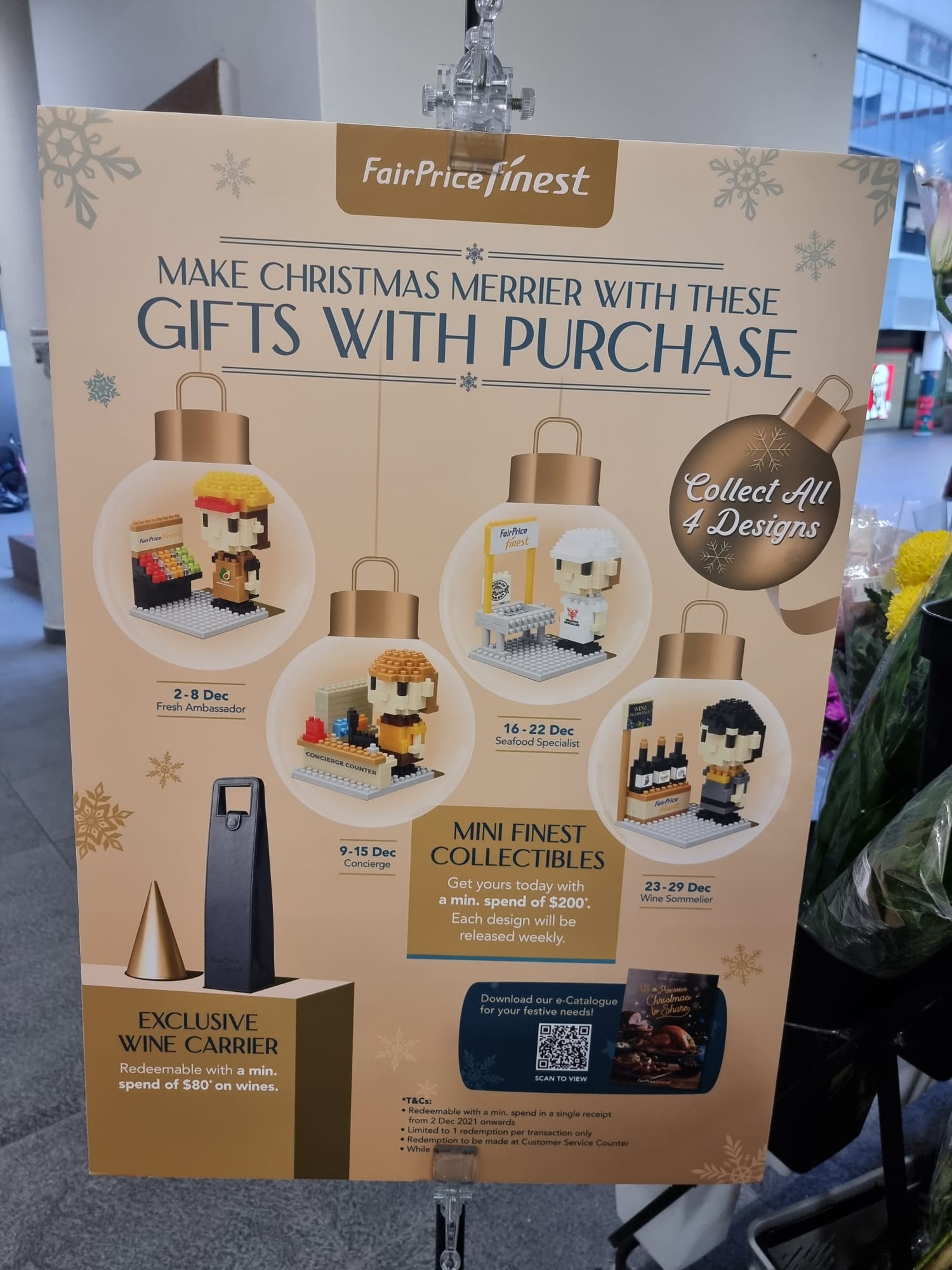 Collectible items are a great GWP because customers are driven to purchase more to collect all the gifts. Like this Fair Price Mini Collectibles GWP, all the customers have to do is spend to receive the limited-edition collectibles.
FairPrice - Free 7.5" Plate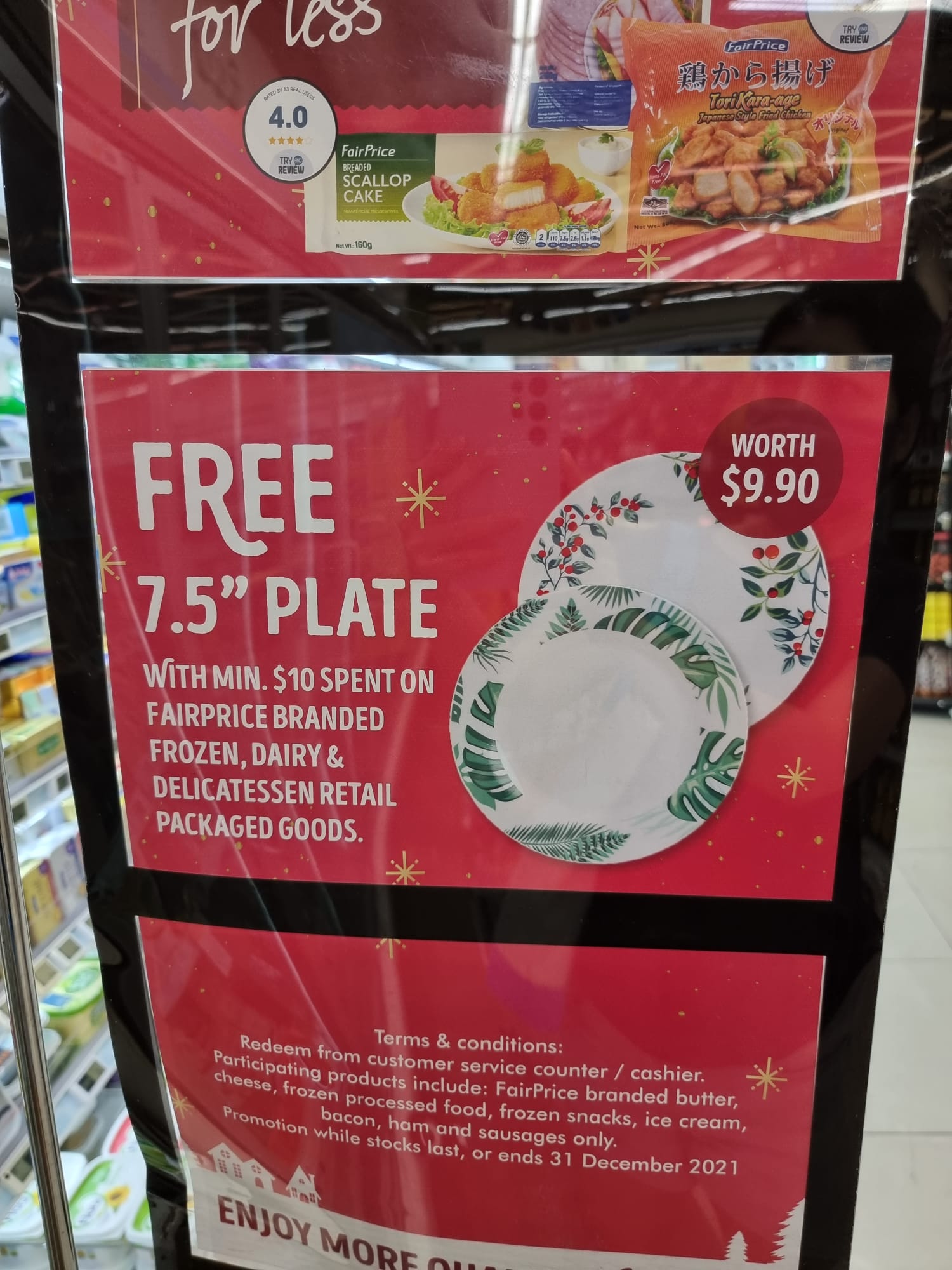 Plates are a great gift with purchase, especially for the holiday season. Like this FairPrice GWP promo. All you have to do is spend a certain amount to get a free 7.5" plate.
Mcdonalds - Free Breakfast Picnic Package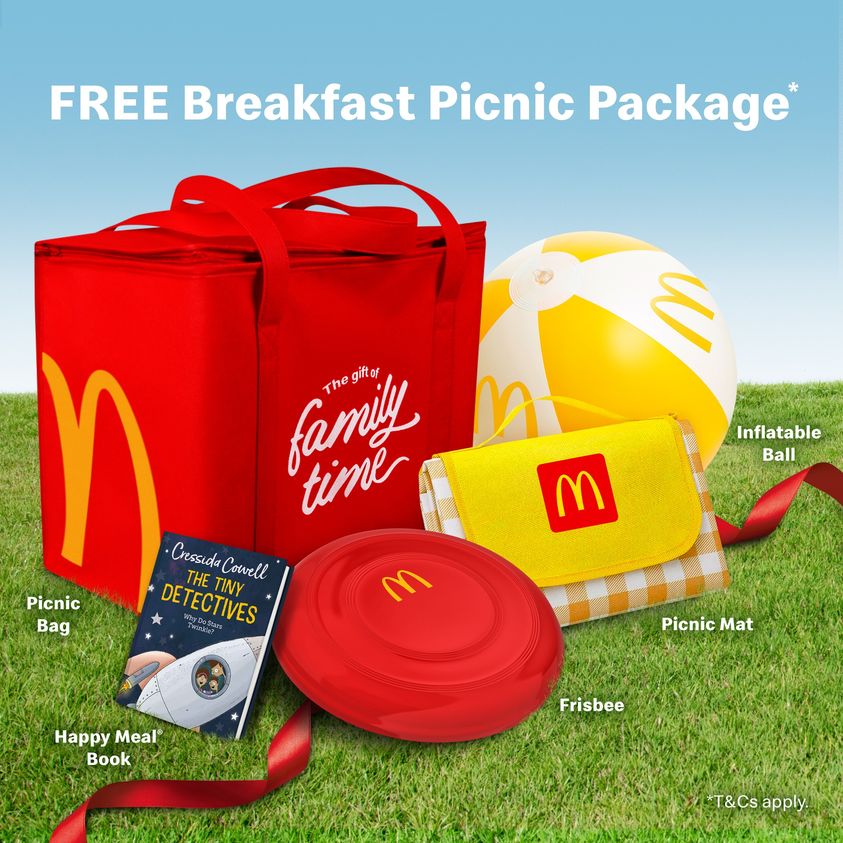 Image: McDonald's Facebook
With the pandemic slowly dying down, a lot of people are going out and going on picnics in the park. Mcdonals did a GWP wherein whenever a customer purchases a breakfast family meal they would receive a free picnic set.
Click here to see what are some of the picnic essentials.
Haagen Dazs - Free Ice Cream Scoop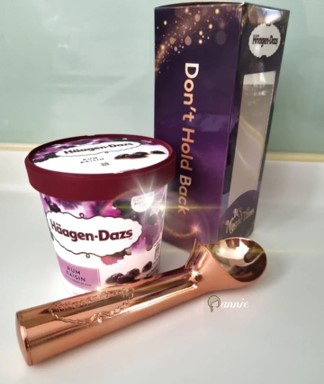 Image: Annie SGMY Facebook
This is a great GWP because it is very useful. This GWP correlates with the product being purchased. Ice cream would need an ice cream scoop. There is also a line of view that a giveaway should be something that adds value to the product. Thus for ice cream products, ice cream cups and scoops are typically utilized as promotional gifts in the GWP campaigns.
Click here to view an interesting product: Colour Changing Ice Cream Spoon
Why Businesses Should Utilize GWP Promotion
Many businesses have recognized the potential for branding and revenue gain that can be achieved through promotional gifts. Because of this, promotional gifts might be given away in order to encourage repeat business from current loyal clients who feel better informed about their purchase after getting the promotional presents.
You can utilize a limited-time offer like the GWP campaign to entice customers to acquire your goods. Because you can promote them on social media platforms such as Facebook, Twitter, and other similar platforms, the good thing about GWP promotions nowadays is that they are relatively simple for you as a business owner or manager of a company.
Gwp deals are widely desired by many companies because they have been shown to dramatically improve sales and convert more prospects into sales for the business that delivers the offer.