What is a Licensed Character Gift with Purchase promotional gift?
Licensed characters represent a wide range of different properties including cartoons, animations, movies, comic books and more. The owners of these properties are able to limit the use of their characters in order to protect them from being used against their will or without permission by individuals and companies that are not authorized to do so.
Gifts and merchandise that feature these licensed characters have higher perceived values than most other promotional products. Licensed Character promotional gifts are given in exchange for customer participation with the company's promotion. These gifts are popular, and have high appeal among consumers.
What are the latest Licensed Characters gifts and gift-with purchase (gwp) promo in the market?
In this blog, we will be sharing some promotions in December 2021 that are featuring some of your favorite characters. The best part about these products are that they aren't overpriced like most other gift items in the market at the moment since it has utmost quality which is why customers fall for them easily.
Starbucks x Line Friends Merchandise


Image: Starbucks
With the Christmas festive season around the corner, many brands are attracting customers with attractive promotional merchandise, just like the range of Starbucks x Line Friends items that include thermal flask, tumbler, pouch, mug, tote bag and plush toy.
This is a legal gift that can be used to promote your brand! These promotional Christmas products will help you with your social media marketing, trademarks promotion and advertising.
Frasers Shopping Malls - Gudetama Merchandise


Image: Frasers
Retail channels such as shopping malls are also all out to increase footfall at their malls by customising promotional products that are attractive to shoppers. An example is the series of Gudetama items offered by Frasers.
There are Gudetama Jute Bag, Tote Bag, Pouches, and an interesting drinkware - Color Changing Tumbler with Straw. Shoppers can purchase these adorable merchandise at discounted rates, only at Frasers malls. During this gift giving period, many will be shopping around for gifts. The Gudetama products are suitable decent gift ideas. When shoppers are attracted to the malls to get the Gudetama gifts, they will likely spend on other retail shops as well, bringing more businesses to the malls as a whole.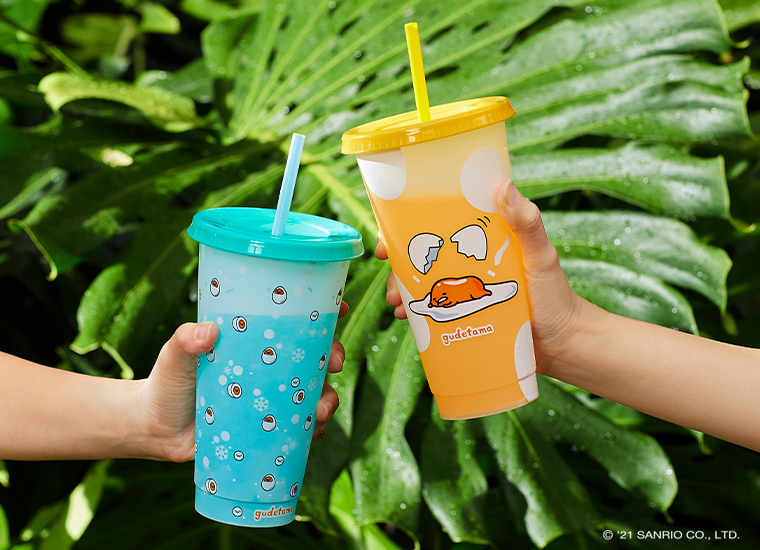 Image: Frasers
The designs on these tumblers will change colour and appear visible when cold drinks are poured into them.
Read to find out more on Color Changing products:
FamilyMart - Sanrio Lunch Bags




Image: FamilyMart
FamilyMart is offering its consumers a chance to own these lunch bags in adorable Sanrio character designs. There are Hello Kitty, Little Twin Stars, Gudetama and My Melody designs, presenting several irresistible offers for shoppers to shop at the FamilyMart.
If the licensed character merchandise is not for sale, it can be turned into a gwp giveaway.
The beauty of licensed character merchandise is the fact that it can be turned into a gift with purchase, in a way that the brand receives free exposure. The easiest way to do this is to write your company name and the character they represent on promotional products with unique designs. If you have merch available for sale, such as candy or other merchandise, you can ensure that customers are incentivized to buy them by giving away these exclusive complimentary items as free gifts.
Watsons Dove promotion - Line Travel Bags, Line Water Tumbler


Image: Watsons Malaysia
Also applying the Xmas theme, these Line Travels Bags and Water Tumbler are offered as free gifts to consumers when they purchase a minimum spending on Dove products at Watsons. The designs are so festive and attractive that one will wish to get their hands on these free gifts. This will boost sales revenue for Dove products. As a result, the promotion will be a success and Watsons will enjoy great profits.
Dove - free Line Friends Tote Bag


Image: Shopee Malaysia
Dove is also having gift with purchase promotion on Shopee. 4 designs of Line Friends tote bags are available as free promotional items when shoppers buy Dove products on Shopee.
This type of promo, where marketers are offering free gifts when purchasing items based on brands, is good for building excitement at the sales and boosting brand awareness.
Watsons - Brown & Friends Kraft Bag


Image: Watsons Singapore
This is a purchase with purchase (pwp) promotion. The pwp promotion is a type of direct marketing promotion. A purchaser will be given a promotional offer which must be used to receive the item which the merchant is selling. This often happens in retail stores where consumers are given free items upon the acquisition of a new item.
With a minimum spending of S$18, shoppers at Watsons can buy this eco friendly Kraft tote bag at a discounted price. This also provides incentives for shoppers to shop at Watsons.
Singtel - Paint A Smurf Kit


Image: Singtel
Telco companies can also offer free gifts when customers sign up new plans with them too. Singtel is giving away free Paint a Smurf art kits to the first 1000 entrants who fill up a form with Singtel. This will definitely prompt consumers to be fast in submitting their entries.
Huggies - free Super Heroes Hoodies


Image: Shopee Malaysia
Young kids love to be super heroes. That's why Huggies is associating its brand with the popular Super Heroes characters. This will encourage parents to buy Huggies diapers and they will be glad to receive the Super Heroes Hoodies as free gifts for their children. It is also a great marketing move by having fun with kids who love superheroes, such as Spiderman, Wonder woman etc..
Kleenex - Marvel Water Bottle


Image: Shopee Malaysia
Bring home Marvel water bottle when you buy Kleenex toilet tissues at Shopee. Water bottles are functional gift ideas.


The gifts can range from stickers, plush toys, t-shirts, bottles, to more customised items such as figurines and customised plastic or tin packaging. There are Disney characters, Star Wars theme and more variety of licensed characters to choose from too.
Thinking of developing licensed characters promotional gifts to be used in your next promotional campaign but unsure of how to embark on it?
Contact DTC World today, let us know on your promotional requirements, and leave the market research and fulfilment to us!
You may be interested in the blogs below:
Disclaimer

This blog space is where DTC shares with our readers the Marketing Premiums, Promotional Products, POSM merchandises & Advertising Campaigns that we have come across in the industry. DTC does not advocate any brands or products mentioned in the blogs.