Licensed Character Gift is one of the best promotional gifts you can give to your customers, partners and clients. We understand that you need something special and unique for your brand or business promotion. Licensed Character Gift with Purchase (GWP) is the perfect choice for anyone who needs to stand out from the crowd and want to win more new customers.
Promotional gifts and items with popular characters are the hot items in promotional gifts market. This is because they are already well-known characters and highly publicized, so when you want to promote your brand name with the licensed character merchandise, you have a better chance of appealing to the target audience.
What are the latest Licensed Characters gift-with purchase (gwp) promo in the market?
We show below a list of licensed character gifts and products promotional merchandise available lately. There are the latest Licensed Character gwp from famous TV, Movies & old Comic Series which can be used as promotional products in direct marketing, retailing, entertainment industry or market research.
Oligo Chocolate Malt drink gwp - free Minions Ceramic Mug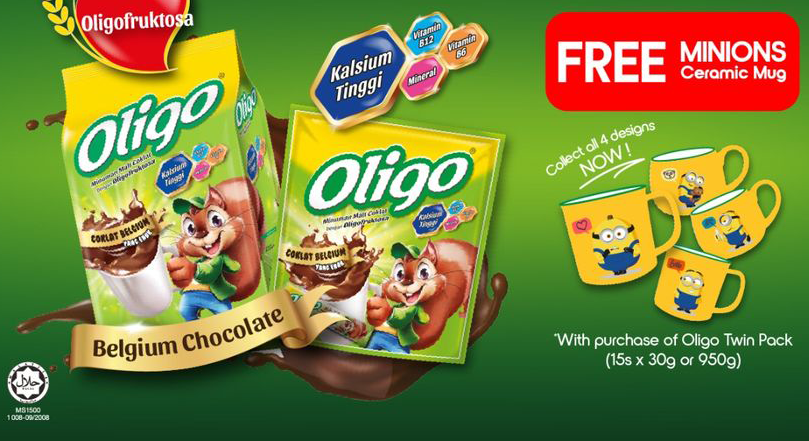 Image: Oligo Malaysia Facebook


Get an adorable Minions ceramic mug for free when you purchase Oligo Twin Pack. These cute Minions ceramic mugs that are given out with every purchase will get everyone talking about it.
Oligo Chocolate Malt Twin Pack gwp - free Minions Cooler Bag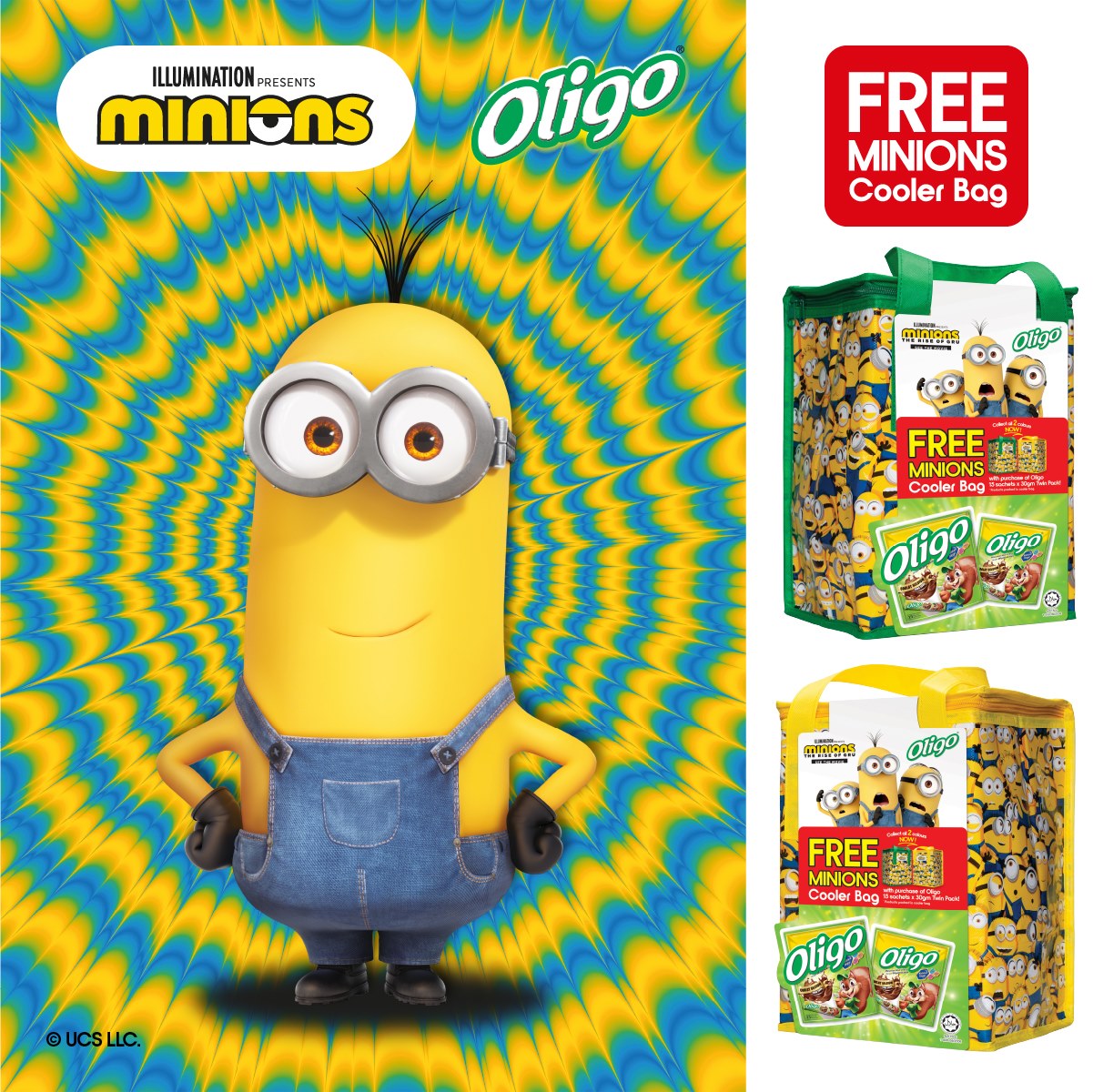 Image: Oligo Malaysia Facebook

Receive free Minions designed cooler bags when making purchases of Oligo products twin packs. Giving away free cooler bags is also a way to allow consumers to enjoy the drinks in a convenient and fun way, as cooler bags act as a carrier to bring the drinks around.

By having the free Minion Ceramic Mugs and Minion Cooler Bags in more than 1 design as the gwp promo gifts, customers are enticed to make repeat purchases in order to collect all the designs available, which will boost sales for the Oligo products throughout the month of November when the campaign is carried out.
With pack promotions like these, companies can improve brand recognition among consumers by using licensed character promotional items. Pack promotion is the process of giving away something free or at a discounted price in exchange for purchasing another item. Retailers use pack promotion to increase sales and drive traffic into their online and brick & mortar stores.
Eu Yan Seng gwp promo - free Hello Kitty Glass Storage Jar & Glass Food Container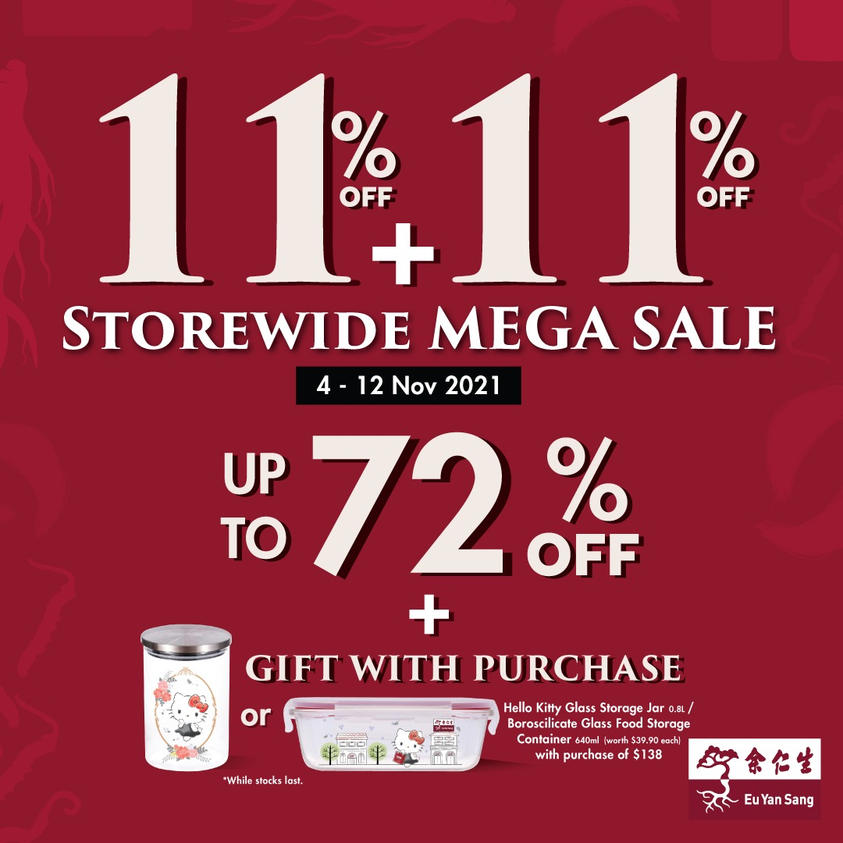 Image: Eu Yan Seng Facebook

The Eu Yan Seng promo is enticing both mature and youngsters to purchase Eu Yan Seng products by giving free Hello Kitty Glass Jar & Food Container. This offer acts as a "cherry picking" to catch the eye of consumers, as Hello Kitty is a Sanrio cartoon licensed character that is well liked by many.
Below are 2 past gwp promotions where Sanrio licensed character, Hello Kitty, has been used in the free gifts. And there are many many more of such marketing promotions where Hello Kitty merchandise is used as the promotional gift to capture consumers' attention.
Unilever x Caring Pharmacy GWP promo: Hello Kitty Ceramic Set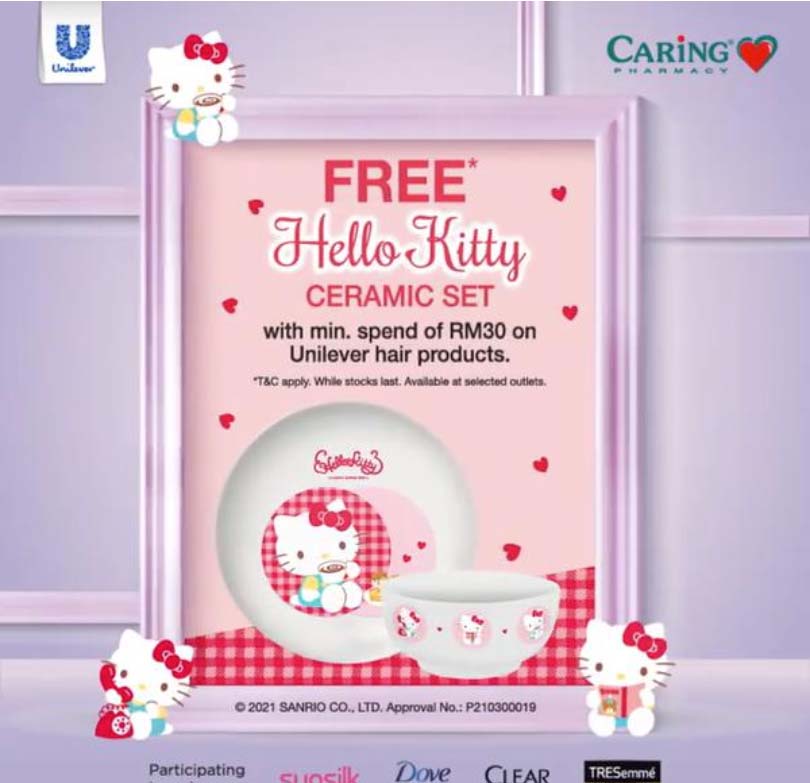 Image: Syioknya.com
7-Eleven GWP promo - free Hello Kitty Tin Box with Sticker Collectible Sets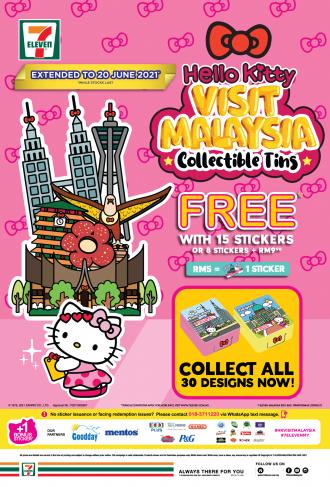 Image: Syioknya.com
There can be various gifts / merchandise that Hello Kitty and other Sanrio licensed characters can be used on. Click on to view one of the Sanrio licensed character marketing merchandise that DTC World has produced for our client:
Darlie - My Melody Travel Organiser Pouch Set
Drypers gwp promo - free Pinkfong Pillow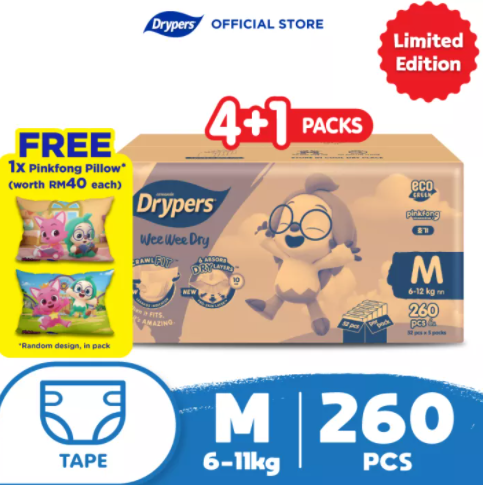 Image: Lazada
Limited edition Pinkfong pillow (customised with fully printed Pinkfong design), is sure to captivate young children and toddlers. Marketing promo for kids' products is often designed with a goal of capturing children's attention and drawing them (and of course, parents and caregivers) to purchase the promotional product, driving consumers to purchase the products on online ecommerce platforms.
Click to view some of the pillows and cushions that you can customised as your marketing free gifts.
KitKat gwp promo - free Minion Tote Bag, Minion Pouch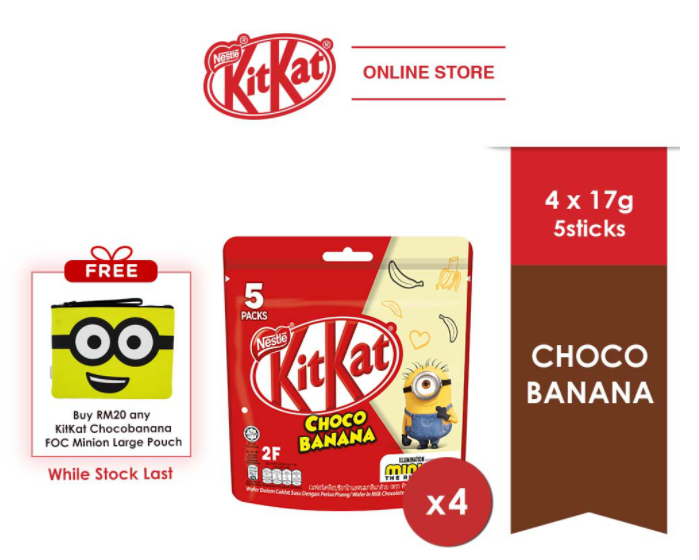 Image: Shopee
More Minions licensed character merchandise as free gifts, but the logos and designs are printed on tote bags and pouches instead.
Kellogg's Frosties - free Marvel Cereal Bowls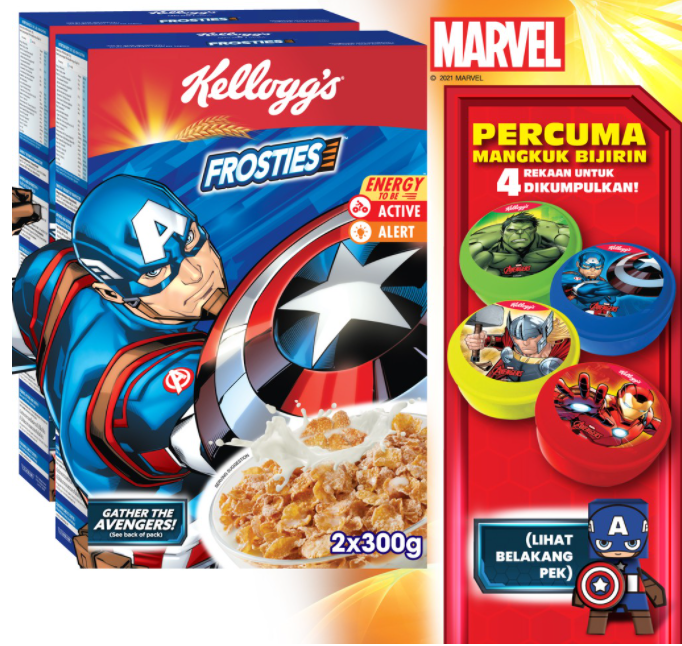 Image: Shopee
Kellogg's Froot Loops - free Spiderman Pencil Case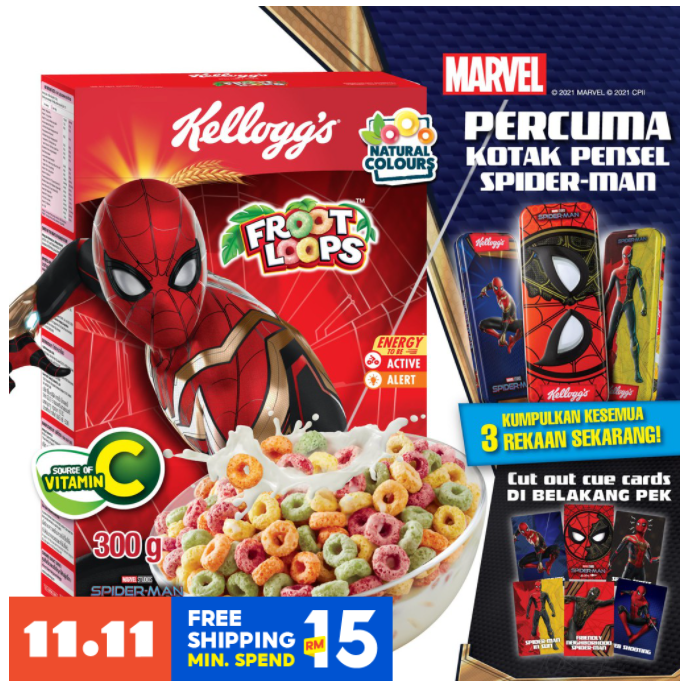 Image: Shopee
Both the Kellogg's licensed character gwp above, are mainly targeted at children and kids, especially boys. Thus super hero characters such as Spiderman and Marvel characters are used on the marketing gift items.
Free promotional gifts can be a cost-effective way to advertise your brand. It is important that the gift item has a good design and is well-made, as it will be used by children and young adults. In order to increase the chances of success, it's best to target your marketing free gifts at kids who are likely familiar with the character or franchise you're promoting.
Licensed characters are also often used on products to be on sale. Below are some that we have come across this month.
Le Creuset Doraemon Plates & Cups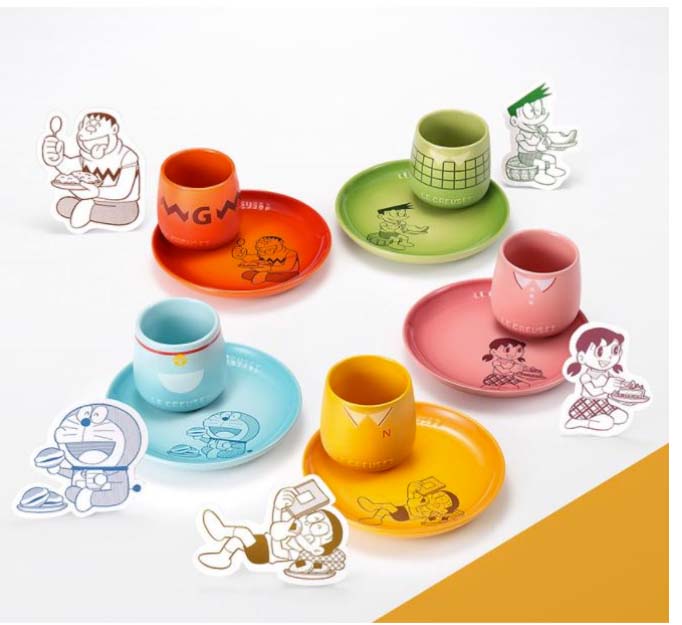 Image: Shopee
Golden Village - Snoppy Doghouse Popcorn Bucket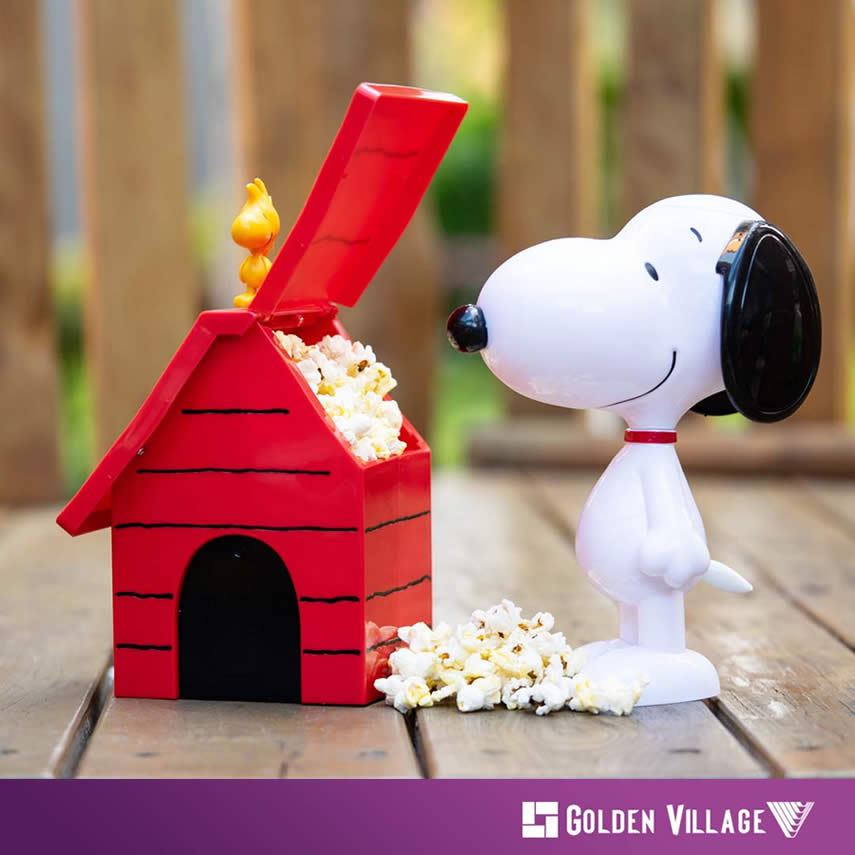 Image: Golden Village
Sanrio characters Insulated Bottles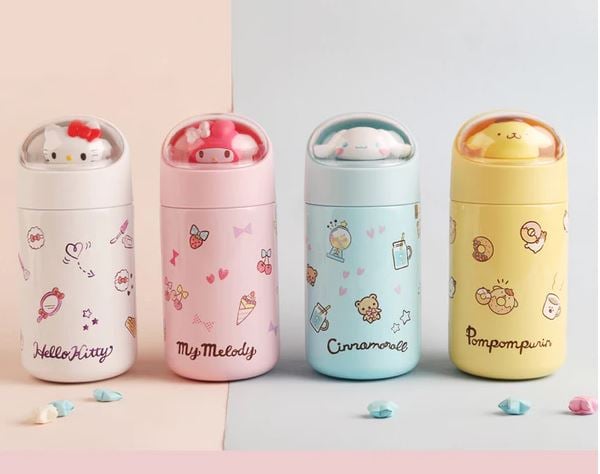 Image: FamilyMart Facebook
The licensed character merchandise shown above, are sure to make heads turn, with the adorable iconic characters on the products. An effective way to increase footfall to your retail outlet and online store. One can also tap on these for ideas that you can consider for corporate gifts as well.
What is the best licensed character gift-with-purchase for my business?
The best gift-with-purchase for your business is a product or service that your customers can buy to gain access to your content. This would allow them to get more value out of their purchase and would be an effective way of promoting your business.

What are the benefits of using a licensed character as a gift with purchase?
The licensed character promotional gifts are the gifts which you can give as bonus to your customers. The promotional gifts will enhance the relationship between business and consumer, let them feel that they have been really well treated by giving them a valuable gift at this time of year or during their promotional period.
As we are approaching a new year, are you thinking of having a new year promo, and using licensed character in free gift-with-purchase promotions?
Contact DTC World today to send your enquiry to us.
Click below to view of the Licensed Character premiums & gifts that DTC World has produced for our clients:
Disclaimer
This blog space is where DTC shares with our readers the Marketing Premiums, Promotional Products, POSM merchandises & Advertising Campaigns that we have come across in the industry. DTC does not advocate any brands or products mentioned in the blogs.