Licensed characters are drawn from a wide range of sources, including cartoons, animations, movies, comic books, and more. In order to keep their characters from being used against their wishes or without permission, the owners of certain properties can restrict the use of their characters through character licensing method.
Gifts and merchandise featuring these officially licensed characters surpass the great majority of other promotional products in terms of perceived value. Licensed characters appear on promotional items that are given to customers in exchange for their participation in the company's program. Consumers appreciate and highly regard these presents.
Here, we'll take a look back at some of the most popular licensed characters promotional events from April 2022, including a few that included some of your favorite characters, or those you may have come across on social media recently. In addition to being of the best quality, they are also reasonably priced in comparison to the majority of other gift items now on the market, which is why customers gravitate toward them.
Downy - BTS Tote Bag


image: Shopee MY
Tote bags are also fantastic advertising gifts because they can be seen by a wide audience. Your customers will only have to carry the bags with them when they are out and about. Tote bags are in handy for a wide range of things. Recipients of the tote bags will likely use them to go to the gym or the beach as well as for other activities. Using the bags will help spread the word about your business to new clients. In the same way that a passive campaign would, it has the ability to work for you. When Downy designed their tote bag, they decided to use BTS characters as their licensed characters because they are well-known and consumers would want it.
Corelle Dishware - Snoopy Carafe


image: The Straits Times
What is it about Corelle that makes it so unique? Because of its distinctive Vitrelle glass composition, Corelle dinnerware is extremely resistant to chipping, breaking, and staining. Corelle partnered with Snoopy for their GWP campaign which is a sure-fire way to attract their consumers!
LiHo Tea - Mickey Tumbler


image: LiHo
Looking for a promotional gift that is both useful and contributes to the success of your company's brand? You're not the only one. There has been a lot of interest from marketers and manufacturers in finding the greatest promotional item for their company. For example, LiHo Tea is giving away free tumblers with Mickey Mouse as their licensed character. If you're always on the go, this is the tumbler for you. It's a great way to get your logo and brand message in front of as many people as possible.
Darlie - Snoopy Lunch Bag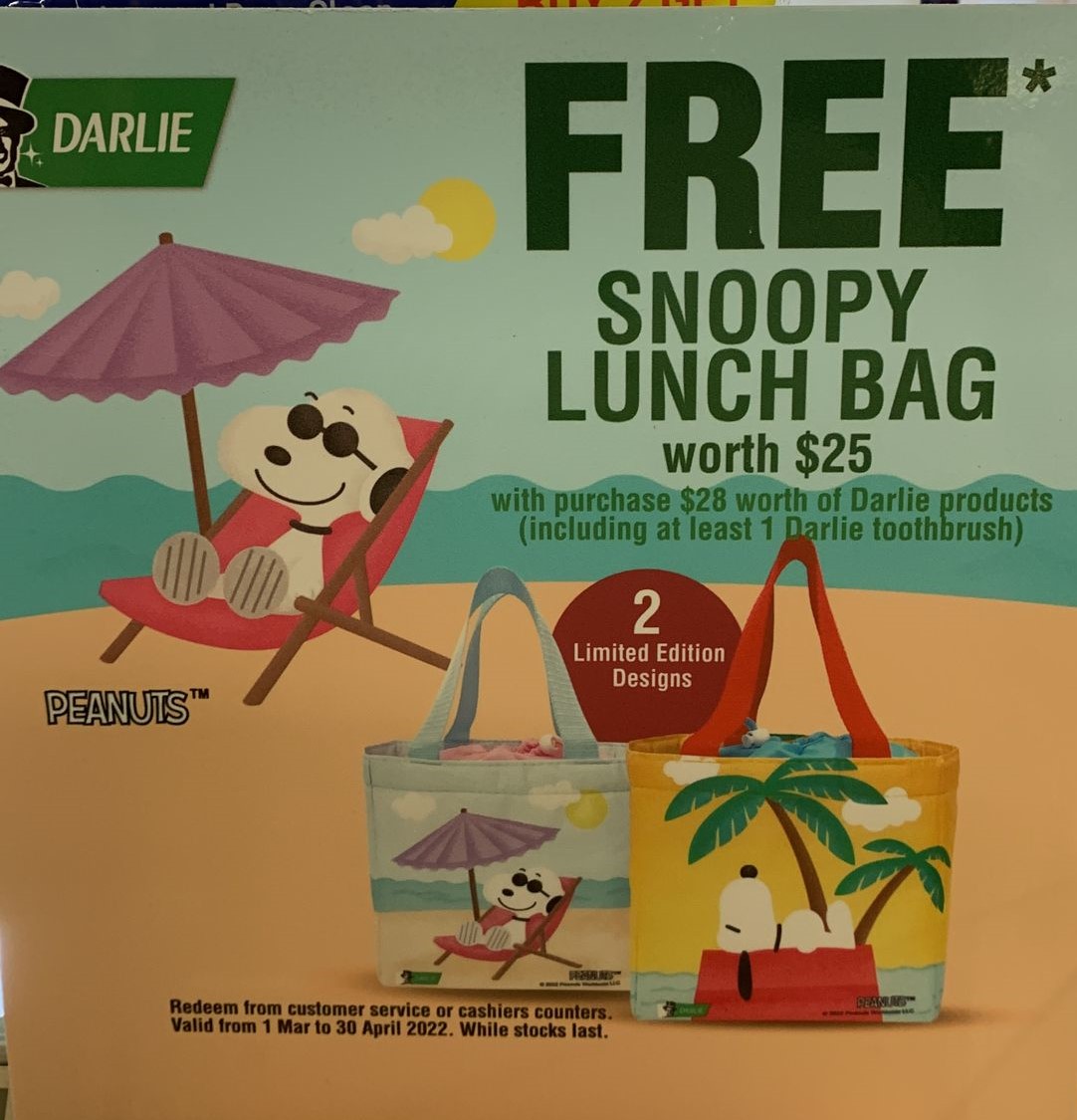 image: taken at FairPrice SG

One of the most typical promotional gifts is a lunch bag. The lunch bag is an excellent promotional tool. Traveling with a lunch bag is really convenient because it keeps the food warm. When it comes to lunch bags, schoolchildren spring to mind first. An understatement, to say the least. Other age groups can benefit from this product as well. That is why Darlie, used the licensed character Snoopy to increase brand awareness through branding the lunch bag. Customize it with your brand name, logo or slogan as well.
Turning Red - Disney Gifts


image: Disney+ SG Facebook
With the help of licensed character promotional products you may boost your company's brand and marketing plan. Using licensed characters to promote your company's name and/or logo on promotional items should be considered an investment and an important part of your overall marketing strategy, especially in social media marketing. For the month of April 2022, Turning Red distributing a number of premium promotional gifts featuring the licensed character. This strategy helps the company retain existing customers and attract new ones who are lovers of the licensed character.
Watsons Redemption - Line Friends Merchandise


image: taken at Watsons SG
Marketing strategy is all about making your customers feel at ease and responding to their needs. As a result, organizations with an emphasis on health and wellbeing must adapt accordingly, particularly during times of crisis or seasonal vulnerability to disease. In order to show clients that you care about their health and well-being, hand sanitizer dispenser and plushies freebies are ideal.
Fair Price - Winnie the Pooh Collection


image: FairPrice SG
Give your current and potential consumers promotional items with your company's licensed characters to help them remember your products and services and boost their likelihood of making a purchase from your company. Furthermore, it is a lot less expensive and more effective than other forms of advertising and marketing. It's imperative that brands keep an eye out for what's hot right now. For example, supermarket chain FairPrice is having a loyalty redemption programme where its target audience is eligible to redeem this Winnie the Pooh Collection items at discounted rates using points accumulated when shopping at FairPrice outlets. The exquisite Winnie the Pooh collections consists of a tote bag, plates, umbrellas, tumbler, cups, bowls, etc, a variety of licensed character merchandise for consumers to choose from.
Popular Bookstore - Paw Patrol Button Badge Set


image: Popular Bookstore
Paw Patrol is a popular American TV show that a lot of kids watch. Small and large companies love using badges for their brand campaign because they are cost-effective and mass production is fast and easy. Popular Bookstore took advantage of this licensed character which their consumers would want to collect all badges.
Starbucks x Line Friends Earth Day Limited Collection


image: GreatDealsSingapore
Starbucks is one brand that always takes advantage of licensed characters to reach out to its target market. Brand licensing refers to the usage of well-known characters in your retail and promotional products. In this marketing technique, the owner grants permission to another company (the licensee) to use the trademarked characters, brand name, or designs that they have registered. Licensed characters are very important, especially with big corporations like Starbucks.
Key Takeaway:
Products like the licensed character stuff described above are guaranteed to draw admiring glances due to the adorable classic figures they feature. One of the best strategies to drive customers to your brick-and-mortar and online locations. Using them as a starting point, you can come up with a slew of inventive marketing gift ideas.
Customers who buy your product or service in exchange for access to your content are getting the most bang for their buck when you use a gift-with-purchase promotion like this. Your company's products and services may be promoted to customers in this way, which would be a win-win situation for both parties.
You may thank your customers for their patronage by giving them licensed character promotional gifts. Providing clients with thoughtful promotional items at this time of year or during a company's promotional period will enhance the relationship between the company and the customer and make them feel appreciated.
Do you have any plans to run a promotion, perhaps involving the use of licensed characters in free gift with purchase promotions?
Whether you are thinking of using licensed characters to create promotional products such as plush toys, stickers, t-shirt, accessories or even packaging, Contact DTC World today! Let us know on your promotional requirements, and leave the market research and fulfilment to us!
You may be interested in our Showcase projects below:
Darlie - Hello Kitty Thermal Flask
Pororo's Walk of Love Goodie Bag
Nestle KitKat x Minions Disposable Cameras
Trending Blogs:
Latest Licensed Character Promotional Gifts for March 2022
Latest Licensed Character Promotional Gifts for February 2022
Using Licensed Characters for Gift-with-Purchase and Promotions Premiums
Disclaimer
This blog space is where DTC shares with our readers the Marketing Premiums, Promotional Products, POSM merchandises & Advertising Campaigns that we have come across in the industry. DTC does not advocate any brands or products mentioned in the blogs.