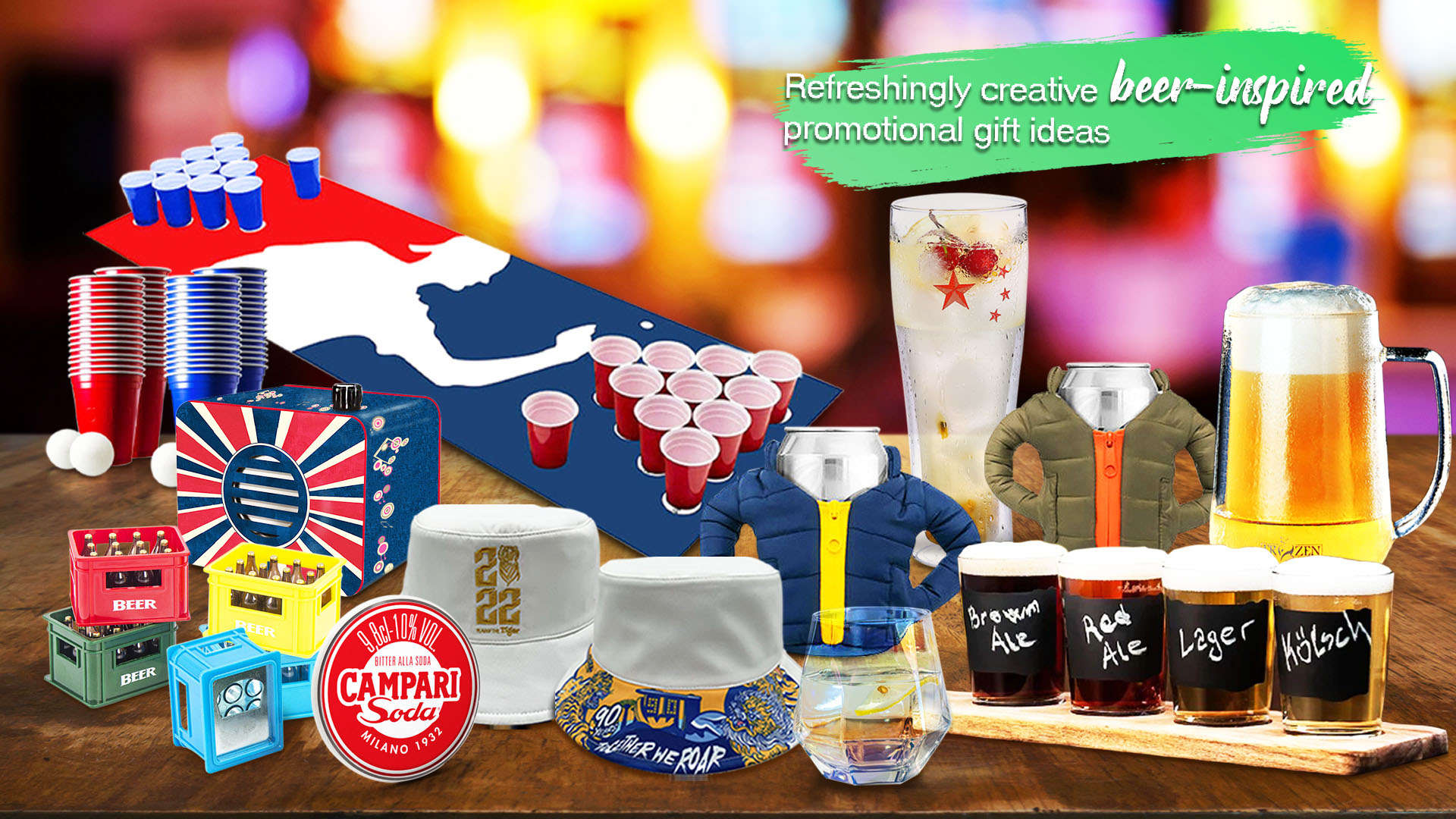 In a market that gets more and more congested, promotional gifts are one of the most effective ways for beer brands (or any brand of any industry, for that matter) to constantly grow their business — and ensure more people can enjoy their beers in more places.
Having a strong brand, based on good products with great stories and impactful visual identities can greatly help accelerate commercial success. But, you will always need something 'more' to entice your loyal patrons or potential buyers. More than just a drink, beer is a cultural phenomenon that brings people together. And what better way to celebrate the beloved beverage than by gifting beer-related items to your customers?
If you're a beer brand looking to stand out in a crowded market, you need to think outside the box when it comes to promotional campaigns. In this article, we will be looking at:-
Why and how promotional gifts can benefit your beer promotions

Various examples of creative and unique beer promo gift items

Beer-inspired promotional gifts to explore with DTC World
The following are some of the creative and impactful ideas we have cherry-picked to give a refreshing twist to your beer promo gifts and merchandise. Whether it's to create brand awareness, encourage customer loyalty, or generate word-of-mouth marketing — a good promotional item can create a lasting impression on consumers. At the end of the day, it's about thanking them for their loyalty and incentivising them to come back for more.
There are different types of beer-related gift items that you can personalise for your brand. Here's some ideas (that are sure to impress) to get those creative juices flowing:-
Customisable Beer Accessories
Beer accessories are a classic promotional gift, but you can give them a unique twist by personalising them for your brand. Customised beer accessories are not only useful but also memorable, making them an excellent choice for your marketing efforts.
As promotional gifts, customised beer accessories appeal to beer lovers and are practical items that can be used repeatedly. High usability that garners high brand recall, by incorporating some personalised touches (e.g. brand name, logo, message, etc.), you can effectively increase your brand awareness and brand visibility.
(a) Customised Beer Glasses
Beer tastes even better in a personalised glass, and a branded pint glass or beer stein is an excellent way to showcase your company's name. Engrave it with a fun message or your logo, and watch as your customers show off their new favorite glass. You can choose from different types of glasses, such as pilsner glasses, beer mugs, or beer flights. Personalised pint glasses are an excellent choice for a promotional gift because they're practical and useful. Customers are likely to keep using a branded pint glass in the future, which means ongoing exposure for the brand. Alternatively, say, a personalised double wall beer mug is not only great for branding but also for effective in creating a unique experience for your customers. And that's an effective brand recall right there!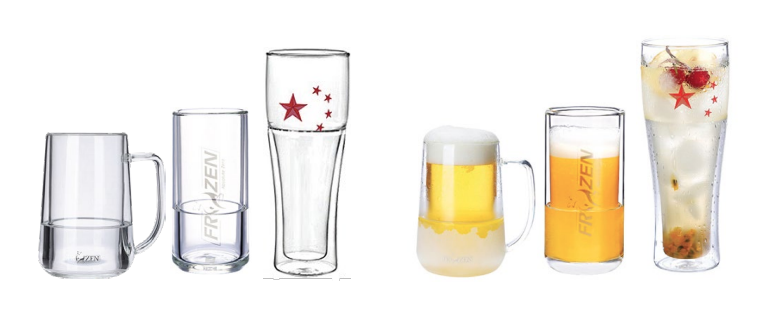 (T–B) The design and grip of a drinking glass can substantially elevate the drinking experience. Image credit: DTC World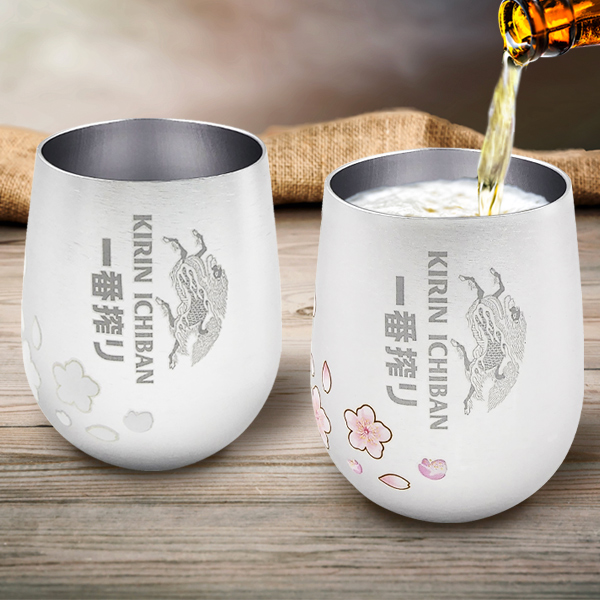 An attractive example of colour-changing drinking mugs by Kirin Ichiban. Similarly, we have also designed a series of equally exclusive-looking colour-changing beer mugs for Tiger's promotional merchandise. Check it out here. Image credit: DTC World
(b) Personalized Bottle Openers
Bottle openers are essential for any beer lover, and you can make them even more special by engraving them with your brand's name or logo. With a variety of shapes, sizes, and materials to choose from, the personalisation possibilities to fit your brand's style are endless. For instance, you can opt for a classic steel bottle opener or an eco-friendly bamboo or wooden one for a more rustic (and natural) vibe. Engraved bottle openers are a great way to keep your brand at the forefront of your customers' minds, because who doesn't love bottle openers?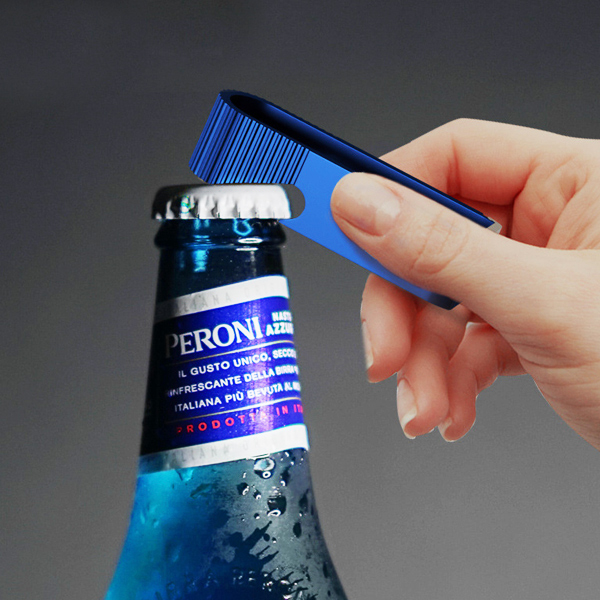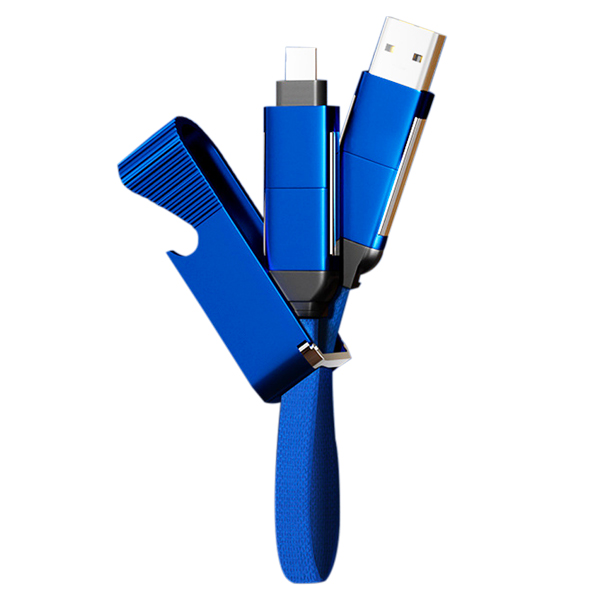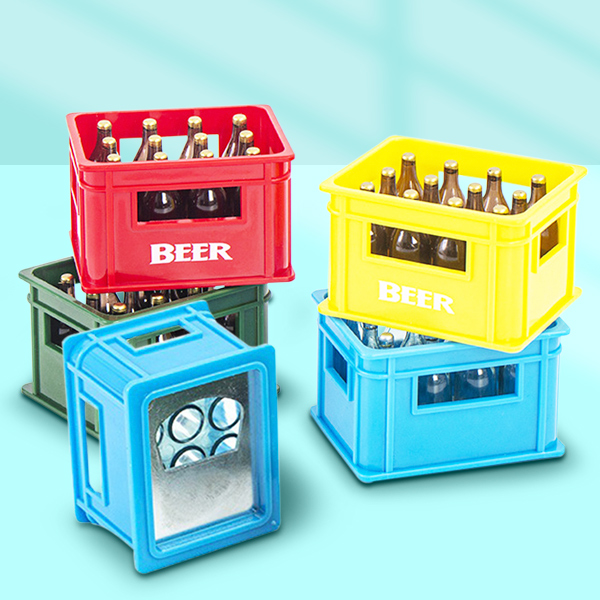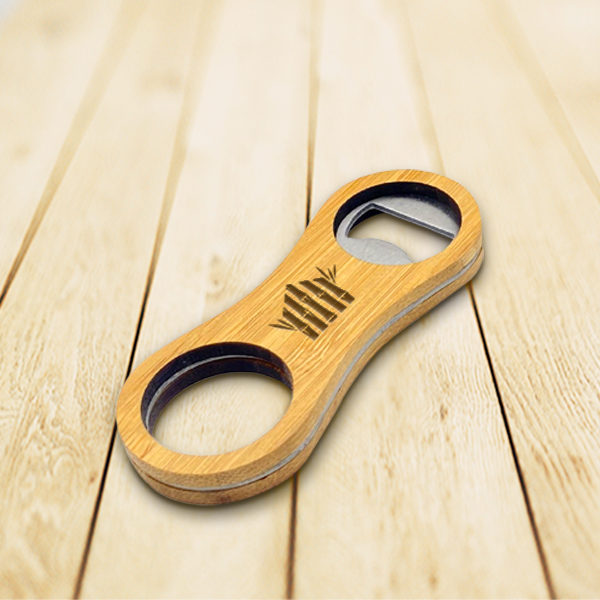 (TL–DR) From a witty crate-inspired magnetic bottle opener to a leather coaster one that exudes a touch of prestige, there are many different styles and materials available for a personalised bottle opener which makes the perfect beer-inspired promotional gift to entice your customers. Image credit: DTC World
(c) Branded Beer Koozies (Coolers)

A koozie is the perfect accessory for keeping your beer cold, and adding your logo to it is a great way to promote your brand. You can choose from a variety of materials and colours to fit your brand's aesthetic. For instance, you can opt for neoprene koozies for a sporty look or leather koozies for a more sophisticated feel. Branded beer koozies are not only practical — they are also a fun way to show off your brand.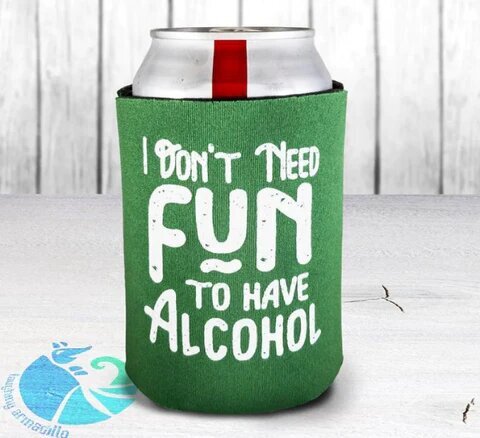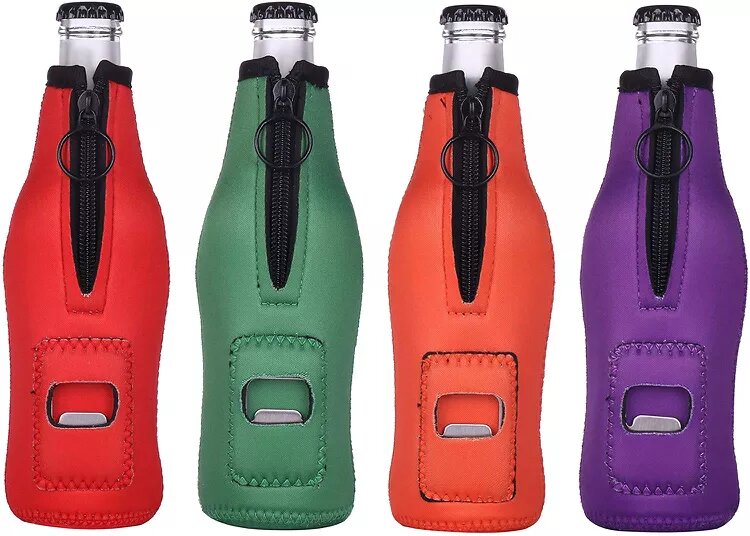 Sleek and practical, a can or bottle cooler (koozie) is a good promotional gift that allows ample space for branding and personalisation touches. Image credit: DTC World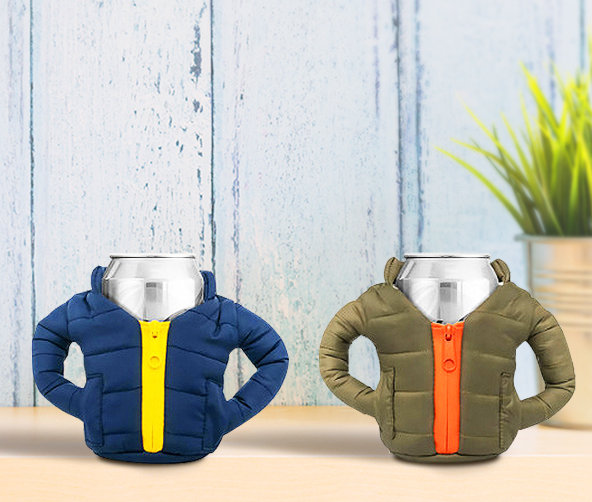 Unique Beer Tasting Experience
Beer tasting experiences are a fun and educational way to engage your customers and introduce them to new flavours. Here are a few creative ideas to make your tasting experience stand out:-
(a) Unique Beer Tasting Sets
A beer tasting set can be a unique gift for customers who are looking to try new beers. These sets can include branded glasses and a variety of different beer samples for customers to try. This gift not only reminds the customer of the brewery but can also introduce them to new beers that they might enjoy.

When creating a beer tasting set, it's important to consider the types of beers you are planning to include. For example, a brewery could create a set that includes a variety of their most popular beers, or they could create a set that focuses on a specific type of beer, such as IPAs or stouts. By tailoring the set to the customer's preferences, breweries can create a truly memorable gift.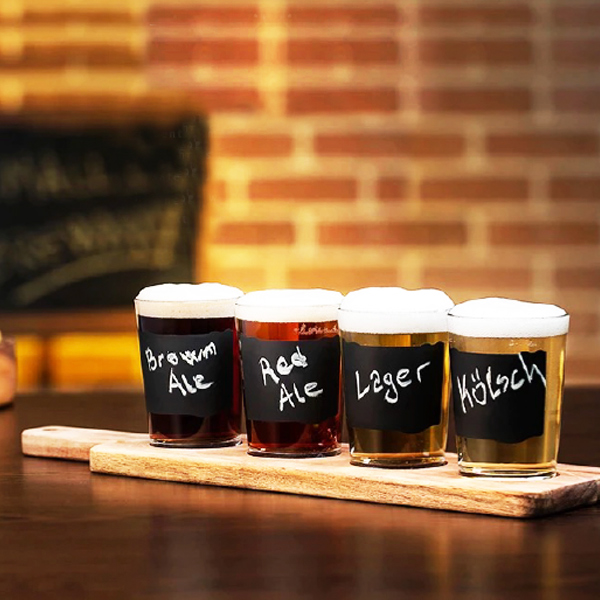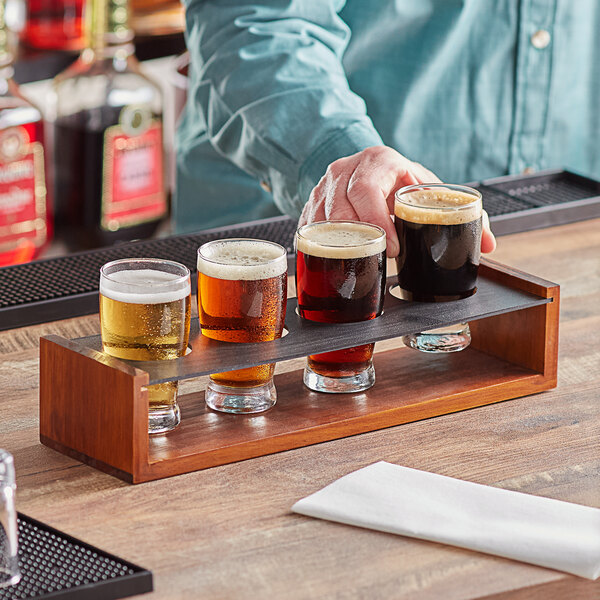 (TL–DR) Examples of beer tasting sets that are ideal and useful marketing tools during promotional campaigns of event launches. Image credit: DTC World, WebstaurantStore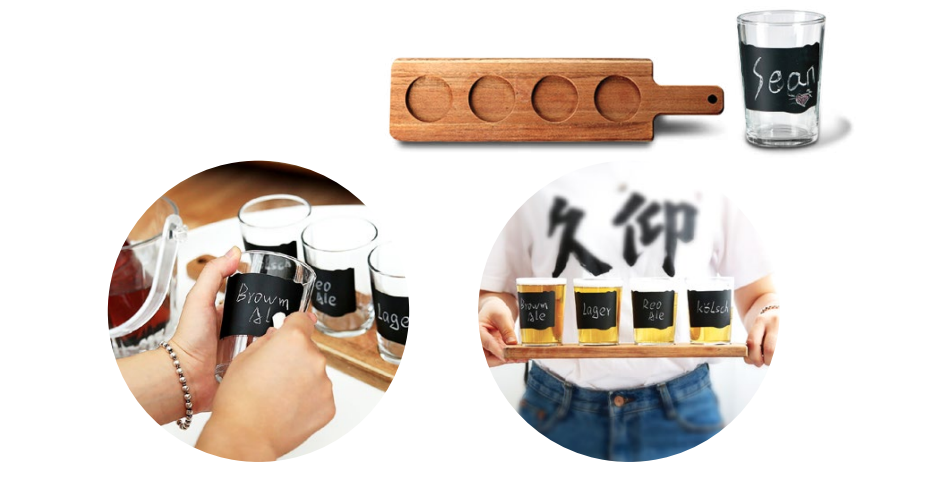 (b) Beer and Food Pairing Guides
Partner with a local food vendor and create a guide on how to pair your beer with their cuisine. Customers will appreciate the insider knowledge, and you'll expand your reach within the community.

Beer and food pairing is an art form, and your customers will appreciate any guidance you can give them. Partner with a local restaurant or food truck and create a guide that suggests which of your beers go best with their menu items. We believe your customers will certainly love trying out the pairings.
But don't stop at just one partnership. Consider reaching out to multiple vendors and creating a series of pairing guides. You could even host a beer and food pairing event, where customers can try the pairings in person and meet the vendors behind the food.
Beer-inspired Apparel
Beer is not just a drink, it's a culture and a lifestyle. People love to show off their love for beer through apparel. From t-shirts to hats, apparel is a great way to spread your brand message. Here are a few beer-inspired apparel ideas that will help you promote your brand and create a loyal customer base:
(a) Custom T-shirts and Hats
Custom T-shirts and hats are a classic way to promote your brand. Get creative with your designs and incorporate your branding in a fun and eye-catching way. You can give them away as free gifts or sell them as merchandise. Your customers will love to wear your brand on their sleeves (or on their heads!)
But don't just stop at the logo. Think about beer puns, funny beer quotes, or even beer-related memes. For example, you can have a t-shirt that says "Beer is not a hobby, it's a lifestyle" or "Beer me, please". These kinds of designs will make your customers smile and create a connection between them and your brand.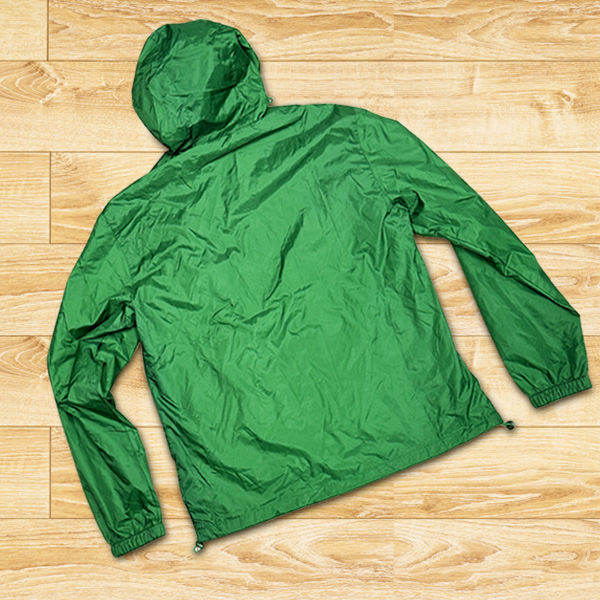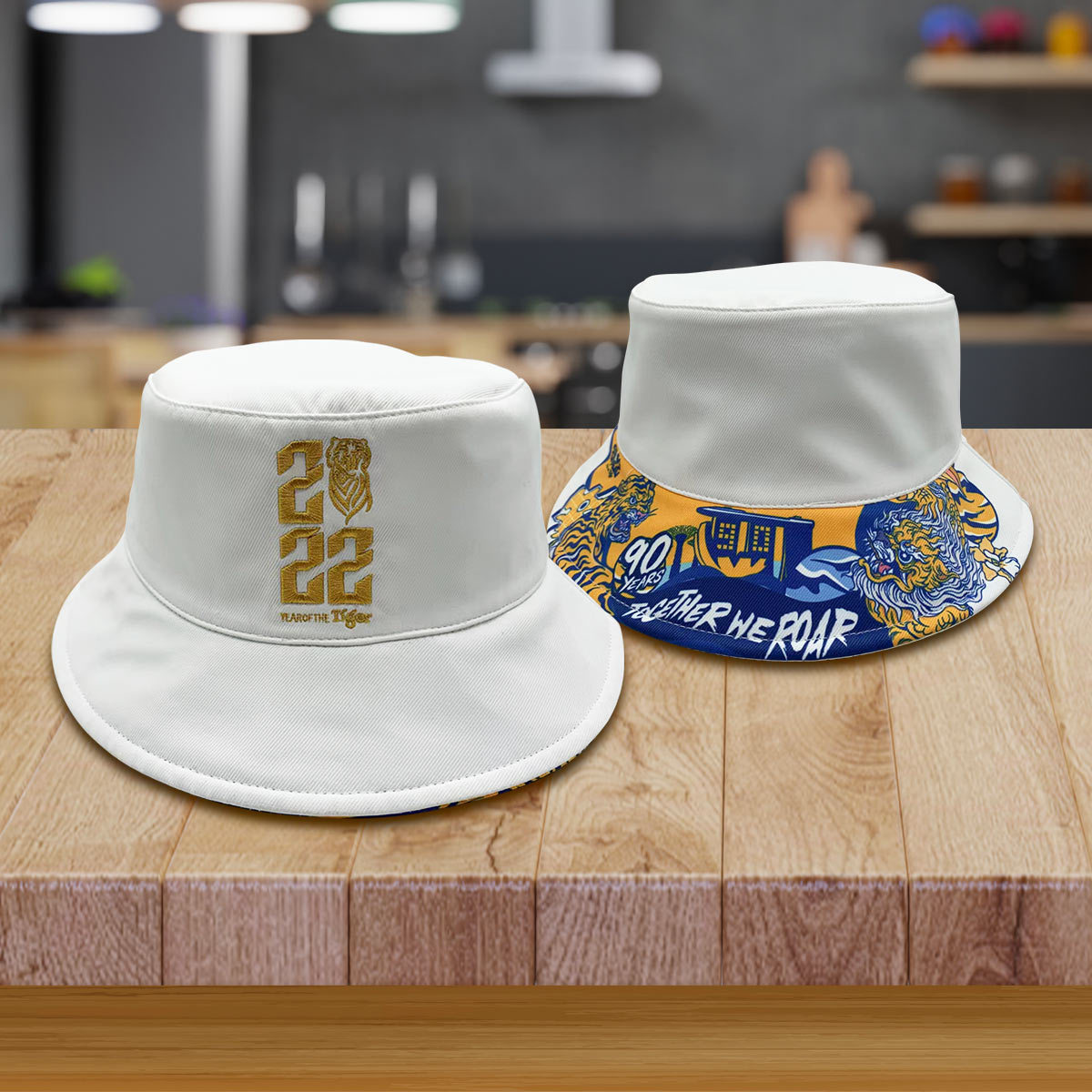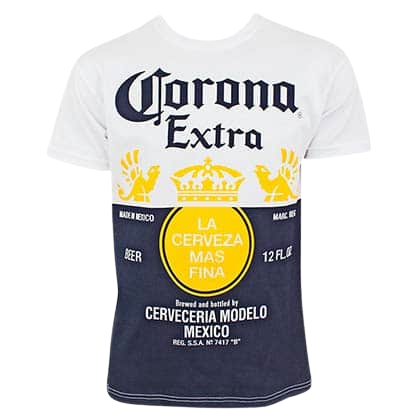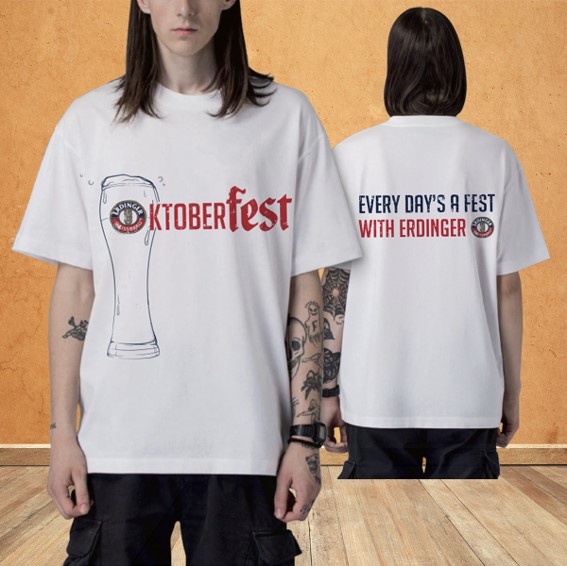 (L–R) Whether it's a regular fitting top, an oversized T-shirt, a vibrant hoodie, or a trendy reversible bucket hat — showcase your beer brand in the most comfortable way. Image credit: Wearyourbeer, DTC World

(b) Beer Slogan Socks

If you're looking for a unique accessory to promote your brand, consider customised beer-themed socks. They're a fun and 'unexpected' gift that will leave a lasting impression. You can create socks with beer slogans, beer bottle designs, or even a pattern of beer mugs. Socks are a great conversation starter and will make your customers feel special.

Plus, socks are a great way to showcase your brand in a subtle, if not comfortable way. People might not notice a T-shirt right away, but they will definitely notice a fun pair of socks peeking out from under someone's pants.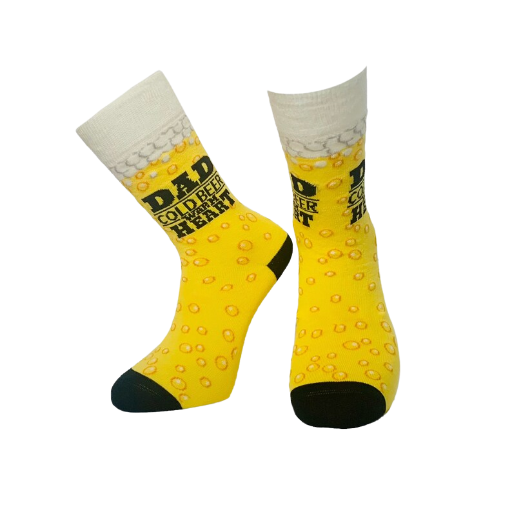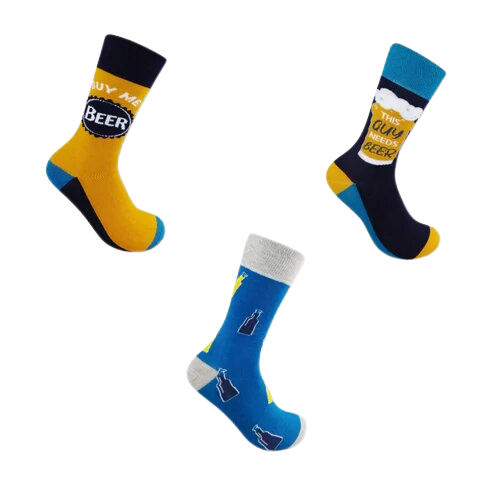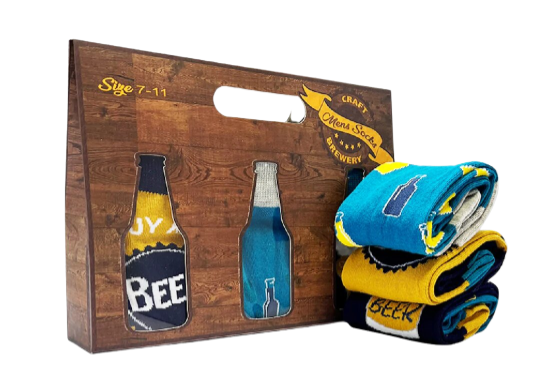 (L–R) Promotional beer-themed socks are a great conversation starter that surely leave a lasting impression for your brand. Image credit: Toepants, Urban Centric
Novelty Beer Items
Novelty items are another fun way for beer brands to promote their products and create memorable experiences for customers. These items can range from practical to purely entertaining, really.
(a) Beer-Scented Candles
Beer-scented candles are a surprising, yet creative promotional item. These candles can provide customers with the comforting aroma of hops and other beer ingredients. This unique gift adds an extra level of personality to the brewery's branding, as it's not something customers might have seen with other beer companies.
(b) Beer-Themed Board Games
Beer-themed board games are the perfect choice for customers who are interested in having a good time at home with friends. These games incorporate beer themes and can be branded with a brewery's image or logo, providing a fun opportunity for customers to interact with the brand in a unique way.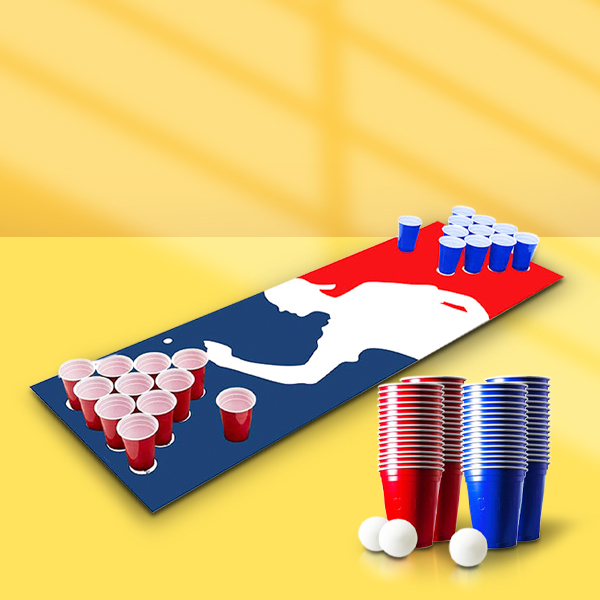 Example of a portable home party beer pong game set that brings in the fun and laughs at any social gathering. Brewery brand logo and name can be easily printed on the board, creating an impactful brand presence and brand recall. Image credit: DTC World
(c) Custom Beer Cap Maps
Custom beer cap maps are a creative way to showcase a customer's beer adventures. The maps can be customised with a brewery's branding — inspiring customers to collect beer bottle caps and turn them into a unique display piece. Alternatively, one may even turn this collection into an artistic beer-themed wall art that will surely make any guest to your home have his head turned for a second glance.
Whether it's a vintage beer poster or a custom piece, your customers will appreciate the effort you put into choosing this unique gift. These pieces can be hung in a home bar, or in a living room — adding a fun and playful touch to any space.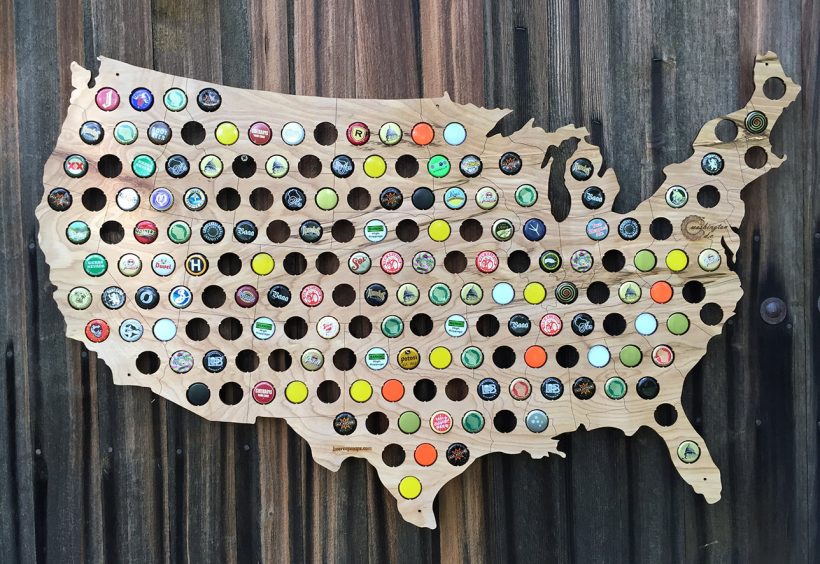 It is really hard to turn down such a creative, beer-tastic piece of wall art. Image credit: Beer Advocate
____________________________________________________________________
Closing Thoughts
There are numerous ways to show your customers how much you appreciate their business, and these series of unique and refreshing promotional gift ideas for beer brands are just the beginning. Get creative, have fun with it — and see how your marketing transforms when your brand gives a breath of fresh air to how conventional (or mundane) beer promo gifts look-n-feel like.
We understand you are constantly looking for something distinctive, one-of-a-kind to enhance your brand visibility — and ultimately, elevate your sales volume. Therefore, if you'd love to find out more about any one of the beer-inspired promotional gift ideas we have shared in this article, just put our team to work — and our product and gift experts would be more than happy to fill you in.


Check out these promotional gift ideas to complement your marketing efforts:
Raise a Glass to the Perfect Drinkware Gift Ideas
Creative and Cool POSM Ideas That Turn Heads and Drive Sales
The Ultimate Guide To Unique Glassware Marketing Gift Ideas