Staff bonding is an essential part of DTC World organisation. We believe it allows our employees to feel connected to one another, and it helps them work together effectively. A staff bonding culture can also help to improve productivity, morale, and even customer satisfaction. Since the further easing of community measures in Singapore, our SG recreational committee has been planning for a staff bonding activity where everyone can gather and have fun together. 
And finally… 
2022 Year End Barbecue Party on 2 November
Everybody in the office was looking forward to the BBQ gathering that was scheduled for 2 November 2022. Work ended a couple of hours earlier for the staff, so that we had time to make our way to the BBQ venue at Yishun Safra.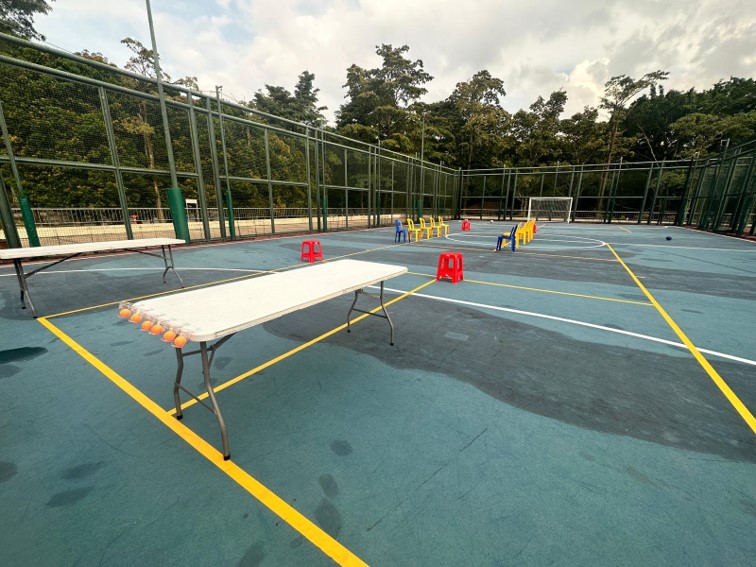 Welcomed by this scene at the court! 
Our recreational committee had already set up the game stations, waiting for us.
When we got there, everyone was instructed to gather at the courts area. At the Courts area, we realized that our recreational committee had set up tables and many multicolored chairs. The chairs were spread out around half of the court, and there were transparent plastic cups attached to each of the tables. All of us started to wonder (and maybe a little worried) what the recreational committee had planned…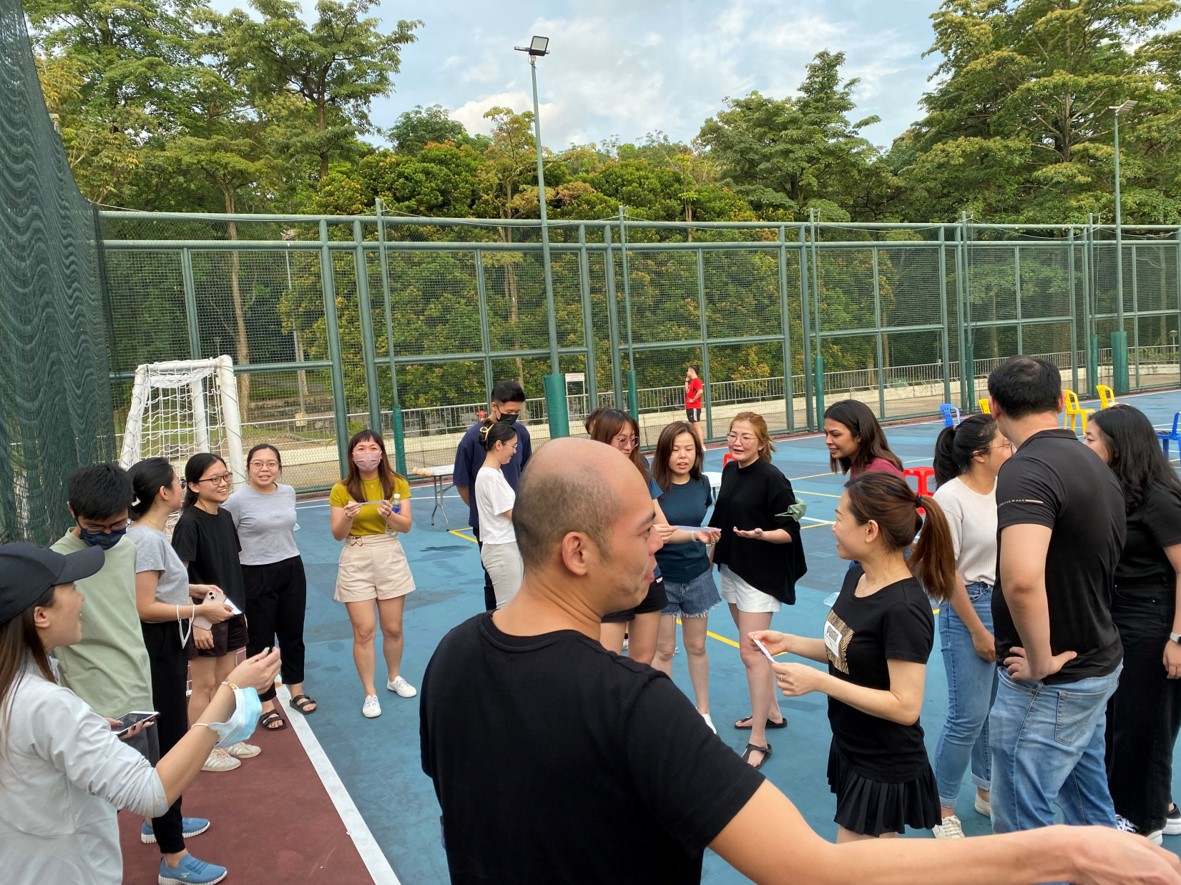 Gathering for the staff bonding games. Excited to find out what was in store for us.
Fun and exciting Staff bonding games
The recreational team then briefed everyone that we were using the equipment set up to play a series of team bonding games. They then proceeded to explain the complicated rules of the games that we were to be playing. We would be divided into teams, and play against one another.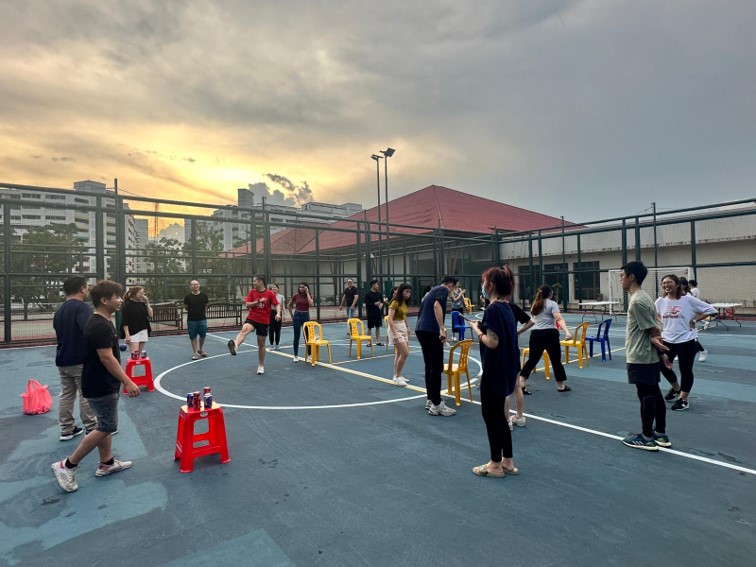 Different teams strategized on who to be up for each station.
Getting warmed-up and ready for the games…  
And the games began…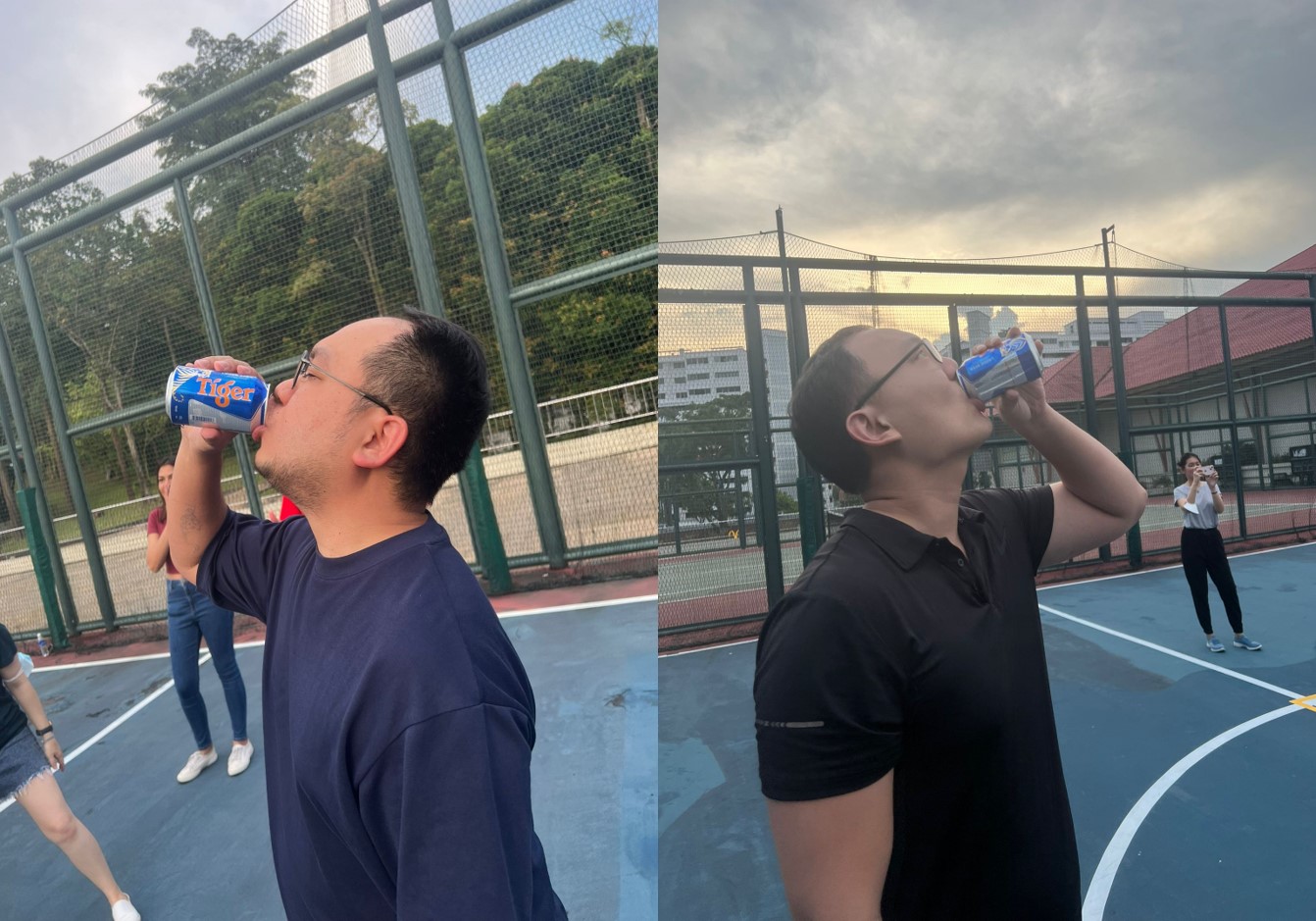 2 of our best drinkers in the office, Kian Fong and Yu Juan. They gulped down a can of Tiger beer each within minutes! 
Everyone was thrilled during the games, cheering on the team mates relentlessly. It felt amazing. When you are on a team, everything becomes simple and easy. You know what you have to do, and everyone is working together towards the same goal. It's exhilarating to be able to put your all into something, and see it come together in spectacular fashion. And when things go wrong, there are always those around you who are willing to help pick up the pieces and carry on forward. 
Winning team emerged…
Highlights of the last moments before the first team completed the games. Look at how ecstatic everyone was! 
Enjoying mouth-watering BBQ food
When the games ended, the feeling of hunger started to kick in. But fret not, food was already ready for the staff to savour in.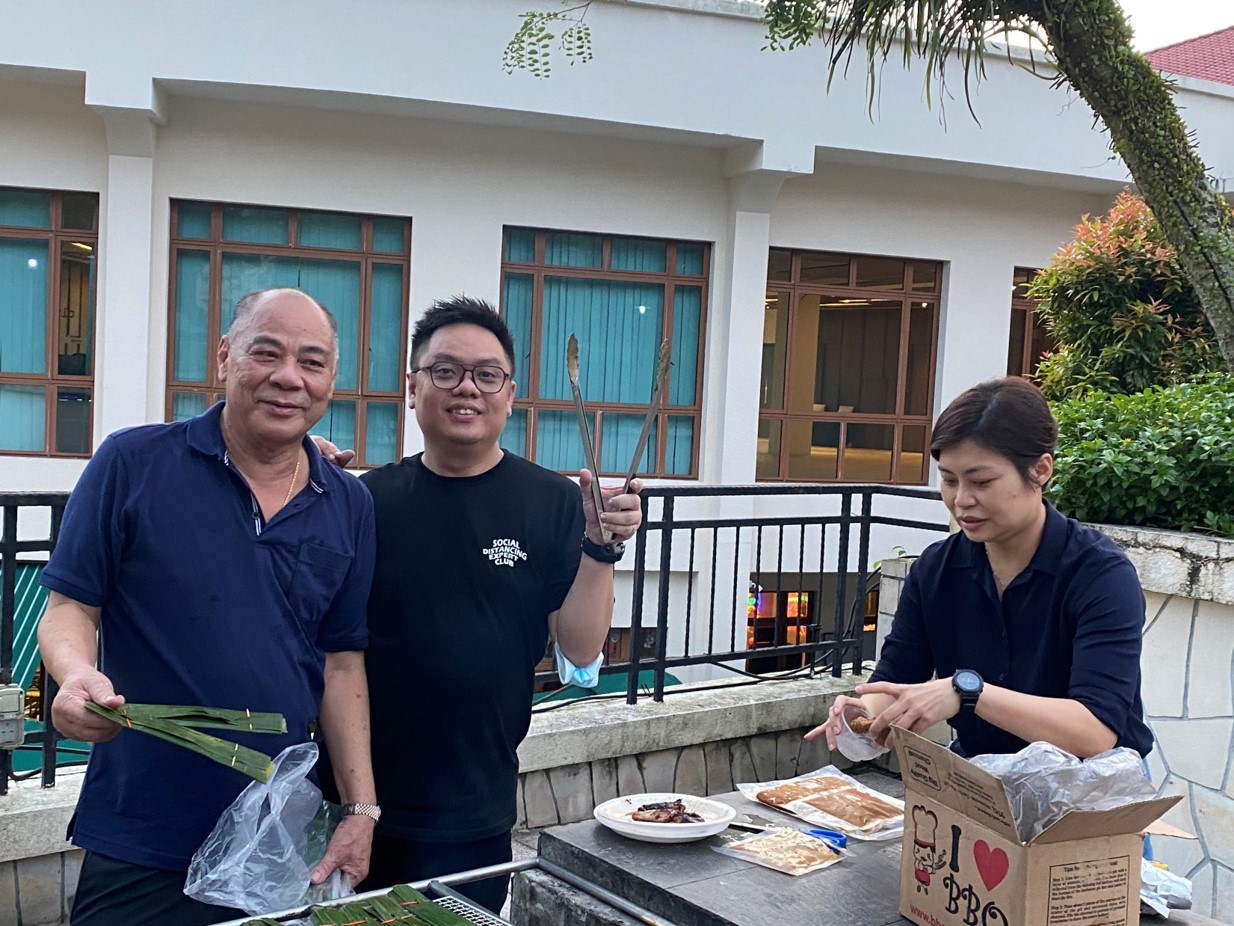 Mr Cheng (CEO), Annde and Yee Chin (Regional General Manager) busily preparing food for all staff 
While most of the staff were playing the games happily, our management team had been hard at work – barbequing food at the bbq pits, so that food was ready to be served almost immediately after the staff bonding games!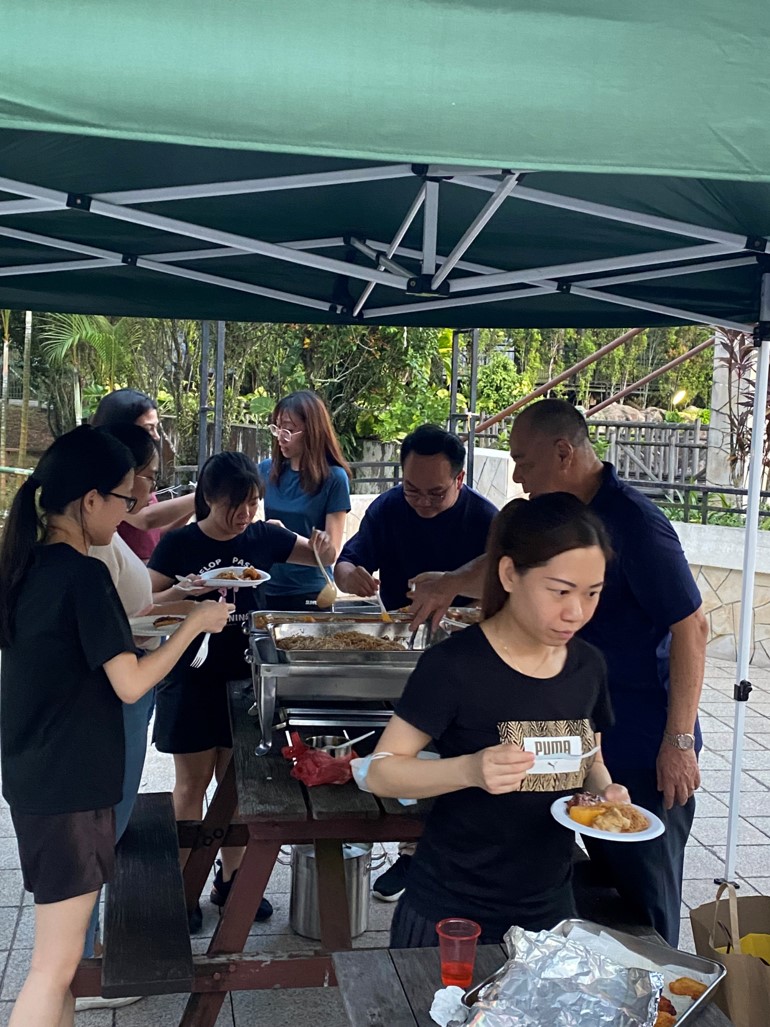 Helping ourselves to the delicious food

More colleagues helping to bbq the food.
The pit and fire were set up in no time (so professional!)
Special element to the BBQ party: CEO Birthday Celebration
To make things even more special, we invited our CEO, aka Boss up, to celebrate his upcoming birthday in mid-November.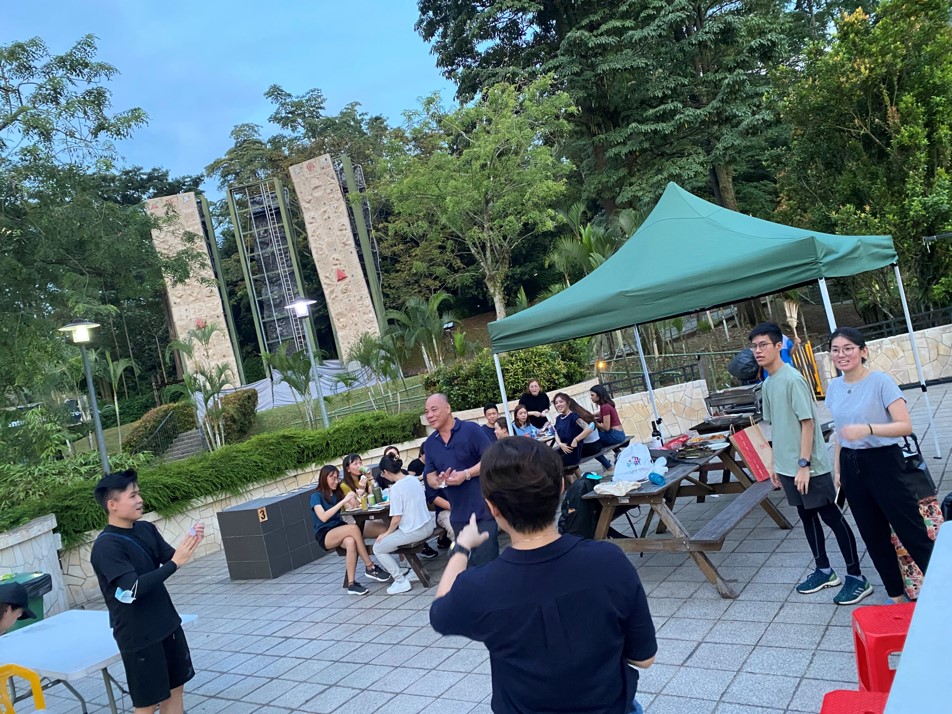 Inviting Mr Cheng to the front
Look at how Mr Cheng was. He is past his 70s (can you believe it?) 
Of course, not forgetting the prize presentation to the winning team from the team bonding games earlier. The prize was a big box of chocolates (which was shared among everyone, sharing the fruits of success with everyone in DTC World). 
Mr Cheng presenting the prize to the winning team from the staff bonding games 
A successful staff bonding and year-end BBQ party 
The BBQ party was a great success, with everyone enjoying themselves and spending time getting to know each other better. Some office staff even report that they have formed new friendships as a result of the event!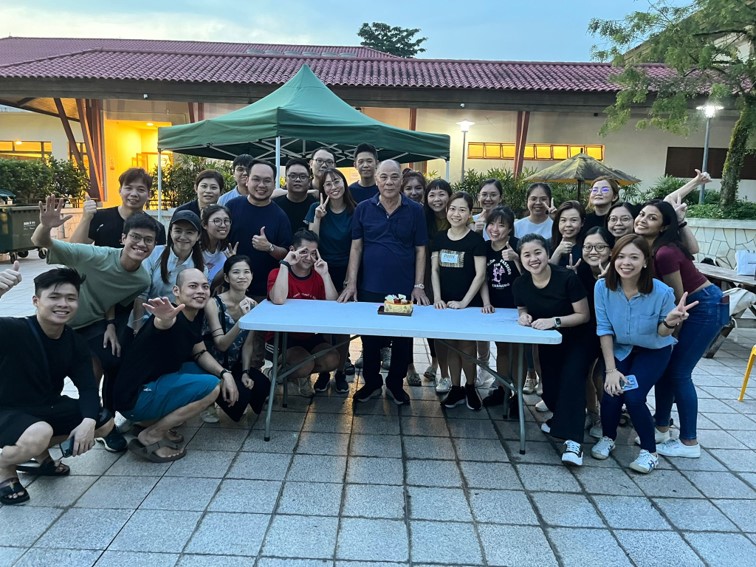 Special credits to our SG recreational committee for making this meaningful event possible. 
Other News on DTC World