Who doesn't love a free gift? When we go shopping and we see promotions where there are free gift-with-purchase (GWP) items, we will tend to turn around and take a second look at those promotions.
Offering free gifts to entice customers to buy your products and services is one popular and effective marketing strategy that brand owners and marketers use to stimulate sales numbers.
Let us take a look at what are some of the on-going GWP promotions that we can see in the market now. You may find some ideas for your own marketing needs, and chance upon some really good deals!
KAO brand gift-with-purchase: free Kao Reusable Bag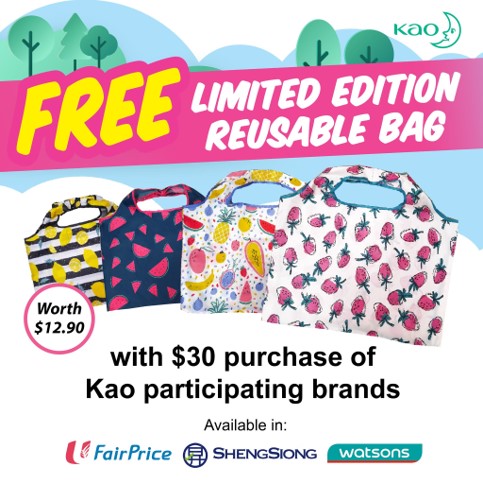 Photo: Laurier Singapore Facebook
Free reusable shopping bag / carrier with S$30 purchase of any KAO participating brands. 4 pleasing and sweet fruity designs available. A very useful gift, as more people are encouraged to bring their own shopping bags / carriers nowadays.
Pokka gift-with-purchase: free Pokka Premium Japanese Pouch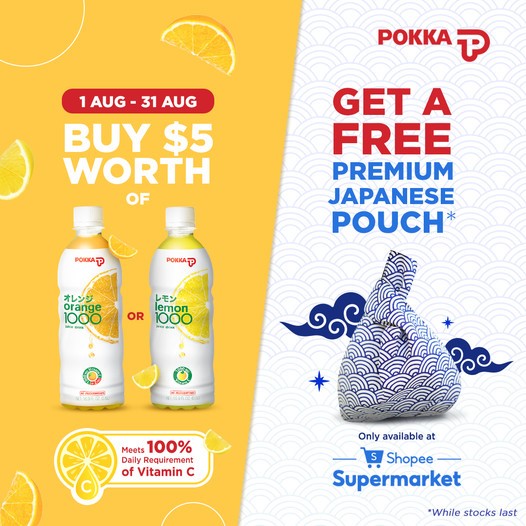 Photo: Pokka Facebook
With the purchase of just S$5 worth of these refreshing Pokka bottled drinks on Shopee, you are able to receive a Japanese style pouch for free! Small handy pouch that can be conveniently hung around our palms or wrists, suitable for daily casual use. These Japanese pouches are gaining popularity these days.
Marigold Peel Fresh gift-with-purchase: free Peel Fresh Orchid edition Wristlet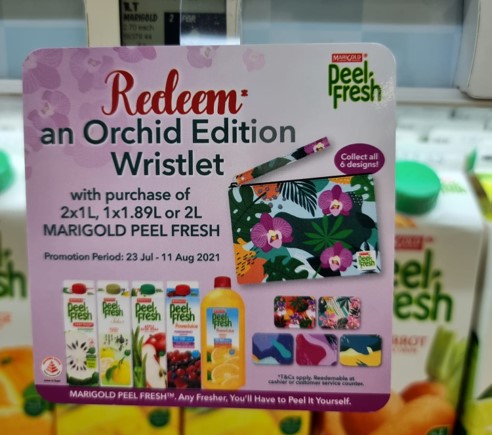 Another well-received gift for the ladies -- Wristlet. 6 artistic designs available as gift-with-purchase redemption gifts. As August is the month of national day celebration for Singapore, there is no doubt the Orchid design Wristlet may be the most sought-after design by Peel Fresh lovers.
Hawker Wars x Wall's Asian Delight gift-with-purchase: free Taste of Home Plates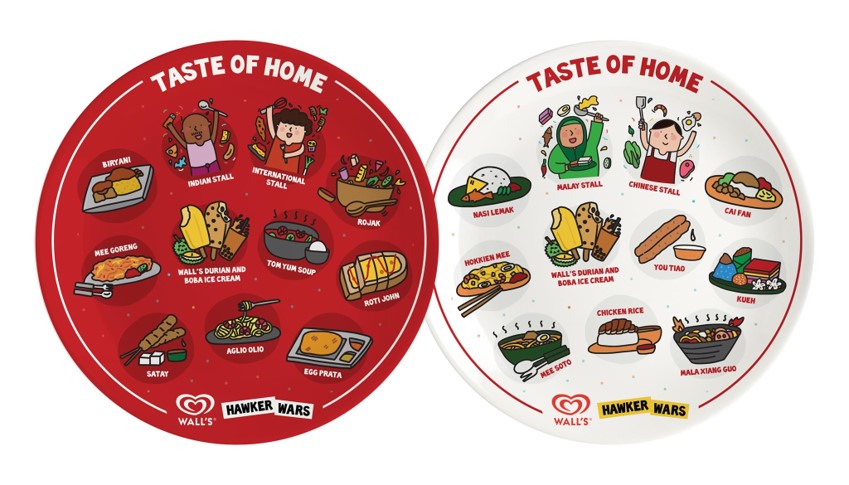 Photo: Wall's Ice Cream Singapore Facebook
Adorable cartoon-style locally inspired designed plates that ice-cream lovers can redeem when they buy S$15 worth of Wall's Ice Cream products. Just by looking at the appealing hawker foods depicted on the plates makes tummies growl! Unique collectible gifts that uplift the Wall's brand image as well!
Lifebuoy x The Singaporean Dream gift-with-purchase: free Lifebuoy Tote Bag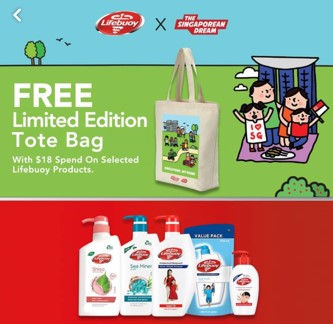 Photo: Lifebuoy Singapore Facebook
In conjunction with Singapore's national day celebration month, Lifebuoy is giving away a functional Tote Bag when consumers spend a minimum of S$18 on selected Lifebuoy products. Fancy donning a limited edition tote bag with cute local icons!
Dutch Lady gift-with-purchase: free Marvel & Disney Bag Tags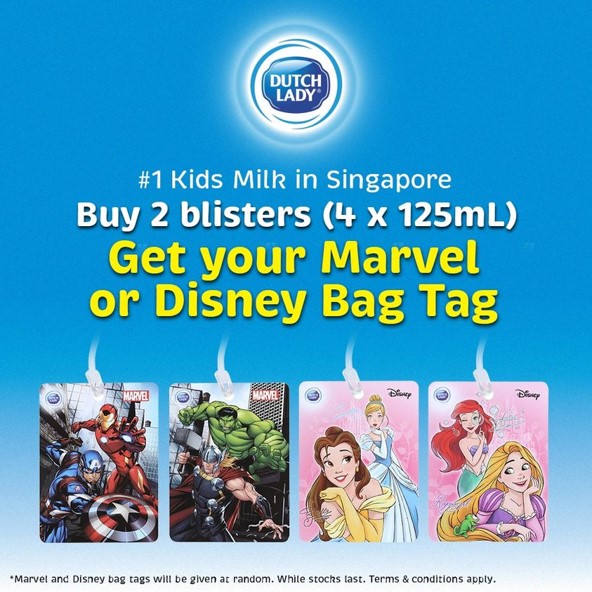 Photo: Dutch Lady Singapore Facebook
Licensed characters merchandise has always been very well-received in the markets by both adults and children. We have seen many licensed characters gifts, these Marvel and Disney bag tags are definitely a refreshing gift-with-purchase idea. Reusable, with designs that appeal to both boys and girls. Parents won't mind making the minimum purchase to get these bag tags.
Marigold UHT Milk gift-with-purchase: free Marigold Animal Cereal Bowls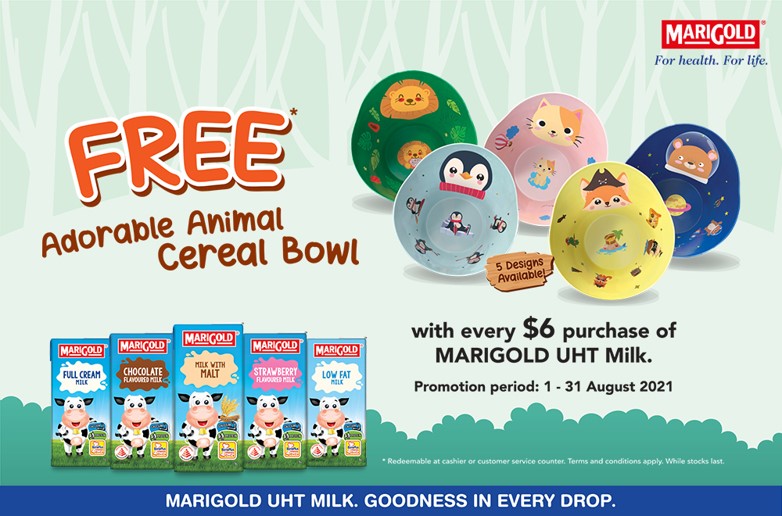 Photo: Marigold Singapore
One look at the 5 lovable cereal bowls above will make anyone want to collect them all! A well thought-out GWP item, that just seems so compatible with the brand image of Marigold UHT Milk.
Suntory Beverage & Food: free Suntory Trolley with Goodies Bundle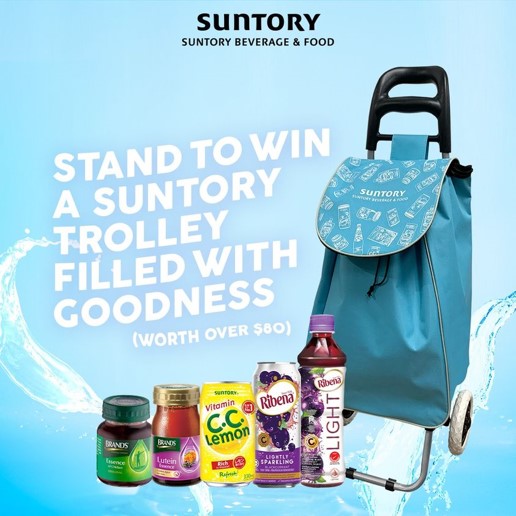 Photo:C.C.Lemon Singapore Facebook
Suntory is running a giveaway campaign on its social media. Consumers stand to win a functional trolley that contains free goodies of products under the Suntory brand, such as BRAND'S®, C.C. Lemon and Ribena! An effective and easy-to-execute marketing strategy to reach out to more consumers.
MamyPoko gift-with-purchase: free MamyPoko Kids Cutlery Set

Photo:Cold Storage Singapore
There are so many different brands of diapers to choose from. MamyPoko is giving away a complete set of Kids' Cutlery with the purchase of 1 carton of its products. This will encourage parents to purchase more to be entitled to the free gift.
Pampers gift-with-purchase: free Ski Hop Duo Signature Grey Feather (Kid's trolley bag)

Photo:Cold Storage Singapore
Pampers is luring parents by offering branded SKI HOP trolley bags for kids as free gift-with-purchase. Very attractive indeed!
Merries gift-with-purchase: free Merries Lunch Tote Bag

Photo:Cold Storage Singapore
Merries is also carrying a GWP promotion this period too. Consumers are able to receive free Lunch Tote Bags in sweet colours when they buy Merries diapers at Cold Storage outlets. A lunch tote bag will come in handy when parents need to pack food out for the little tots.
Heineken x Euro2020 gift-with-purchase: free Euro 2020 Beer Glass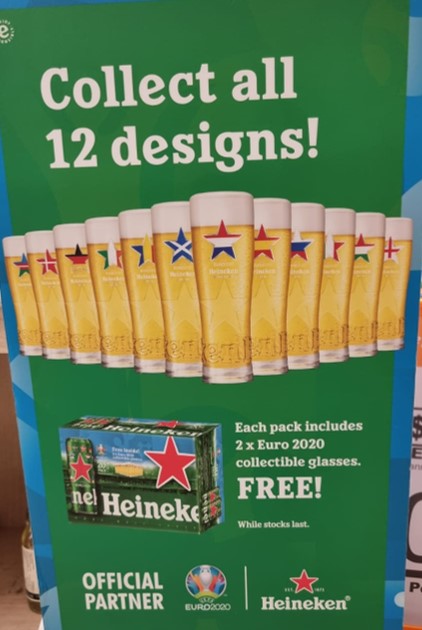 Euro 2020 may be over, but soccer fans are still able to reminisce about this sports event by collecting these elegant Euro 2020 collectible glasses. Some supermarkets are still having this GWP promotion. Head to these supermarkets to purchase this Heineken pack before it runs out.
Colgate gift-with-purchase: free Neoflam Frypan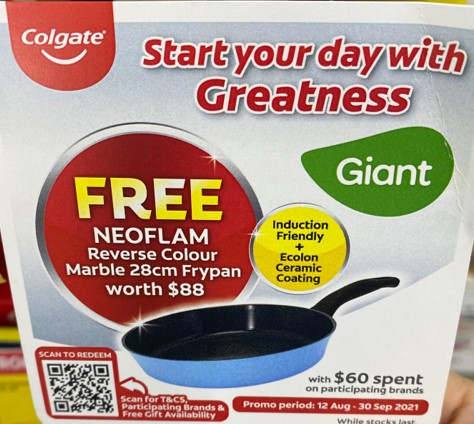 Giant supermarket is running this GWP promotion, where the purchase of S$60 of Colgate and participating brands of products will be able to get a free gift of a very essential cooking frypan. Homemakers will love this!
Starbucks gift-with-purchase: free Starbucks Mug & Tote Bag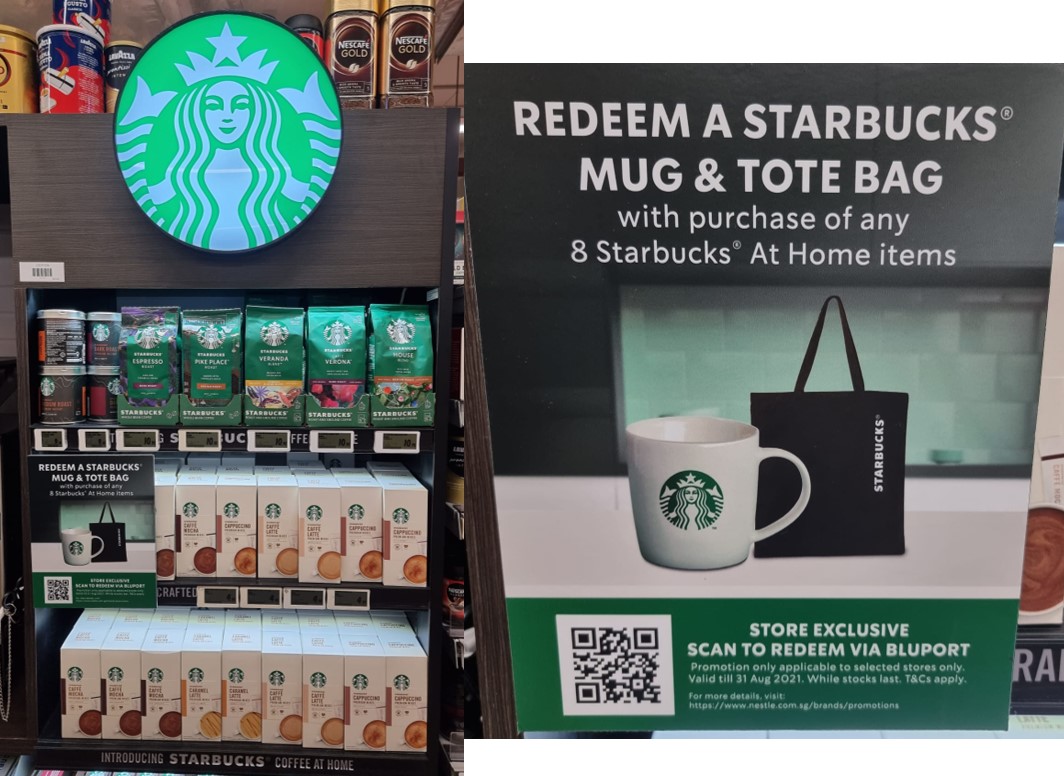 Starbucks has its fair share of loyal supporters everywhere. During the Covid-19 period when many have been staying at home, more coffee lovers have begun to brew coffee at home. Now those Starbucks cum coffee lovers have reason to smile! With purchase of the Starbucks At Home items, they are able to receive a free stylish Starbucks Mug & Tote bag!
Dove Micellar gift-with-purchase: free Dove Color Changing Glass Flask/Bottle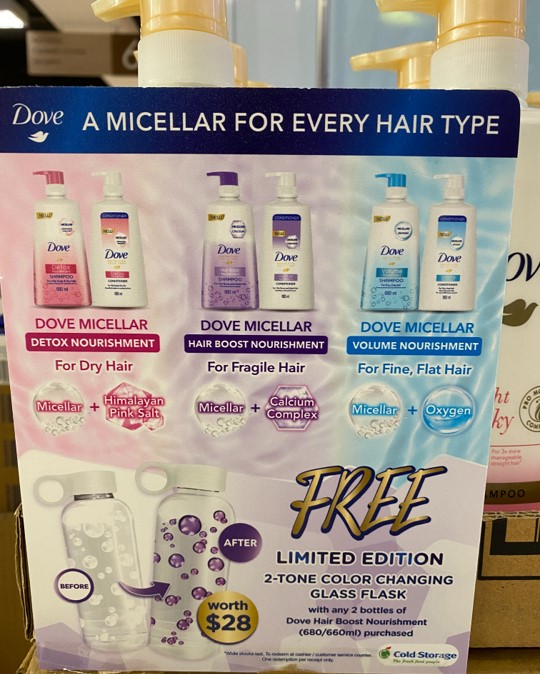 Free bottles and flasks as gifts are frequently seen, as everyone will have use for drinkware items. Dove has caught our attention by giving away color changing glass flasks for the Dove Micellar range of products. An interesting and novelty free gift idea.
Kate Spade gift-with-purchase: 4 pc Gift Set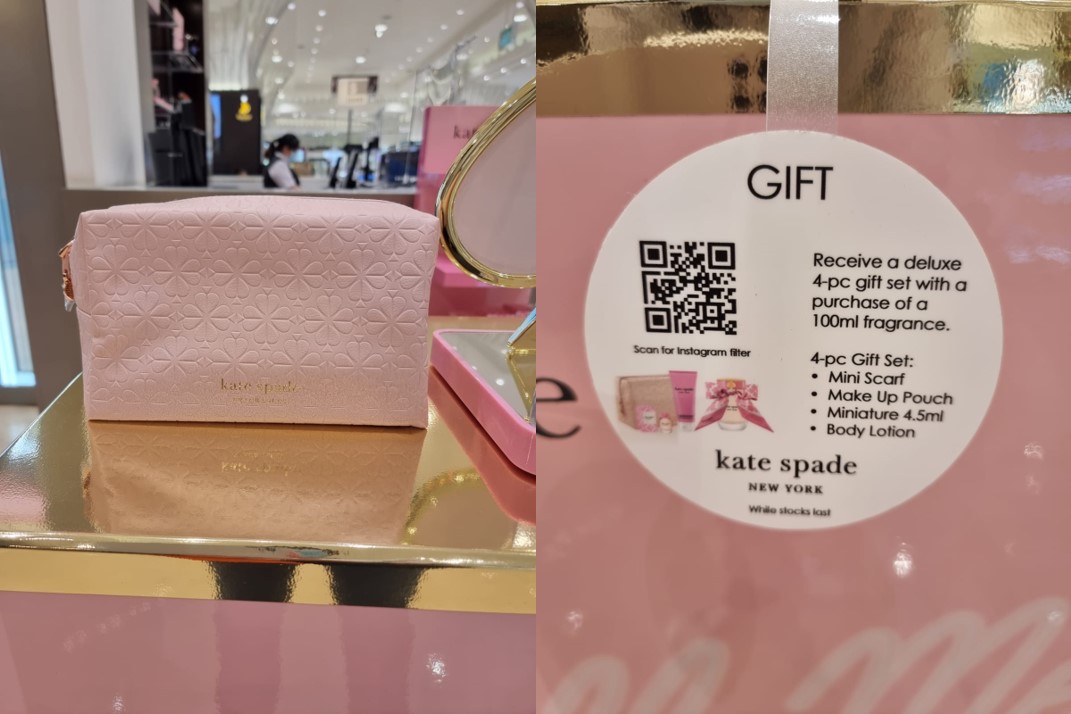 Any perfume lovers around? With a purchase of a 100ml Kate Spade fragrance, you will receive a deluxe gift set, consisting of 4 premium items: Mini Scarf, Makeup Pouch, Miniature perfume & Body Lotion. Adore the pouch design, simple and elegant, and able to fit in all the essential cosmetics!
Medicube gift-with-purchase: free Beach Towel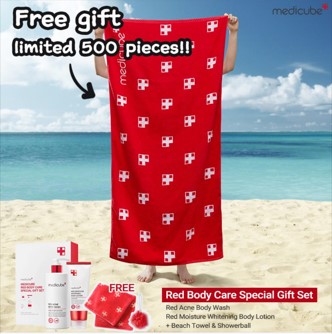 Derma cosmetics Medicube is giving away free Beach Towels for purchases made on its products too!
Gudetama Race Pack (Goodies Bag)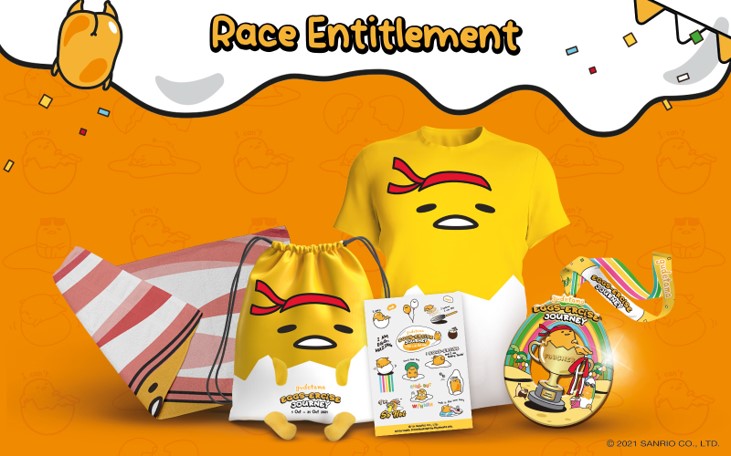 Photo: 42Race
These Gudetama-themed items have really grabbed our attention. By signing up for this event, you will be able to receive a race pack bundle, with adorable items depicting the iconic Gudetama design. There are Dri-fit Sports T-shirt, Exclusive Gudetama Sticker Set, Bacon Sports Towel, Drawstring Bag and a delicately designed Medal!
A well-bundled sports pack gifted to participants to entice them to join the event.
Embarking on Free gifts with purchases to add value to your brand and to convert buyers? Contact DTC today!
We have years of experience in designing and product sourcing. You can rely on us for producing promotional giveaways for your marketing campaigns.
Popular Blogs for your reading pleasure:
Supermarkets Gift-with-Purchase Promotions
Plastics Alternatives for Sustainable Promotional Gifts
7 Tote Bags Loved By Marketers
Malaysia GWP Promotions in the Market
Vietnam GWP Promotions in the Market
Disclaimer
This blog space is where DTC shares with our readers the Marketing Premiums, Promotional Products, POSM merchandises & Advertising Campaigns that we have come across in the industry. DTC does not advocate any brands or products mentioned in the blogs.