If you're looking to achieve greater sales without sacrificing your brand value, a Gift with Purchase (GWP) campaign is a cost effective promotional tool. Freebies, by their very nature, are special and only available in a limited quantity or limited edition. While supplies last, they're available as a limited-time special purchase offer, offering shoppers a purchasing incentive to patronise your brand of product merchandise.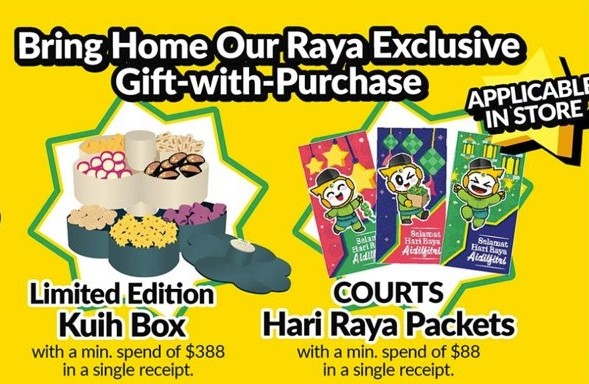 image: Courts

When a GWP free gift promotion is run successfully, it encourages buyers to buy more, buy now, increases repeat purchases and share their gifts with others. As a result, it's critical to organize your campaign in a methodical manner and take into account all of the details.
Here are a few key factors to keep in mind:
It's a gift, not just a giveaway!
To begin, it's critical to recognize the distinction between a giveaway and a GWP (gift with purchase). The gift's purpose is to raise the perceived worth of products and to encourage customers to make a purchase. This means that the quality of the present should be proportional to the amount of money that the consumer is spending.
Choosing the right gift is important for your brand.
Take into account how well your brand and the main product being promoted fit together before making any decisions about the gift with purchase free item. Your audience should be enthralled by the gift product, able to feel that they are deriving extra value from it. The most important thing to remember is to provide your customers with what they really desire.
Promotion is important!
Any kind of promotion requires marketing. A gift-with-purchase promotion is often performed without a well-thought-out marketing strategy in place. It's not enough to simply provide the promotion. Other sorts of advertising and marketing are necessary to assist your campaign to increase brand awareness. This will speed up sales and strengthen client loyalty, reaping long-term benefits.
Here are some GWP campaigns from Singapore this April 2022:
Milo - Free Animal Light


image: taken at Cold Storage
Nothing captures your consumers like a good old eye-grabbing animal light that Milo has done as their GWP! A simple GWP like a lamp can capture consumers' attention right away. They would want to snap this gift.
Butter Bean SG - Free Reusable Cup Sleeve


image: Butter Bean SG Facebook
5-Hour Energy Singapore - Free Collapsible Cup


image: 5-Hour @ Energy SG Facebook
Nestle Omega Plus - Free Luminarc Glass Mug & Jar


image: taken at FairPrice
F&N - Free Thermal Mug, 2pc Glass Casserole


image: taken at FairPrice
You may have a long-lasting marketing campaign with a custom reusable cup sleeve, free collapsible cup, luminarc glass mug & jar without going over your marketing budgets like Butter Bean SG, 5-Hour Energy Singapore, Nestle Omega Plus, and F & N. Promotional cups and sleeves are long-lasting and built to last. What's more?
Kikkoman - Tote Bag


image: Kikkoman Facebook
It is possible to claim that the simple design conveys a serious and professional tone, which is exactly what Kikkoman is looking for in its marketing. Customizing a tote bag is a cinch. Materials, design, color, and size are just a few of the options available to you. Everything is subject to the preferences and themes of your company. For these reasons, branded tote bags are excellent promotional tools, and you should invest in eye-catching designs to make the most of your investment.
Maggi - Free Portable Blender


image: taken at FairPrice
Anytime, anywhere, you can whip yourself a nutritious smoothie in under a minute! With this handy portable blender, customers will be delighted to receive it. They can use it at home and at business. This charming gadget is ideal for people who lead an active lifestyle and want to enjoy a refreshing juice drink when they are out and about, whether they are hiking or just relaxing on the beach. Shaker Bottles are another gift idea that marketers can consider into giving as well.
Tide Pods - Free Airtight Container


image: taken at FairPrice
The sight of these storage containers is sure to draw the attention of any shopper who happens to be in the market at the time. There is no doubt that many people would be delighted to get a useful promotional item with their purchase like this GWP from Tide.
Pocky/Pretz - Free Metal Water Tumbler


image: taken at FairPrice
Tumblers like this one are great for on-the-go drinking, thanks to their unique printing. Custom branded products like this are perfect for promoting your company's logo and brand message in the most visible way possible. This kid-friendly tumbler mug features a leak-proof lid, and a fun design, and is small enough to fit in any bag.
Oral B - Multipurpose Pouch


image: taken at Cold Storage
Your logo, message, or graphics will look great on this promotional travel gift. This promotional pouch can be tailored to fit the needs of your company's marketing strategy. Oral B, in our example, has a fashionable and adorable design that immediately grabs the attention of clients. As a result, clients can reach a large number of people with their brand message by distributing these promotional items.
Key Takeaway:
It makes sense to launch a gift-with-purchase promotion when it would be most beneficial for you to maintain a competitive edge. For smaller brands, this may be during the busiest seasons as a strategy of compete with bigger names. For businesses that already do well during busy seasons, executing a campaign during slower months can generate an incentive to buy.
Along with getting the timing of your campaign correct, the frequency is equally as crucial. Frequency sets expectations. If you give the same deal at the same time each year, it becomes predictable and may lose effect among consumers in terms of its urgency and exclusivity. Customers may begin associating the brand or product with obtaining something free with their purchase, and refrain from purchasing until the campaign is underway. This is conditional loyalty, which doesn't assist develop your brand or earnings.
Let DTC World Help You!
With years of experience, the DTC World team has become an expert in finding, designing, and producing successful marketing presents. These include high-end corporate handouts, business gifts with logos, and seasonal promotional gifts.
We will assist you in developing and producing effective branded GWP promotional gifts that are tailored to your company's needs. Maintaining our commitment to offering high-quality and effective promotional products to our clients is a top priority for us. Get in touch with us right away!
Related Blogs:
Latest Gift with Purchase Promo in Singapore - GWP Offers For March 2022
Latest Gift with Purchase Promo in Malaysia- GWP Offers For March 2022
Latest Gift with Purchase Promo in Vietnam - GWP Offers For March 2022
This blog space is where DTC shares with our readers the Marketing Premiums, Promotional Products, POSM merchandises & Advertising Campaigns that we have come across in the industry. DTC does not advocate any brands or products mentioned in the blogs.