Who doesn't enjoy receiving a free gift? In the process of our daily shopping, if we come across deals that include free gift-with-purchase (GWP) items, we are more likely to turn around and take a second look at those promotions.
Offering free gifts to clients in order to encourage them to purchase your products and services is a popular and efficient marketing approach that brand owners and marketers employ in order to increase sales statistics.
Benefits of gift with purchase marketing promotions
1. Increased Brand Awareness
Gift-with-purchase marketing promotions can help increase brand awareness for a company by enticing customers to buy products as gifts for friends and family. This can help build customer loyalty and interest in a company's products.
2. Increased Sales Volumes
Gifting products as gifts often leads to increased sales volumes for companies because customers feel obligated to purchase additional products. This is especially true in times of economic uncertainty, when customers are buying fewer items and may be more prone to impulse buys than usual.
3. Increased Customer Loyalty
Another benefit of gift-with-purchase promotions is the increased customer loyalty that companies see from customers. This results in higher retention rates as once consumers have purchased and tried using your product, there is an increased likelihood that they will buy the same brand to use again.
4.Enhanced Brand Engagement
The ultimate goal of brand engagement is to create a loyal customer base, who will come back time and again to support your business. There are several ways you can engage with your customers, whether it's through social media (e.g. Facebook, Instagram), email newsletters, SMS or special offers. By engaging with your customers on a regular basis, you are more likely to keep them interested in your products and services. And when shoppers see that you are offering promotional giveaways, they will tend to take a second look at the promo, resulting in higher chance of converting into them into actual customers.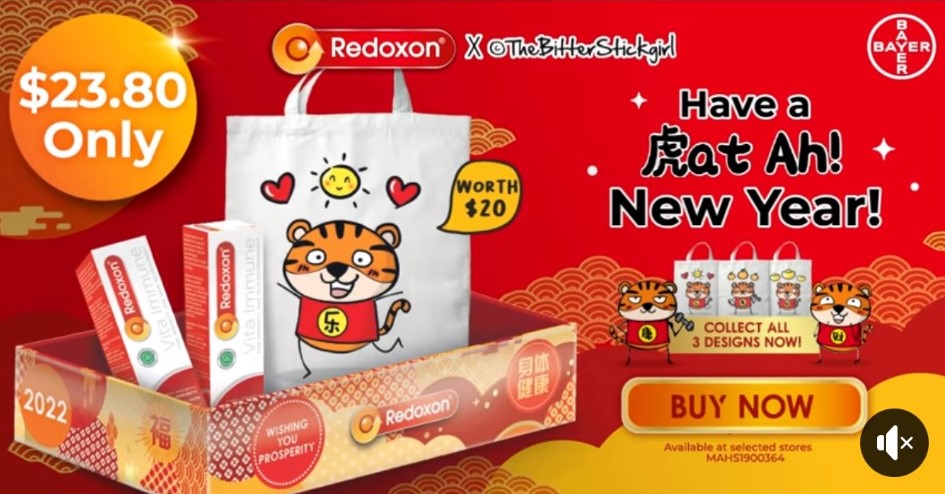 image: Redoxon SG Facebook
Now, let us take a look at some of the current GWP promotions for February 2022 that we can find in the Singapore market right now. You can get some inspiration for your own marketing efforts, and you might even come upon purchase promotion with really amazing discounts!
Häagen-Dazs - free CNY Bowl Set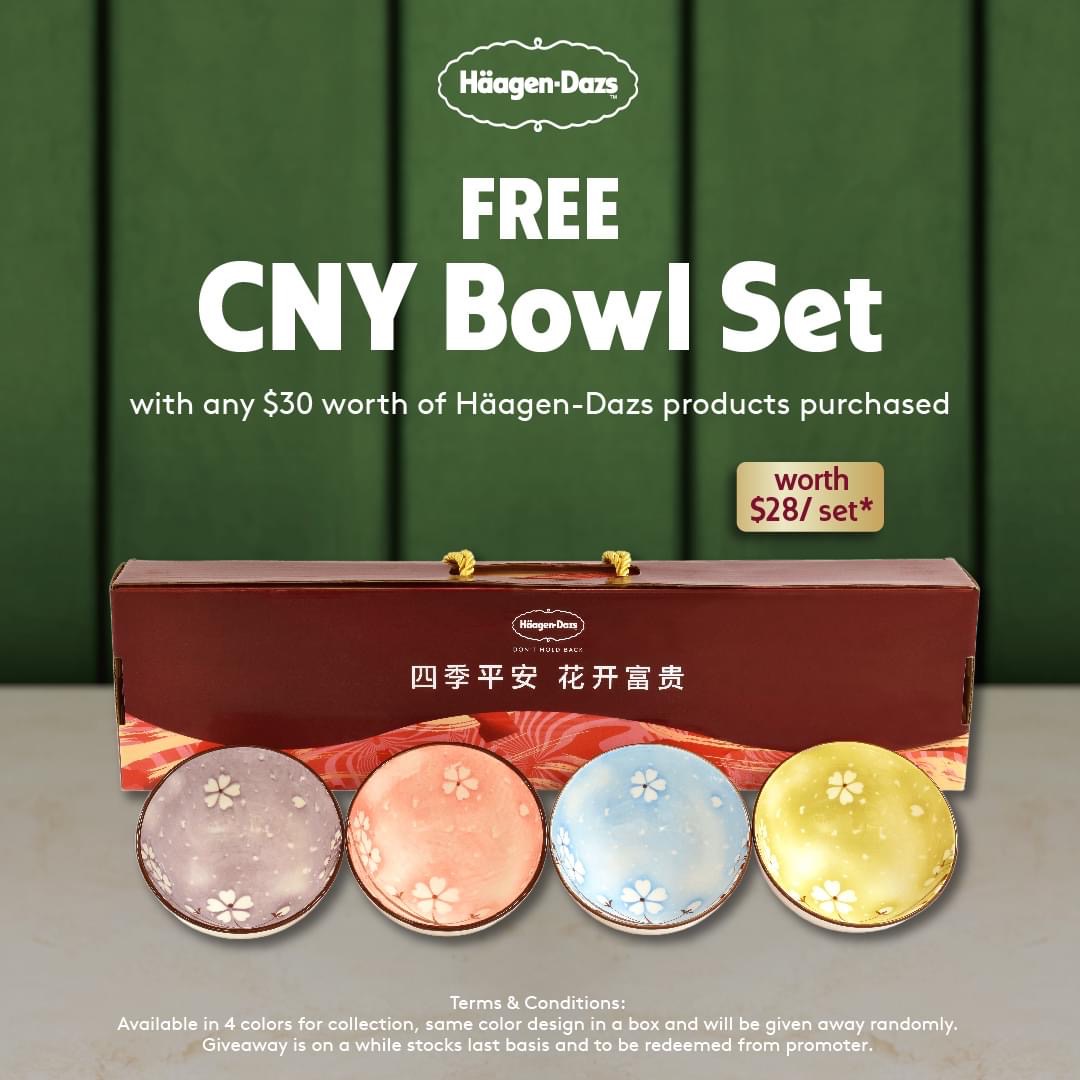 image: Häagen-Dazs Facebook
Who doesn't enjoy eating ice cream with this nice CNY Bowl Set from Häagen-Dazs? These custom-printed bowls are a great addition, and also a useful gift to the product itself. Customers who purchase the ice cream also receive a complimentary bowl to use with the ice cream. This is a really wise decision because the marketing gift directly addresses the demands of the target audience.
Redoxon - CNY Gift Box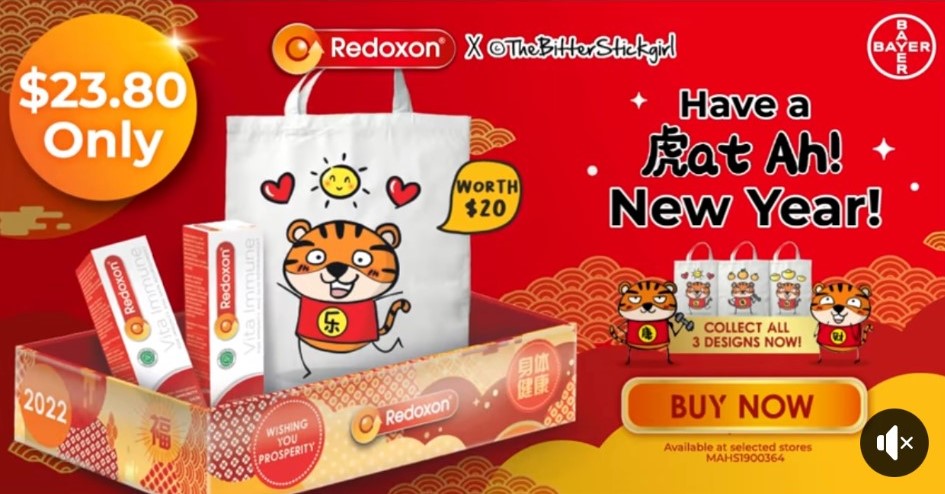 image: Redoxon SG Facebook
Redoxon Singapore gave away this limited edition gift box for Chinese New Year. This box includes 2 bottles of vitamins and a CNY tote bag.
FPON - Limited Edition Tote bag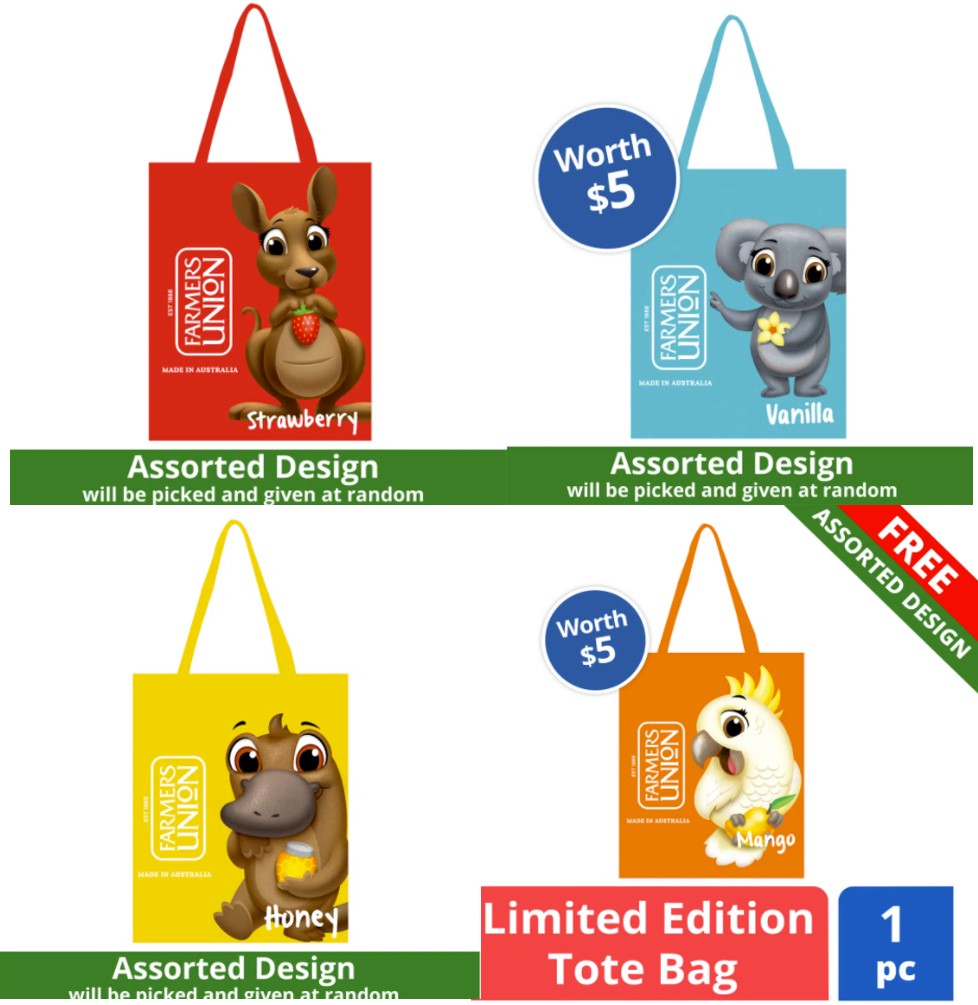 image: FairPrice website
FPON also gave away limited edition tote bags. Why use a tote bag for promotional gifts or GWP? It helps to strengthen relationships, which is essential for running a successful business. Customers who receive a tote bag (which is also very commonly used as a shopping bag these days) as a GWP or marketing gift are more likely to feel valued and appreciated, according to research. That is why it is critical to produce promotional products that are of exceptional quality in order to get your message out there and maximize your exposure to potential customers.
Colgate-Palmolive - Free Tiffin Container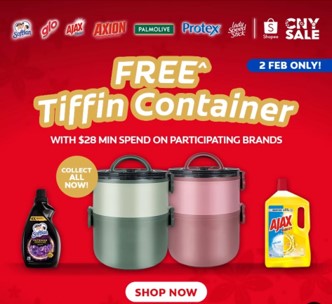 image: Colgate Facebook
Colgate-Palmolive ran a GWP promotional campaign. When a customer spends $28 on participating brands they receive a free Tiffin Container. When brands give Tiffin Containers as gifts to their customers, whether it is a single container, two containers, or even three containers, one of the primary reasons is to make it easier for people to carry their food while also indirectly promoting their brand.
HapaKristin - CNY GWP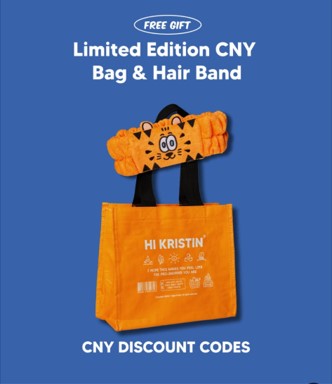 image: HapaKristin Facebook
HapaKristin - Valentines Day




image: HapaKristin Website
Sometimes, brands do two promotional marketing campaigns especially when there are two major occasions or marketing opportunities for the brand. Like HapaKristin, they did two marketing campaigns for February. They did one for CNY and one in conjunction with Valentine's Day. For CNY, they gave away a limited edition bag and hair band. For Valentine's, they gave away magnets and milk solution.
Tiger Balm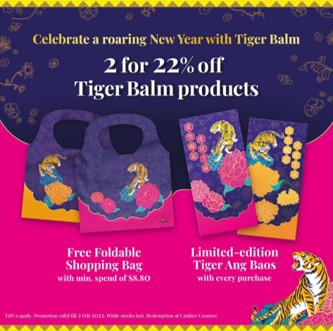 image: Tiger Balm SG Facebook
Tiger Balm gave away free foldable shopping bags and limited edition Tiger Ang Baos. These are important promotional gifts for CNY. One aspect of GWPs is that the things should provide enough value that consumers will be more motivated to spend more money as a result (and meet the minimum transaction value required to receive the free gifts). To achieve the best results, make sure that your gift is a good match for your company's image and is something that your customers already want or are interested in receiving.
Knorr - Free 3pc. Luminarc Jar Set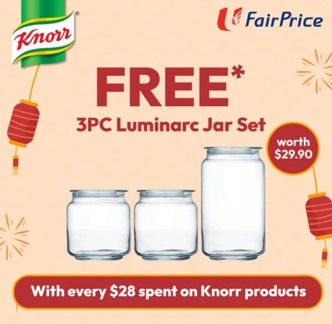 image: KNORR SG Facebook
Knorr did a GWP for their products. For every $28 spent on any of the brand's specified purchase item, the consumer would get a free 3pc. Luminarc Set. When it comes to gift with purchase marketing, you want your freebies to be valuable to your customers. Personal items and kitchen products like the jar set make a terrific promotional gift with purchase because they guarantee daily exposure.
Magnolia - Redeem a Double Wall Glass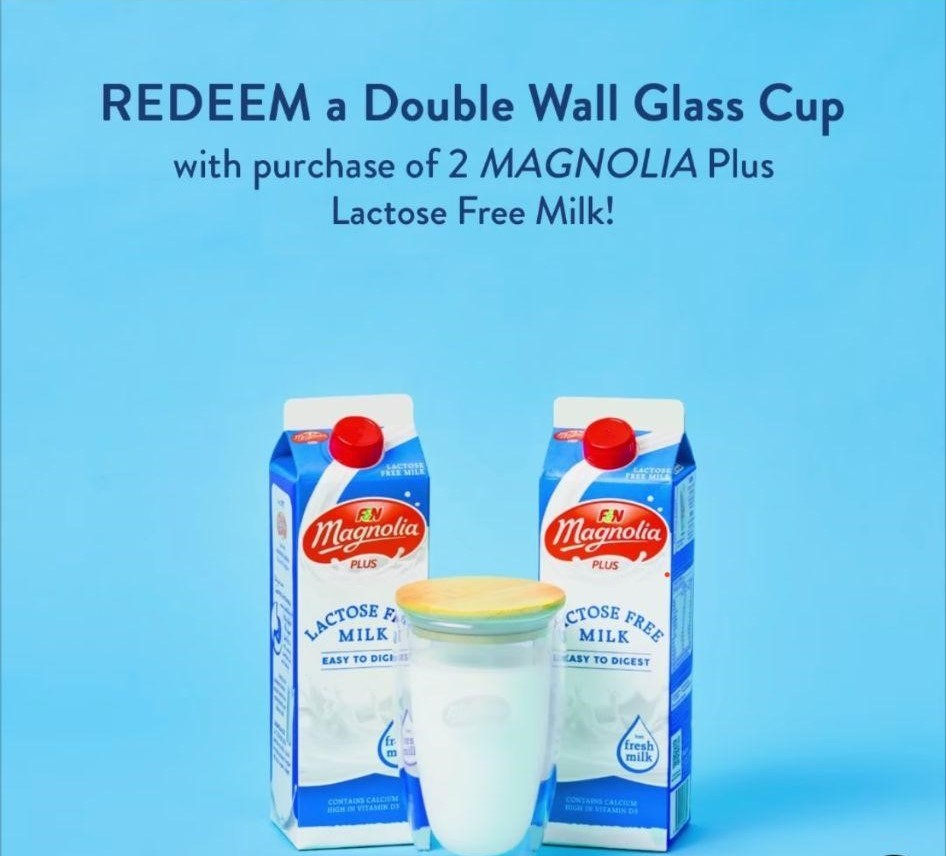 image: F&N Magnolia Facebook
Customized Cups are the most popular promotional giveaways for most companies and organizations. It may sound cliche, but cups have a great deal of branding potential because they are such a versatile promotional item. Ceramics, glass, metal, and wood are among the materials that can be used to create them. Your marketing gifts will be used by your target audience because they are useful, and you can be confident that they will be used. Like Magnolia, which utilized a Double Wall Glass Cup for every purchase of 2 Magnolia Plus Lactose-Free Milk in this gwp redemption promotion.
Breeze - Free Shopping Trolley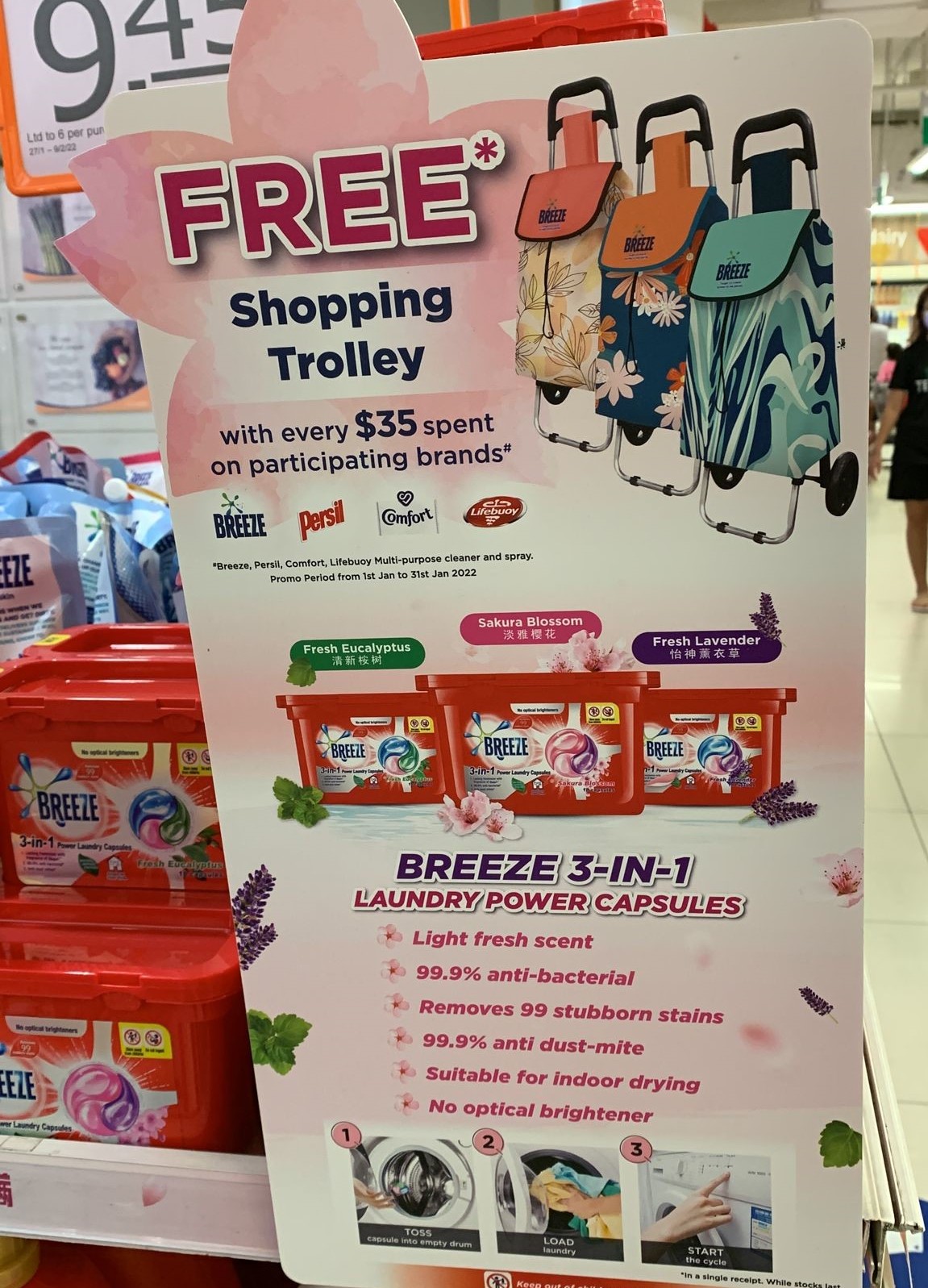 image: taken at FairPrice
Breeze is giving out a free shopping trolley for every $35 spent on participating brands. This is such a great idea because it makes it easier for shoppers and it is more convenient and sustainable. Brands can use this GWP to indirectly promote their brand.
If you want to persuade consumers to acquire your products, you can employ a limited-time offer like the GWP campaign. In today's environment, GWP promotions are pretty uncomplicated for you as a business owner or manager to implement because they can be advertised on social networking sites such as Facebook, Twitter, and other similar platforms.
Gwp deals are widely sought after by a big number of organizations because they have been demonstrated to greatly enhance sales and convert more prospects into customers for the company that is making the offering.
How do I develop a gift-with-purchase promotion?
There is no one-size-fits-all answer to this question, as the promotion you develop will depend on the products and services offered by your business. However, some tips on developing a gift-with-purchase promotion include thinking about what kind of gifts your customers might want, outlining specific restrictions or conditions that must be met in order to receive a gift (for example, if the gift must be purchased within a certain time period).
Looking for some ideas on GWP promotions? Read the blogs below for some inspirations:
Here at DTC World,
We can offer you GWP ideas for your upcoming promotional campaigns. DTC World has over 10 years of experience in conceptualizing, developing, and producing premiums and gift items for our clients' marketing campaigns worldwide.
Feel free to visit our website to know more about our products and services.
Disclaimer
This blog space is where DTC shares with our readers the Marketing Premiums, Promotional Products, POSM merchandises & Advertising Campaigns that we have come across in the industry. DTC does not advocate any brands or products mentioned in the blogs.