Gift-giving is an important part of any marketing campaign. One of the best methods to keep your customers is to keep your marketing plan customer-centric. When you know what your customers want and are willing to provide it for them, you will get their attention. It's for this reason that you'll want to use the best tactics and delights to promote your drinks. Promotional products are a great way to spice up your marketing campaigns.
Want to give a gift that your recipient will treasure? Try a unique glassware marketing gift.
To enhance the drinking experience of your consumers and make their homes stand out, you can incorporate fun and quirky glasses and merchandise which you can personalize and customize. These glasses come in various unique designs, from personalized to wacky forms. There are many glassware designs of drinkware to choose from, whether you're looking for a specific type of liquor glass (for wine glass, cocktail, beer glasses, gin, tonic, whisky, bourbon) or just some fun water tumbler and glasses (cocktail glass, highball glass).

Here are some fun and unique drinking glasses you can incorporate into your marketing campaigns for 2022:




Cipher Drinking Glass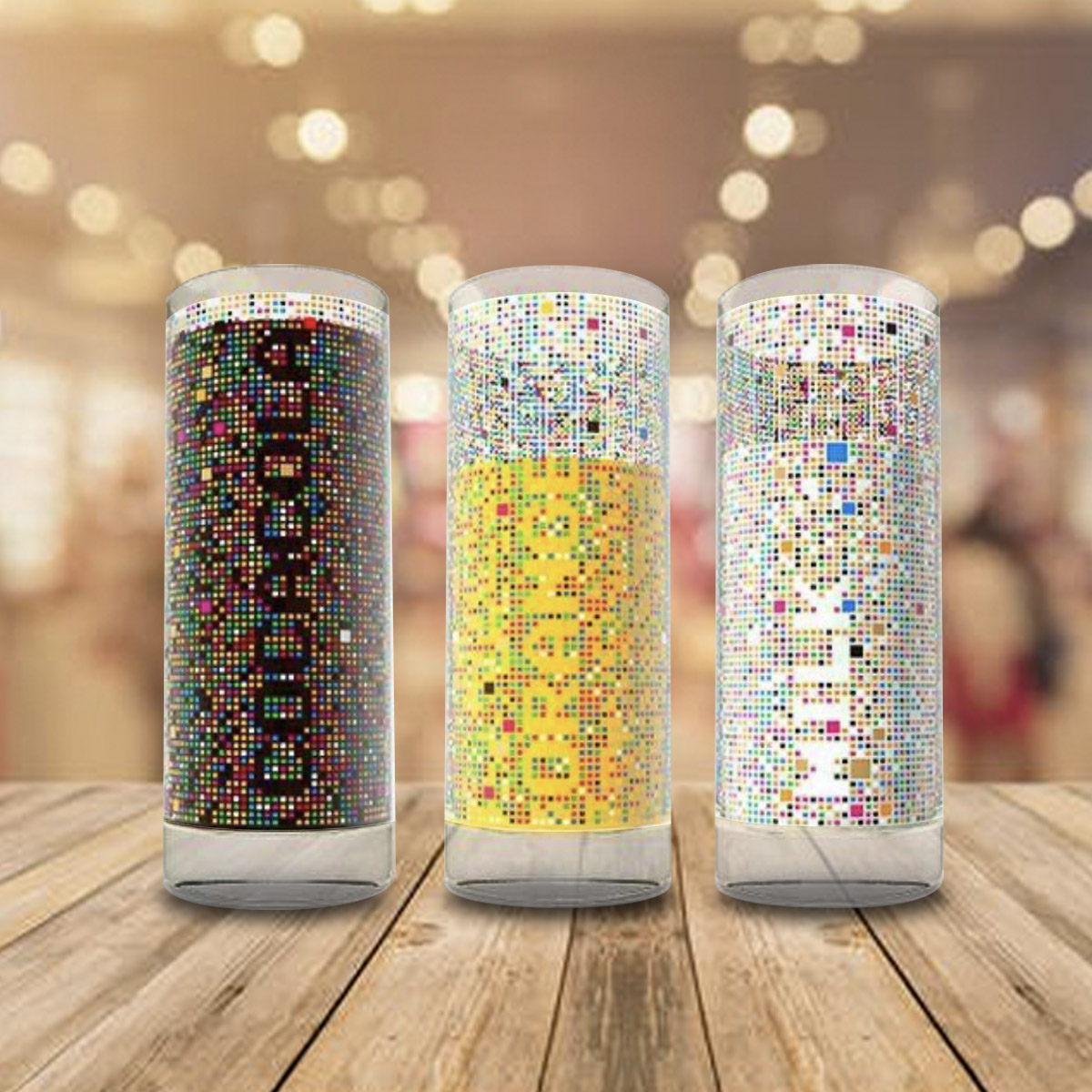 If left empty, the Cipher Drinking Glass looks like a colourful mosaic and could easily be displayed as art in a home. It all changes, however, when beverage is added. When coloured liquid is poured into the glass, the secret message will "appear magically" on the glass.
This drinking glass is sure an attention catching promotional gift to add to your marketing campaign.


4 in 1 Drinking Glass


As many as four beers can be held in one hand at the same time with this glass design. Four separate drinking glasses can be formed by putting them together in a pint glass-like configuration.
This 4 in 1 Drinking Glass is definitely suitable for pubs, parties, events, and marketing gifts to create the best experience for everyone.
Hopside Down Beer Glass


People are taken aback when they first see the design of the glass, which makes the beverage appear to be an upside-down bottle. Double-walled and made of glass, it keeps the beverage cold while still looking "cool."
Hopside Down Beer Glass is the perfect drinking glassware to use on Friday BBQ nights and game nights! A great promotional gift for companies who are in the alcohol and liquor industry.
Inside Out Champagne Flute


This set of Inside Out Champagne Glasses, which appear to be normal glasses without the necessary liquor, is anything but ordinary. As soon as the flutes are filled to the brim with your champagne, the classic champagne flute design emerges.
A great marketing gift for Champagne brands.
Moustache Glass


Create a fun marketing campaign with these 4pcs Moustache Drinking Glasses collectible. Suitable for any beverage brands looking for gift with purchase.
Half Full Glass


Get people talking about your brand when you give the Half Full Glass / cup as a marketing gift. It is marked "Half Full" and "Half Empty" in borosilicate glass. Everything from wine to beer to water to soda can be served here.
Winestein Glass


The Winestein Glass, made from strong borosilicate glass, is the beer drinker's glass for when you want to drink wine! Shaped like a traditional beer mug, this glass features a fun twist on a classic.
Glass Milk Carton


Inspired by the humble milk carton, this glass milk carton adds a fun and quirky touch to the breakfast table. You can customize this glass to look similar to your product packaging.
World Cup Drinking Glass


With the World Cup 2022 fast approaching, brands should snag the World Cup Drinking Glass as a promotional gift for marketing campaign.


Creative Double-Wall Milk Glass Cup


Enjoy your favourite beverage using this double-layer glass cup that will sustain the outer glass wall temperature without getting too hot or too cold.
250ml / 400ml capacities available for this Creative Double Wall Glass Cup.
Start your New Year right by gifting one of these unique Drinking Glassware. The design of drinking glasses is constantly changing in response to our desire to enjoy our favorite beverages to their fullest potential. These fun and quirky drinkware are just what you may need. You can personalize with your logo, or customize this glassware to fit your brand.

Contact DTC World today to embark on your next exciting marketing campaign with some fun and creative glassware for 2022!
Trending blogs:
Back to read other Blogs
You may be interested in the blogs below:
Click below to contact our regional offices:
DTC Malaysia Sdn Bhd in Malaysia KL
DTC World Company Limited in Vietnam HCM
DTC World Corporation Pte Ltd in Singapore