Description:
In an ever-evolving landscape, in order for us to remain competitive and relevant, it's all about speed, efficiency and accuracy when it comes to the logistics and fulfilment processes. We need to constantly adapt swiftly to cutting-edge technologies and pioneering processes. For many companies (regardless of small, medium or MNCs), choosing an experienced and reliable fulfilment partner is only a step away from the strongest players in the market. And with the right partner, you can ride the wave of their dominant position in the market. And that's one of the core reasons behind leading tech conglomerate, MIDEA Group's decision to engage DTC World as its global fulfilment partner.

Whatever you want to ship, and wherever it needs to go, DTC World has the fulfillment infrastructure and support to make it happen. Through our integrated under-one-roof online merchandise platform (web store/microsite) — Midea's corporate partners from various countries across the globe are able to view the attractive selections of corporate gifts and employee swags, carefully conceptualised and produced for a diverse range of brands under Midea Group, ie. Midea, Comfee. The microsite's user-friendly interface caters both functionality and easy navigation for hassle-free real-time order tracking and status updates — creating a delightful e-commerce experience for the customers. All in all, our streamlined order fulfilment process can help consolidate orders through the order window — which in turn, helps our client to greatly reduce operational costs, while delivering quality results.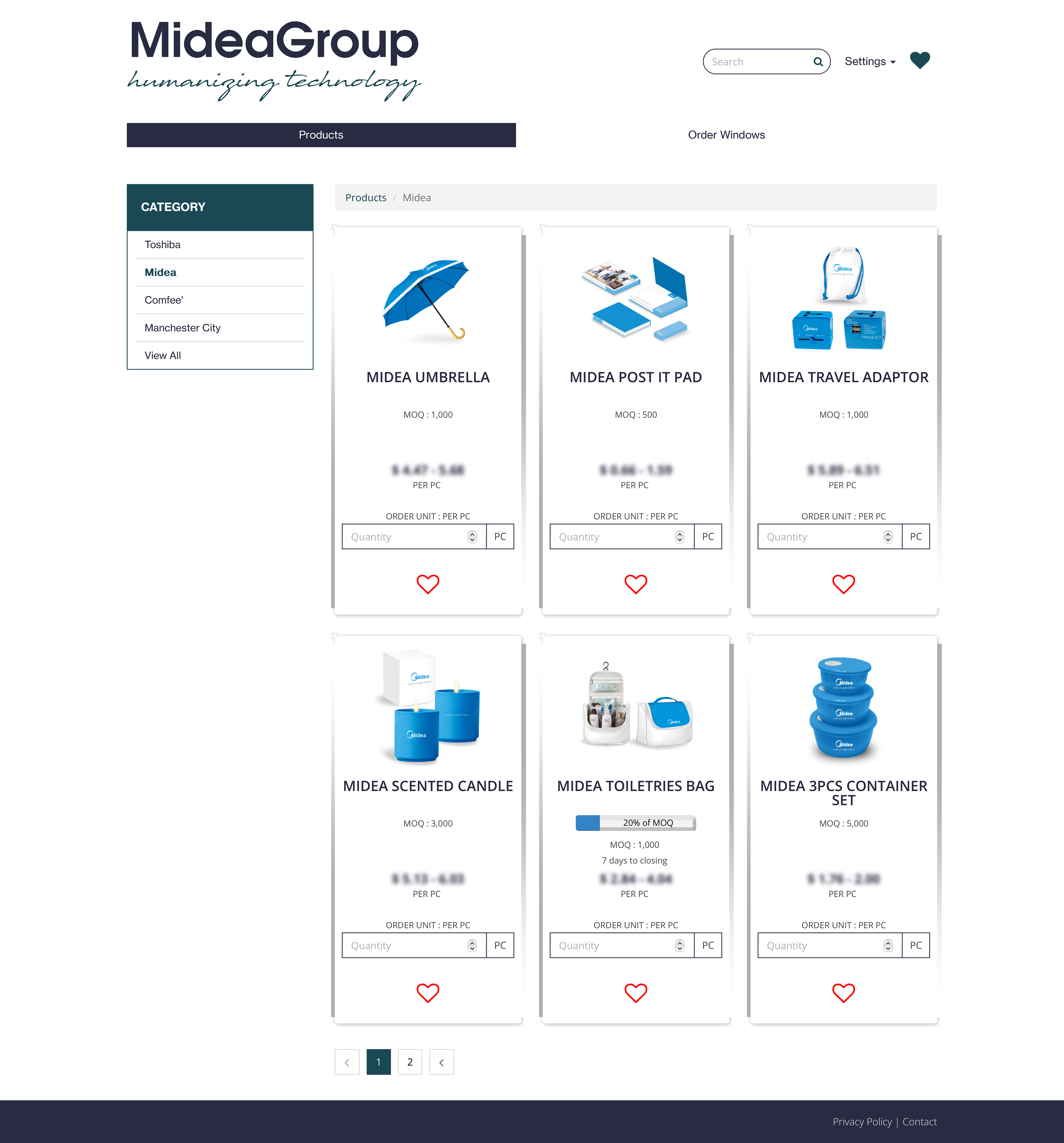 The Midea web store, featuring selections of corporate swag and promotional merchandise — conceptualised for its diverse range of brands, e.g. Midea, Comfee — where you can easily navigate through its user-friendly interface. Image by DTC World

With just a click of a button, order placements can be done effortlessly — without the painful headaches associated with inventory storage, order fulfilment, and supply chain management. DTC World has been fulfilling the orders and deliveries of these corporate swag for the tech brand to more than 20 countries across China, Europe, Southeast Asia, South America and even Africa.
Backed by more than two decades of experience in customising an expansive range of promotional premiums and personalised merchandise, coupled with established processes to simplify the logistics while optimising fulfilment workflows — we are confident to help our clients achieve more consistency and bulk savings, through consolidation of orders for their regional markets.
More often than not, the promotional items bundled in a corporate event tote bag tell us a thing or two about the company(s) from which we receive it. When it comes to our clients, we strive to propose creative promotional gift items that are able to leave a "wow'' impression on your recipients.

Functional, attention-grabbing with high repeated usability, these personalised corporate merchandise are ideal gifting options that deliver effective brand recall. Whether you're thanking your external customers for their support, or acknowledging your team members for their hard work and dedication, we believe this range of promotional gift items would be a sure win.
Mix-n-match any one of these gift ideas, and present them in an exclusive tote bag — and you have yourself a much desirable corporate gift set, employee swag, conference or event giveaway. (Now, that's a memorable token of appreciation which will stand the test of time.)
DTC Services Used:
Design and Set Up of E-Merchandise Portal, Web Hosting and Maintenance, Inventory Management and Reports, Provision of Analytical Reports and Key Findings, Merchandise Designing, Sourcing, Logistics, Production and Delivery
Are you working on a similar campaign or project?
But feeling stuck, not sure what type of corporate gifts to opt for?
[ Read our Blog ]        [ Start a project with us ]
Alternatively, you can explore our past
Showcase
portfolio for more inspiration:
SIMPLIFY-ing Global Merchandise Fulfilment — Tiger Beer
CommScope RUCKUS Company Swag APAC Fulfilment
Regional Fulfilment - AxiCorp Umbrella and Towel