Faux leather. Vegan leather. Synthetic leather. You know you love the look and feel of leather. It's elegant. It's classy. It is premium. However, with the green movement advancing over the years, where more consumers are becoming more conscious and aware about the 'type' of leather material being used in the end products — there have been several environmentally friendly alternatives to genuine leather.
From the first generation PVC leather, to the second generation of polyurethane (PU) leather, until the third generation of microfibre PU leather (high-performance polyurethane resin) — to the recent market promotion of waterborne polyurethane environmental protection, synthetic leather are widely used to replace animal leather. These eco-friendly alternatives are not only offering a mere mimic of the basic qualities of a genuine leather. It does provide various advantages, which often make it the better choice for brand owners. Similarly to adopting a less-meat diet, the invention of synthetic leather is decreasing one's carbon footprint, reducing environmental impact on planet Earth.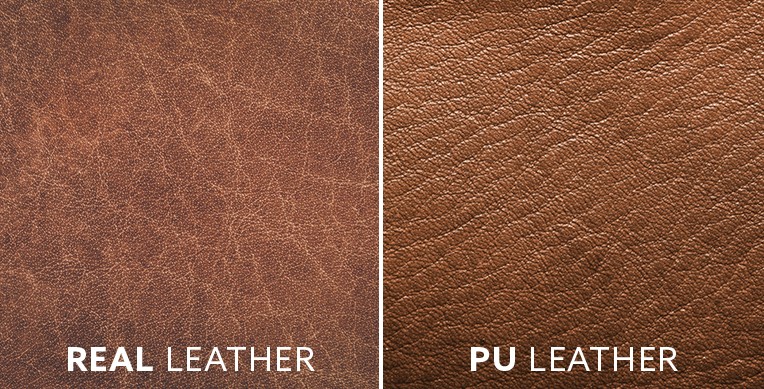 Comparison between genuine and PU leather. Image credit: btod.com

According to a 2017 study by Grand View Research, the global synthetic leather market is expected to reach USD 85.05 billion, by 2025. The research also reveals that synthetic leather materials have been competing with natural leather for over three decades, much thanks to its superior properties, e.g. high durability, strength, UV resistance, easy maintenance and high gloss finish. Polyurethane (PU) was the largest product category in 2015 and is expected to grow at the fastest CAGR over the forecast period. PVC is anticipated to maintain a slow growth rate on account of its properties which include sticky finish and lesser durability. In addition, cheaper prices of products made up from faux leather continue to attract a huge number of customers from middle and high income level groups.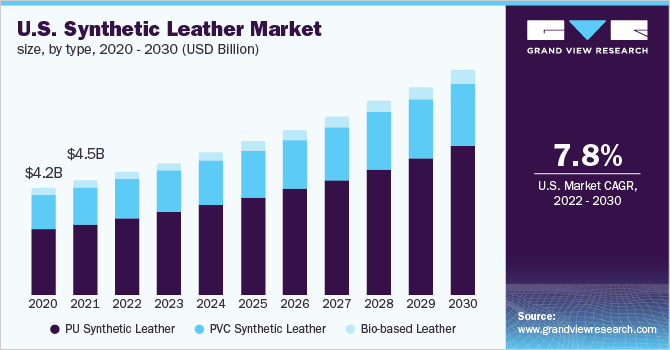 The demand and consumption of synthetic leather has been on the rise in recent years. Source: Grand View Research

The US market for synthetic leather has witnessed a considerable rise in consumption in recent years. The global demand has relatively seen a paradigm shift, due to rising application across furnishing, clothing, bags, accessories, among others. Manufacturers have been spreading their sourcing, shifting especially to Asian suppliers such as China and Vietnam owing to the abundance of raw materials and low labour and freight costs. In order to completely replace animal leather, the demand for synthetic leather in various industries has increased tremendously, and the waste generated is increasing day by day; most leather products have direct contact with the human body, so in the development of synthetic leather, environmentally friendly and non-toxic materials development will be an important trend.
Different types of vegan leather. Image credit: MensXP.com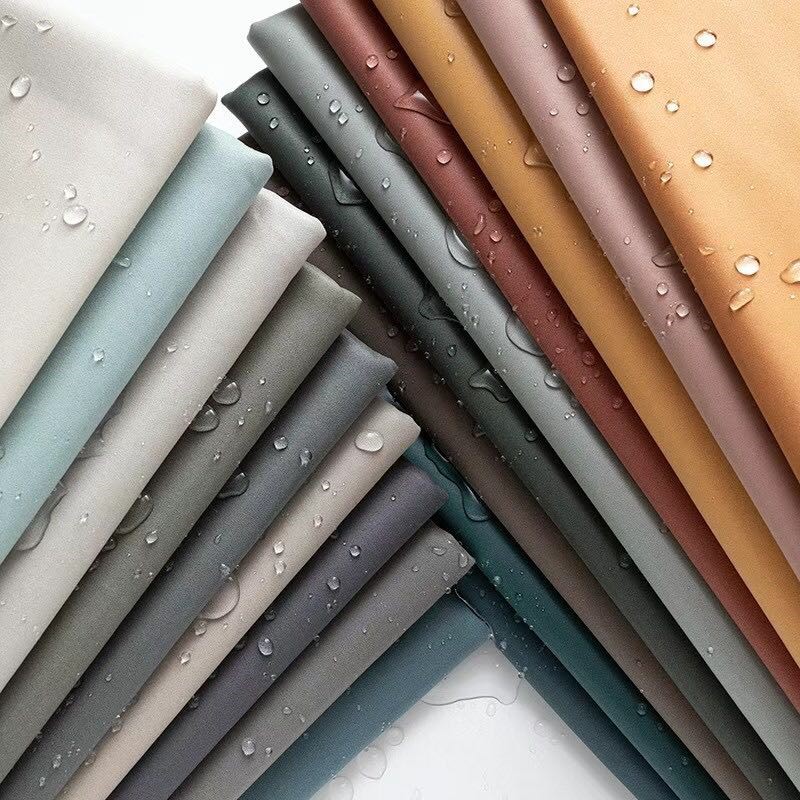 Environmental-friendly alternative: Water-based PU leather does not contain animal skins, nor does it use any toxic or harmful chemical solvents. Image credit: BZ Leather
Don't miss out the second part of this article, where we unveil more waterborne PU leather-made corporate gift ideas to inspire your gifting campaigns and marketing efforts. Stay tuned! Meanwhile, take a look at how vegan leather has been gracing the fashion scene through its growing list of vegan collections — from stylish clothes to day-to-day accessories, as shared by PETA.
Green marketing: Echo sustainability through vegan leather, waterborne PU leather
Waterborne PU leather is made of water solvent polyurethane, that means the solvent is water. As compared to conventional PU leather that uses toxic solvent like DMF (Dimethylformamide) — which is not good for health — waterborne PU leather is safer. Not only that, waterborne PU leather is breathable; hence, it is often the preferred material choice for shoes, apparels, handbags, car seat cover upholstery, etc. Its breathable feature gives the texture surface a more comfortable touch and feel. (Traditional leather is not breathable.)
Speaking of chemical-free, waterborne PU leather is also free of formaldehyde, phthalates, DMF, BPA, heavy metals — all the toxic chemicals that can cause huge damage to our health. (Imagine the factory workers working with these chemicals daily, and end-users coming in touch with the end-products that consist of these toxic chemicals, too.) With brands constantly exploring other eco-friendly promotional or premium gift ideas to offer to their customers, we thought it would be a good idea to compile some of the innovative and unique waterborne PU leather-inspired premium promotional merchandise or corporate gifts. Check them out!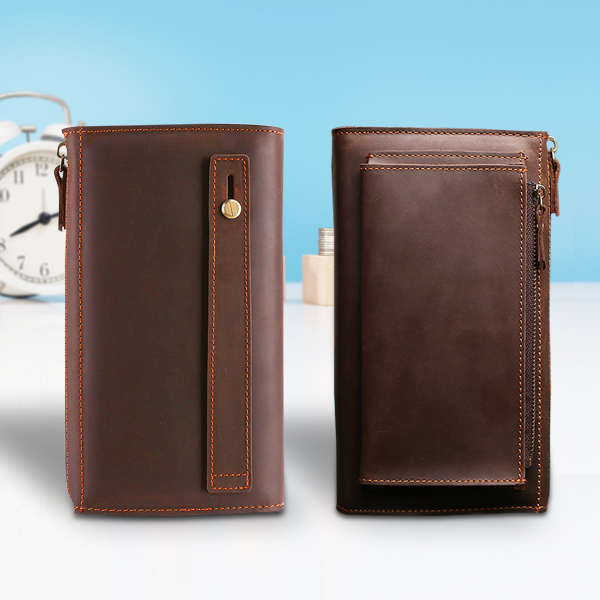 Let this trendy smaller size of 'manbag' bring style and convenience to the modern man's life like never before. Its sustainable material, coupled with a minimalist design makes this an ideal corporate premium gift that's sure to command attention. Elevate the gift with a personalised touch by adding an embossed logo.
Waterborne PU Leather Sling Pouch

Your perfect sling and sleek, minimalist 'on-the-go' organiser suitable for any occasion — shopping, night out, or travelling. Its waterborne PU leather material offers protection from any scratch, bump, or splash. With a selection of sophisticated colours to pick from, feel free to add a personalised logo when you send this sling pouch as a premium gift to your valuable customers or clients.
Waterborne PU Leather Money Clip Wallet and Card Holder


Putting a minimalistic design that is equally practical and sophisticated, you can never go wrong with this portable accessory. Slim, functional and stylish — make this wallet (and card holder) a personalised premium gift for your clients by customising an embossed logo or text within the ample space on the front.
Waterborne PU Leather Card Organiser Pouch


If this is not less-is-more, then we don't know what is. A simple, yet stylishly functional card organiser pouch that comes with several compartments to store your card essentials. A perfect gift for those who fancy a minimalistic design, make this personalised premium gift for your clients by customising an embossed logo or text within the ample space available on the front.
Going green with products and gifts is no easy feat. From considering the product designs and features, to determining the materials used, to introducing them to your customers — there is so much to learn. With consumers gradually expressing preference toward eco-friendly products, brand owners are also aware of how green promotional gifts are a brilliant way to showcase their brand's green image. By the way, have you checked out our selection of cork-inspired merchandise that portrays both practicality and sustainability?
Waterborne PU Leather Mini Vintage Purse


A little wallet purse finely constructed from waterborne PU leather to keep it ideal and convenient for slipping into your handbag. Perfect for any occasion, with practical card slots and compartments to store your essentials — the purse also has ample space to incorporate a personalised touch (e.g. embossed logo). An ideal premium gift that blends classic retro elegance and modern sophistication.
Waterborne PU Leather Coin Pouch and Card Holder


Zip up your cards and cash in this smallest pocket. Presenting a neat all-rounder for those who are after minimalism, and want to carry very little — this teeny wallet stores a surprising amount, including a high internal pocket to keep your coins securely and a zipper preventing spills. Made from premium environmentally friendly leather, it allows fully customisation (e.g. embossed logo) to provide a personalised touch for your recipients.
Waterborne PU Leather Luggage Tag


Travel in style with this all-black, sleek luggage tag. Come with a luggage shape design, it is durable, sustainable (made from environmentally friendly leather) and good-lookin'. Perfect as a gift to your favourite clients, for them to keep you in mind when they are travelling — as well as reminding them of your business' 'go green' efforts and initiatives.
Why choose waterborne PU leather to green up your brand?



In this day and age, as climate change and environmental sustainability become
more prevalent in the minds of consumers, companies and brands are picking up the pace to introduce a 'green brand image' — launching more sustainable and eco-conscious products, promotional merchandise through their marketing campaigns.
Before that, let's take a look at some of the key benefits of sustainable vegan leather, waterborne PU leather.
Animal friendly, cruelty-free

– Vegan leather material does not come from animal origin; ie. it does not

harm or kill animals to produce the material.

– The welfare of living creatures is prioritised, and vegan leather is a great way to

reduce such impact.




Sustainability, a better environmental impact

– Vegan leather combines textiles and polyurethane to create a more

authentic leather feel that is less damaging to the planet.

– Authentic leather requires extensive treatment before manufacture which

involves harmful chemicals that harm the environment and reduce the

biodegradability of the leather.




Durability, long-lasting

– Vegan leather is water-resistant, stain-resistant.

– Its products are capable of holding up against weather conditions and suffer minimal wear and tear over time — making them last longer.




Cost-effectiveness

– Due to the various costs involved in the treatment and preparation of authentic leather, it demands a higher price. From the rearing of cattle to the final manufacturing stages, it is obvious that vegan leather is the 'easier' alternative to produce.




It looks good

– The R&D into vegan leather allows us full control of the aesthetics and feel of the products, providing us with a wider aesthetic scope when it comes to the variations in texture to changes in composition.
Waterborne PU Leather Sun Visor Sunglasses Holder


It may be a tiny accessory to keep your shades ready in your car, but who says it cannot be stylish. A good way to protect your expensive sunglasses from getting scratched or damaged. Its eco-friendly leather material makes the clip flexible and durable, with an ease to install, too. Totally effortless.
Waterborne PU Leather Premium Keychain


This practical and good-looking keychain will make an excellent and wise gift for your clients, practically anyone who has keys they wish to keep in place. This eco-friendly leather keychain (with your company embossed logo) can totally add a more stylish and classic sense to the keys. No more worrying about losing or misplacing keys. Also, the material is equally sturdy and durable to say the least.
Waterborne PU Leather Phone Mount Grip and Stand


Perfect for any make of smartphone, this leather phone holder adds a touch of sleek and practicality. Personalise it as a premium gift with an embossed logo, we are sure you will be constantly at the top of mind among your clients.
Waterborne PU Leather Sleek Laptop Bag


A good protection for your laptop which also camouflages brilliantly as an organiser to store your paper documents. A water repellent material that exudes both simplicity and sophistication — this laptop bag should make it to the list of premium corporate gifts for your campaign.
Waterborne PU Multipurpose Passport Travel Organiser


Designed with a large capacity to accommodate all your travel necessities, making your travel more comfortable and convenient. On top of its colour blends that exude a sense of sophistication and elegance, one can also add a personalised touch with an embossed logo on the cover. Durable and wear-resistant, its eco-friendly material is soft and comfortable to the touch. Be ready to wow your clients with this multipurpose passport travel organiser.
Waterborne PU Leather Gadget Organiser


Impress your customers and clients with this versatile and lightweight leather organiser. Portable and space-saving, this stylish organiser provides protection and storage for all your electronics accessories. Designed to fit backpacks or briefcases, it provides great flexibility for organising your essential accessories, while on the go!
Closing Thoughts
With the appetite for more environmentally friendly products on the rise — and companies attempting to meet it — vegan replacements are becoming increasingly popular. Nonetheless, it is equally important for businesses to understand the different types of faux leather or synthetic leather which are sustainable for the environment and less cruel than their animal skin counterparts; because not all fake leather materials do that.
We hope you've found the vegan leather insights we've shared with you useful. If you love any one of the waterborne PU leather gift ideas we have compiled in this article, just put our team to work. Let's discover how these sustainable and innovative gift ideas and approaches can be incorporated into your brand, your business — to create more meaningful (and evergreen) connections with your customers.
Towards a more sustainable future
At DTC World, our focus on sustainability is an ongoing and exciting journey. Over the last year, we have strived to accelerate the pace and strengthen our efforts: our sustainability strategy, and all our actions with regard to our workforce, the planet, our communities, and through responsible business principles. We are delighted to receive the 2021 EcoVadis Platinum medal — as it recognises the continuous effort of our entire organisation in realising our sustainability strategy.
This award demonstrates our unceasing commitment to sustaining our environment, while keeping our social responsibility close to heart. We are proud to be leading the industry in these areas. Learn more about DTC World's sustainability initiatives in the 2021 Sustainability Report or on our website.

For more eco-friendly gift ideas to echo your green marketing campaigns:
Top 9 Sustainable Gift Ideas That Will Turn Your Coffee Grounds (Thrash) Into Treasure

#DYK: How Sustainable Is Bamboo — Is It Truly Eco-Friendly?
Eco-Friendly Wheat Straw Promotional Gift Products