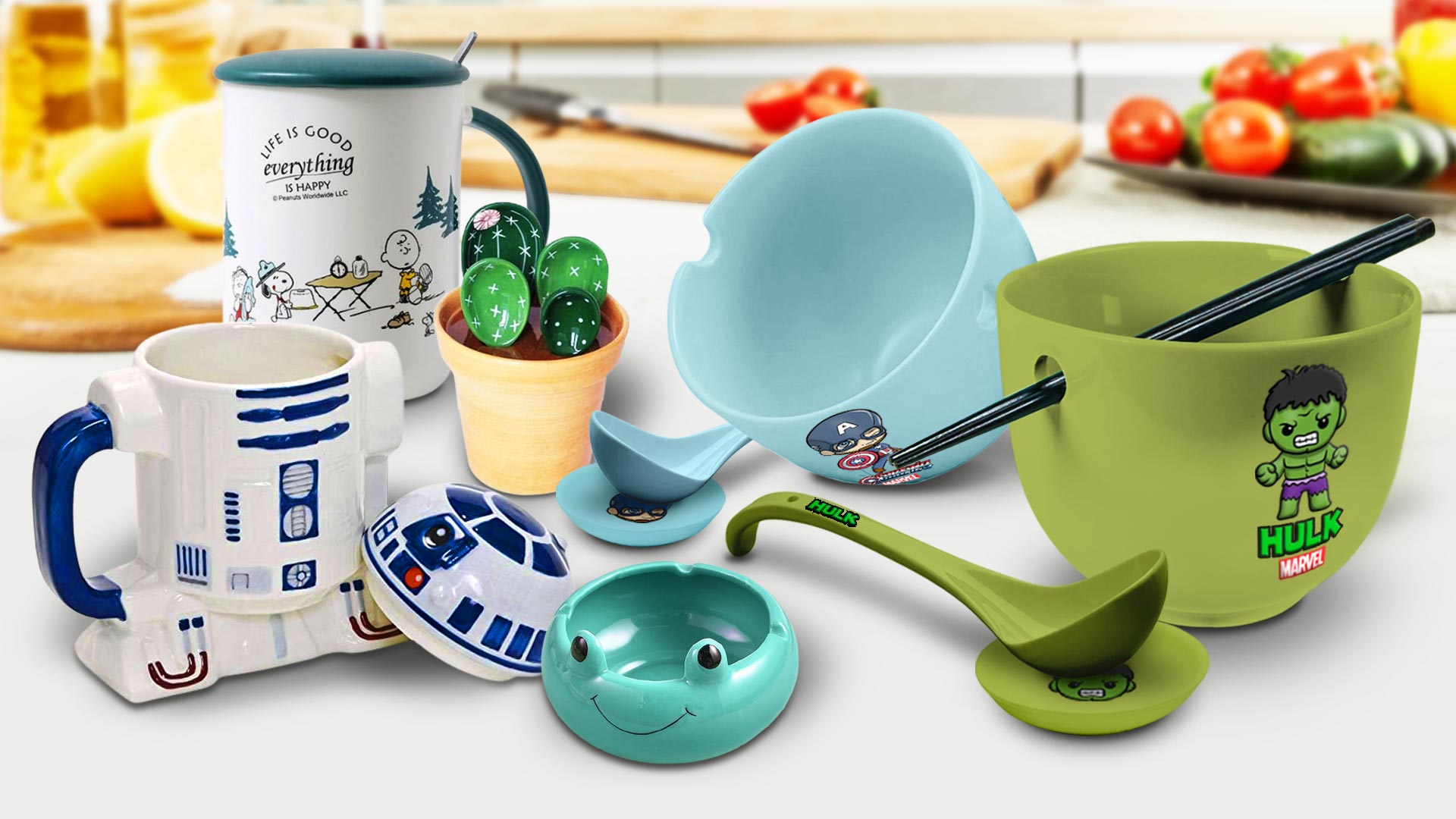 The right kitchen tools and equipment will make your life in the kitchen easier and the time you spend there more enjoyable, so they say. And this can't get any more true, especially coming from the ones who spend 'more' time in the kitchen, handling the plates and bowls, pans and pots (to say the least) — the ladies. It may not just be a bad idea to have the core of the designs or colours of your promotional GWP items tweaked towards the ones which call out to your female audience group.
From plates and bowls, to mugs, to cookware and kitchen essentials, ceramic products make a brilliant choice to capture your customers' attention during any GWP promotions. These elegant and durable household items are so popular because, not only are they within your marketing budget — but, more importantly, you have a lot of room to be creative with the design elements. Whether you wish to retain the ceramic item's original vibe, or simply adding on more details to elevate its final look-and-feel — there's really no stopping you.
Selecting matching tableware (dinnerware), to many consumers, is like a constant interest to complement their household decoration — making these durable and elegant items fantastic promotional gift choices for businesses and brands alike. Image source: Isa Zapata, Bon Appétit
Regardless of the purpose, may it be promotional gifting campaigns, or exclusive spend-and-win redemption giveaways, featuring a selection of other daily essentials that promotes a sustainable lifestyle, let's take a look at some of the following GWP campaigns with interesting ceramic promotional gift ideas that echo practicality and durability, at the same time reducing plastic waste.
Festive-themed GWP ceramic dinnerware
The many different types of festivals are a great opportunity (or reason) to boost your brand presence and even sales. Be it families or individuals, everyone needs kitchenware for daily use. This is the time to connect with your customers through heart-warming and homey promotional gift items like dinnerware, glassware, cookware or tableware.

The following GWP examples present a plethora of ceramic-made dinnerware and kitchen accessories that are not only pleasing to look at, they are both practical and sustainable, too.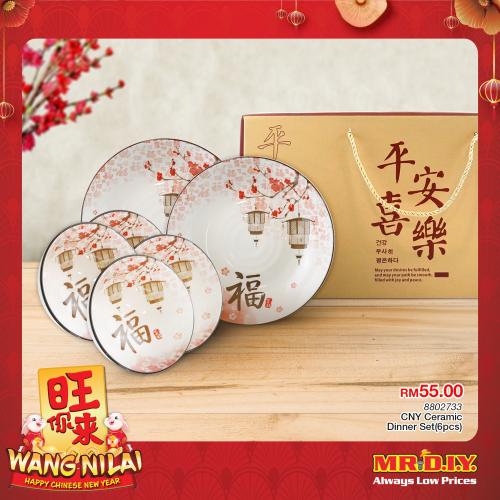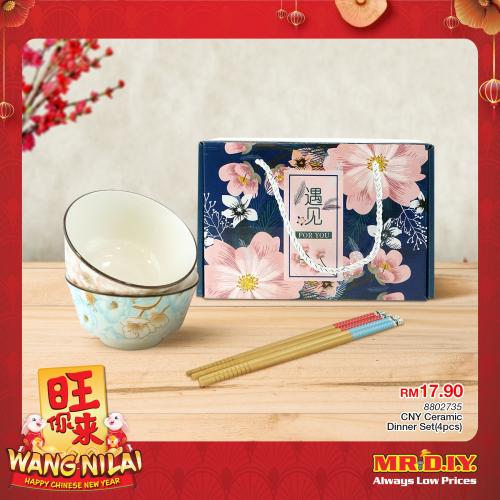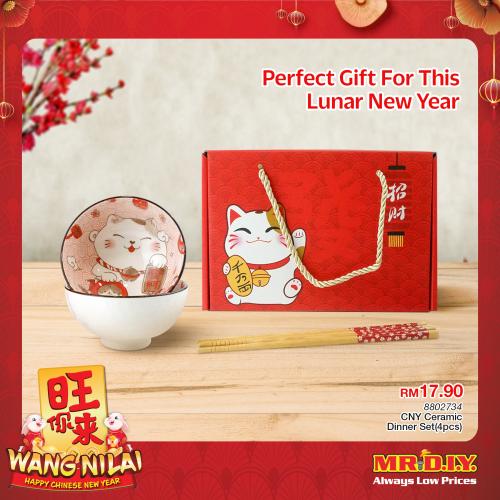 (TL–DR) With creative designs and elements added onto a simple, minimalistic bowl or plate, furnished with a gorgeous box set — and you have yourself an elegant and exclusive collectible dinnerware set to impress your customers. Image source: Mr.DIY/Facebook

We all know the market is full of different types of bowls and plates — from the different shapes and sizes to colours and designs. Take the recent Lunar New Year festivity for instance, many dinnerware sets come with creative designs and elements added onto simple-looking, minimalistic bowls or plates. Complemented with a matching pair of chopsticks, furnished with a gorgeous box — and you have yourself an elegant and exclusive collectible dinnerware set to impress your customers.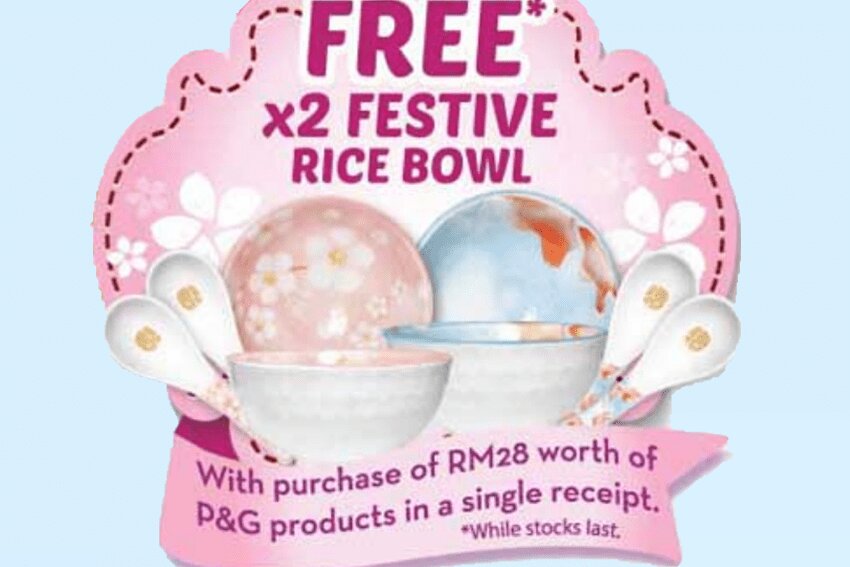 Festive ceramic bowl and spoon set from a promotional campaign by P&G. Image source: P&G/Giant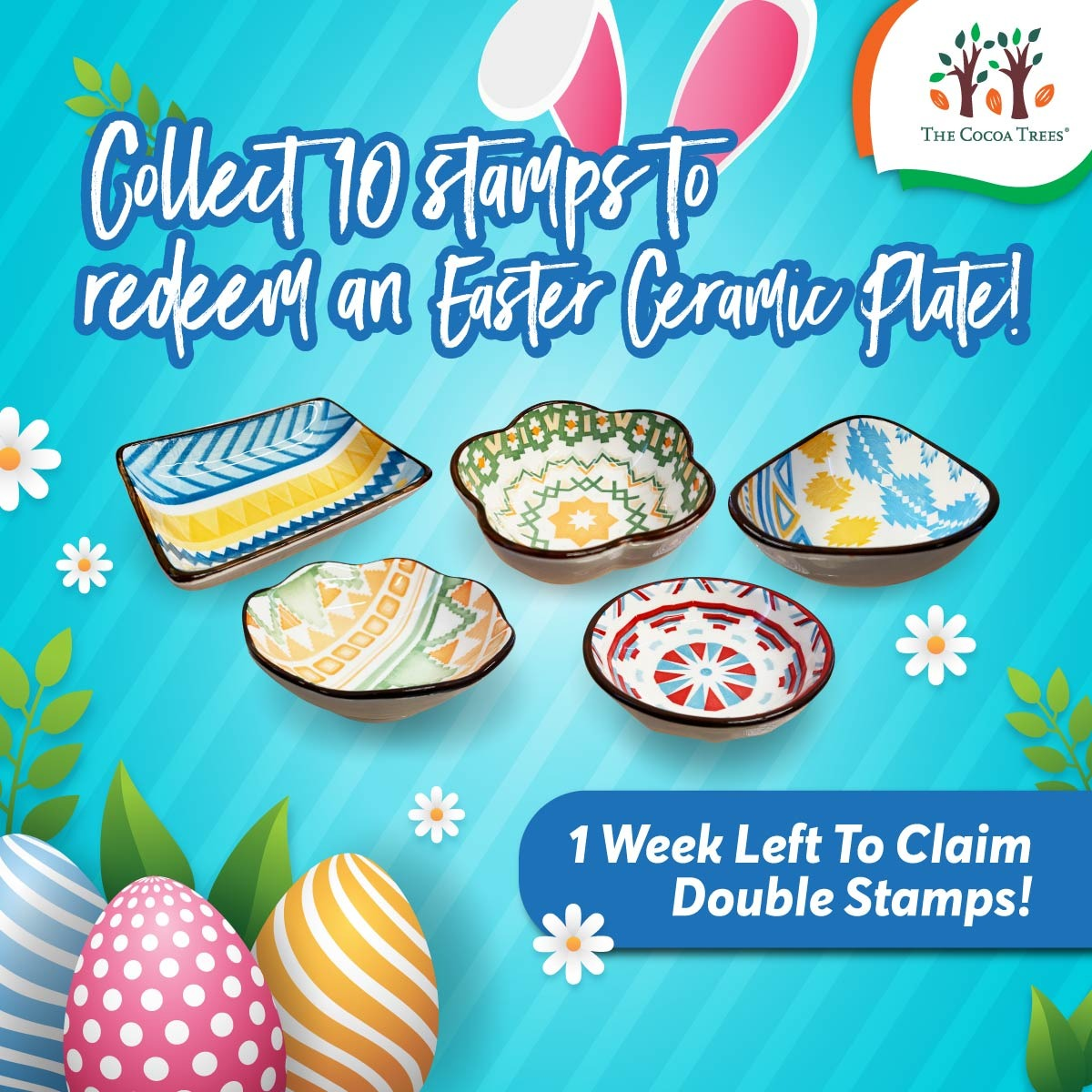 Multi-coloured, exquisite ceramic plates of assorted designs and shapes are a good (motivation) reason for customers to spend more and redeem the full collection. Image source: The Cocoa Trees/Facebook

Fundamentally, the biggest driver of customers 'sticking' to your brand is 'decision simplicity'. By offering trustworthy information tailored to your consumers' needs, thus helping them traverse the purchase path more quickly and confidently. The whole idea of keeping your customers is to keep things simple.
For instance, a simple 'spend-and-collect' promotional campaign that offers eye-catching, good quality redemption gifts would motivate a product's repeat purchase among consumers, and more likely, to be recommended to others. What consumers want from marketers is, simply, simplicity.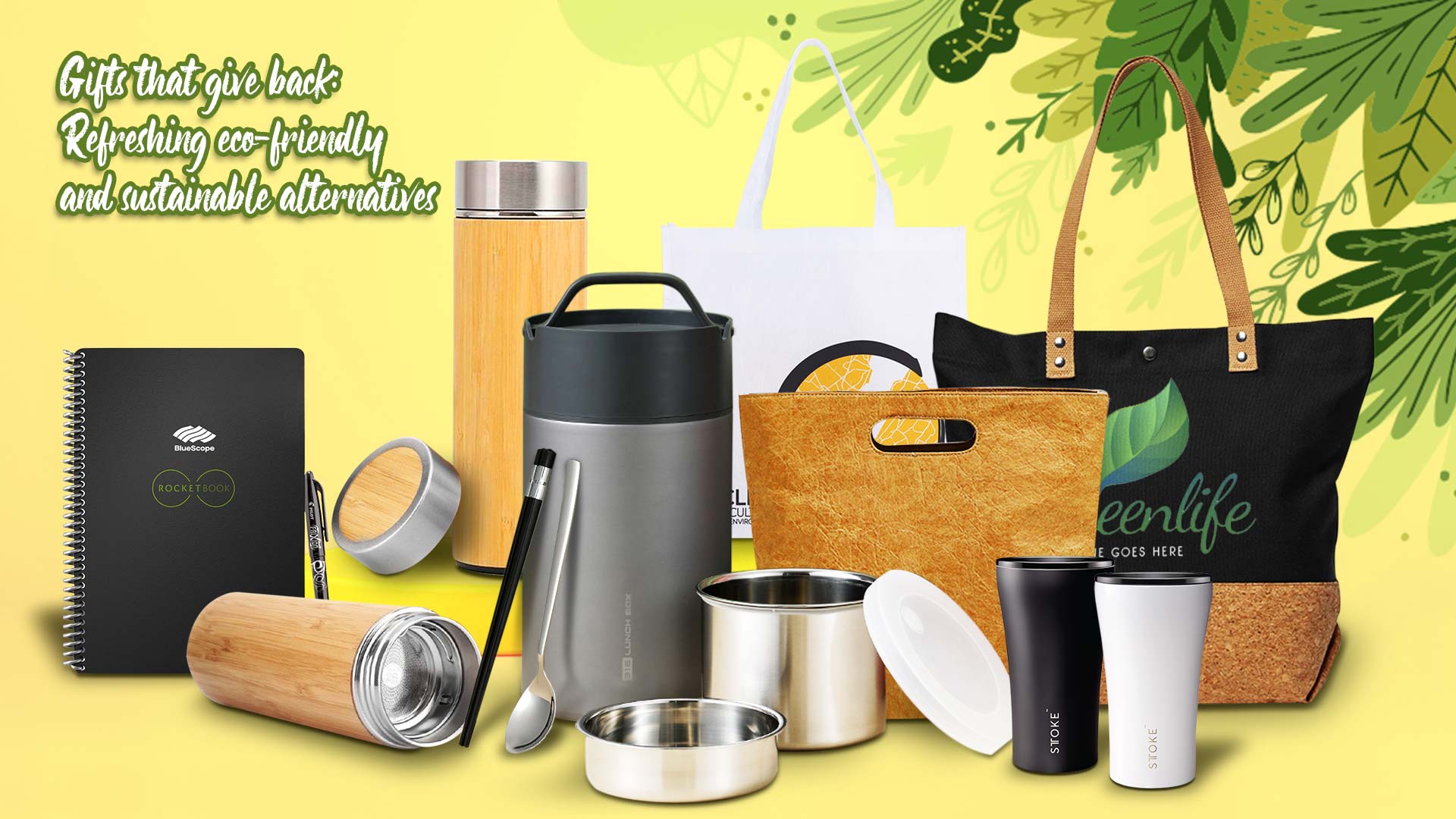 Apart from ceramic, there are other green and eco-friendly materials to choose from for your promotional gift items. Get inspired by the creative and elegant products and gift ideas in "Refreshing Eco-Friendly Alternatives for Your Corporate Giveaways and Event Gift Ideas". Boost your brand's sustainability message throughout your marketing campaigns as you express your customer appreciation in the most thoughtful way possible.
Impress your customers with restaurant-quality ceramic cookware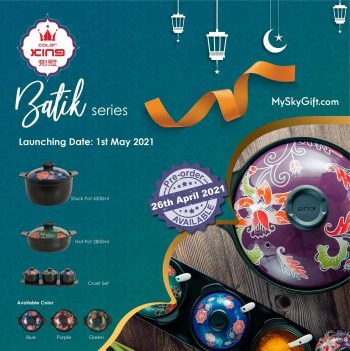 Adding batik elements onto the lid of an otherwise simple-looking ceramic pot brings a whole new flavour to the cookware, further elevating its entire design and visual presentation. Image source: TBM/Everydayonsales.com

When compared to stainless steel, ceramic cookware offers the benefits of high-heat searing and coveted non-stick properties. Some are made from clay, baked in a kiln and glazed, but the majority are metal glazed with ceramic. A regular ceramic cookware may look 'typical' or 'expected' — if it's not black, it's of an earthy brown shade. You will be amazed by just a play of colours and shades, whether it's on the lid or around the body exterior of the cooking pot — the final outcome will drastically elevate the ceramic pot's visual impression and entire look-and-feel.e as frequently as possible is always a wise choice. This is an opportunity to inspire with an eco-friendly gift that is not boring — but is actually creative and useful; something that will surely stand up to daily use (regardless if it's at home or in the office.)
Take the ceramic cooking pot from TBM, for example. The designer has brilliantly added batik elements onto the lid of an otherwise 'simple-looking' ceramic pot — bringing a whole new flavour to the cookware, further elevating its overall design and visual presentation. Presenting such high-quality and sophisticated ceramic cookware to your customers, as a way of appreciating their patronage and continuous loyalty toward your brand, would surely enhance your brand image.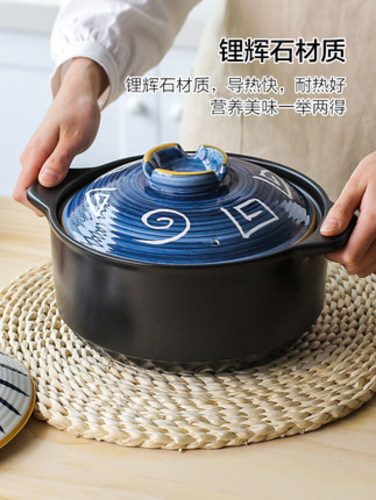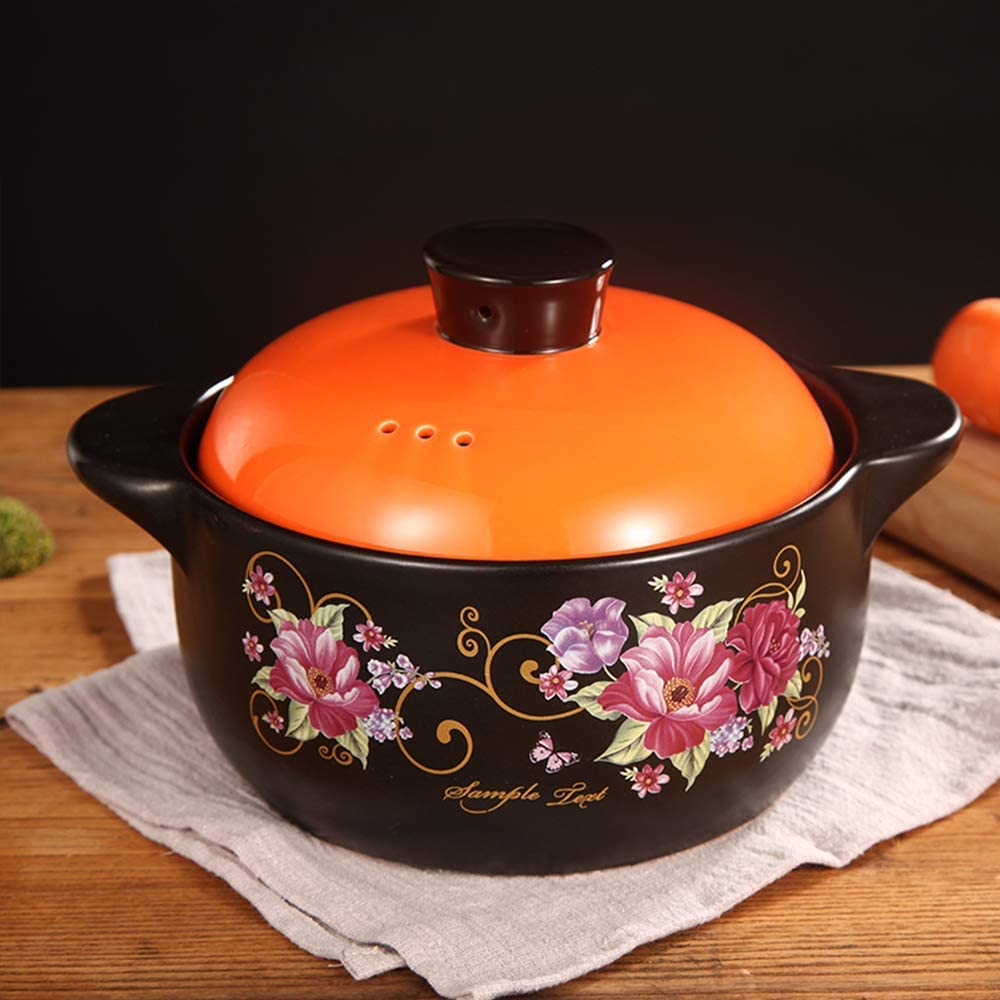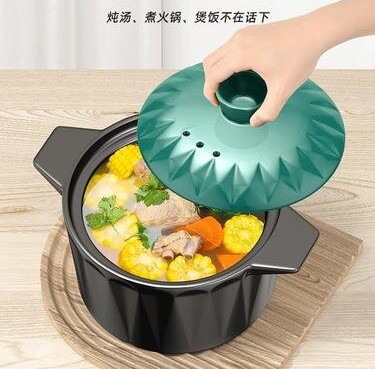 (L–R) Adding different design elements onto the lid of an otherwise simple-looking ceramic pot brings a whole new flavour to the cookware, further elevating its entire design and visual presentation. Image source: Blackfree, Korea/Amazon

Do you know?
Ceramic products with any printing treatments — for instance, gold electroplating designs and gilded rim (gold or silver rimmed) — are not advisable or safe to be used in a microwave. This is because when the metal components come in contact with heat, they can produce small arcs of electrical discharge: flying sparks. Similarly, dinnerware with such finishing is best hand-washed and to avoid the dishwashers — to prevent the hot water from tarnishing the fine details of the decorations.
Image source: Alibaba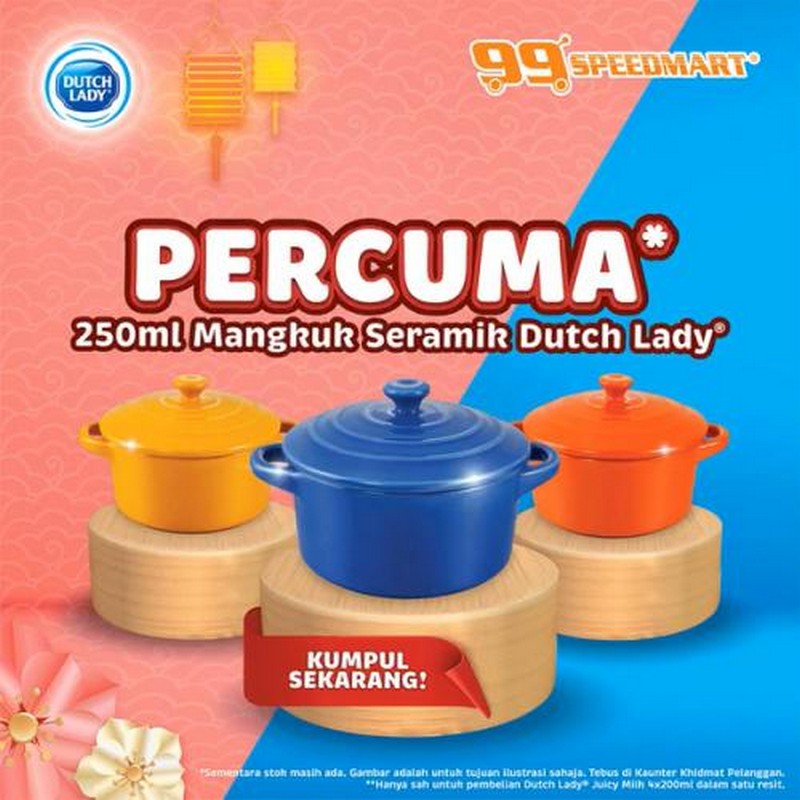 Choosing vibrant colours to regular ceramic pots will surely bring about a new cooking experience for your customers. Image source: Dutch Lady/99 Speedmart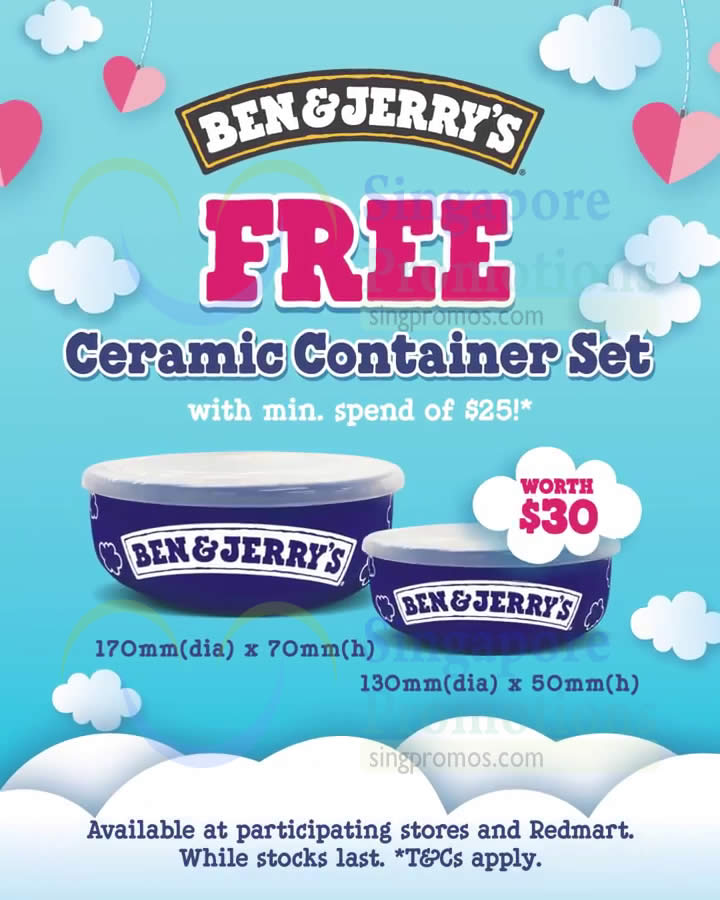 Less is more: Minimalistic design, but elegantly practical and useful containers like this never go out of style — or demand. Image source: Ben & Jerry's/Everydayonsales.com
Besides feminine floral or vintage batik design elements, not to forget the features of a lovable and cute character are almost always something that quickly capture the consumers' attention. Big eyes and head, small nose and lips, with chubby cheeks. Trust us, these features are simply too cute to handle, your customers just can't get enough of.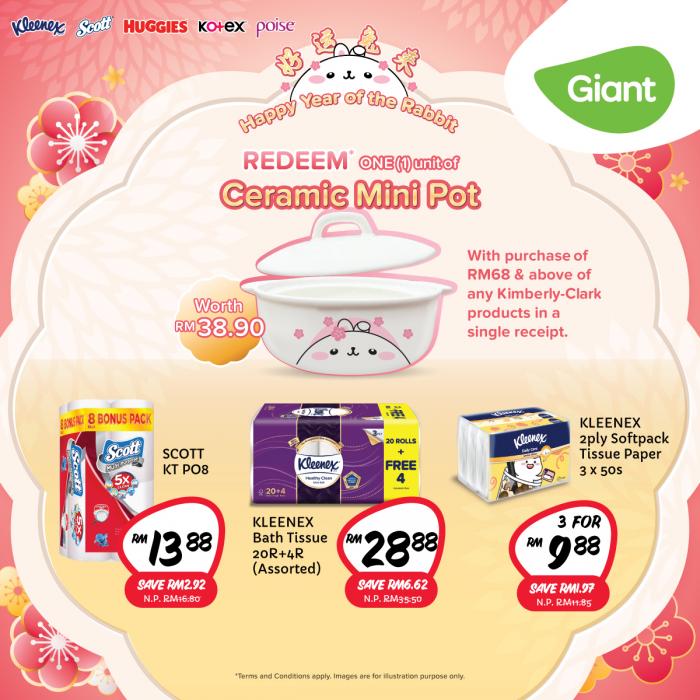 A cute and adorable design is always popular and eye-catching. Such elements can impactfully boost the success rate of your promotional campaign, e.g. spend-and-win redemption, or loyalty programme. Image source: Kimberly Clark/Giant/Everydayonsales.com
Adding a simplistic aesthetic charm to your promotional ceramic kitchenware


In conjunction with the Year of Rabbit, you can always add some rabbit's features onto the mug's lid, to keep things relevant to current festivities. Image source: CBTL

Great design is like a great story — it's exciting, engaging, and compelling. In most of the promotional gift items we have seen or discussed in our blogs, you would have noticed that there are certain features or criteria about them which make them much sought after by customers. Practical, durable, exclusive. Not forgetting, an eye-catching design.
Most of the time, the original item comes with a very minimalistic and simple design. Nonetheless, upon including additional elements, for instance, an additional lid, or a different finishing treatment, or maybe an accompanying coaster or tray, or packaging — the final product now looks very different than before.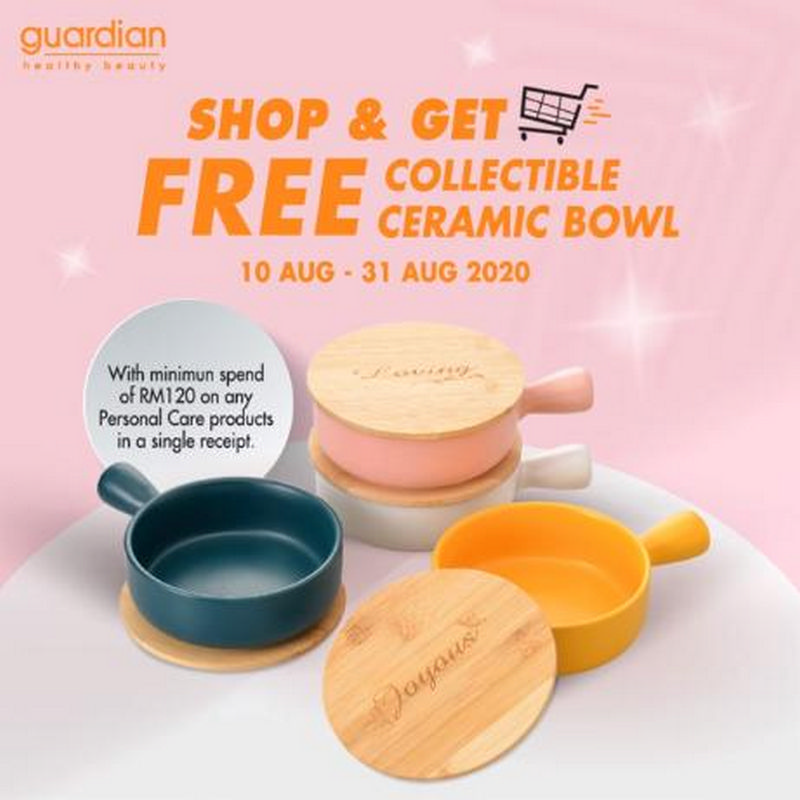 Adding a wooden lid to the ceramic bowl: A simple element (which is low in cost) like this will level up the total value, regardless of the impression or value of the item, in your customers' eyes. Not only that, the ensemble echoes an impactful go-green and eco-friendly message, through the material used. Image source: Guardian/Facebook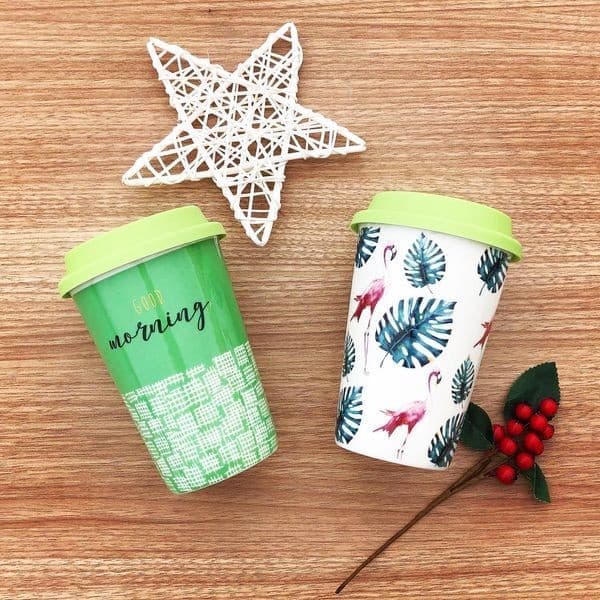 Incorporating a silicone lid — or even a sleeve — to your ceramic mug, by playing with a complementary colour choice, which will further accentuate the overall visual impression among your recipients. Image source: sg.everydayonsales.com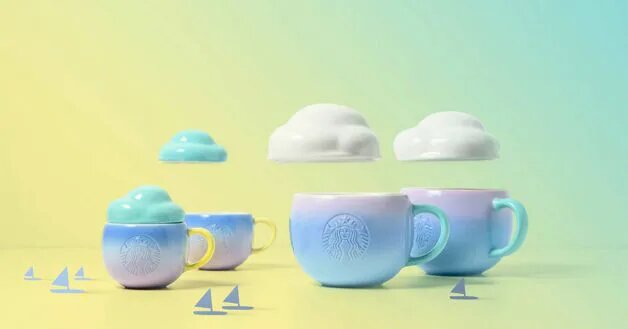 Creativity at its best: Sipping your morning cuppa in this cloud-hued ceramic Starbucks mug — accompanied by a cloud-like lid — will surely bring about much joy and wittiness to your coffee experience. Image source: Starbucks
Brand your selection of kitchenware with exclusive licensed characters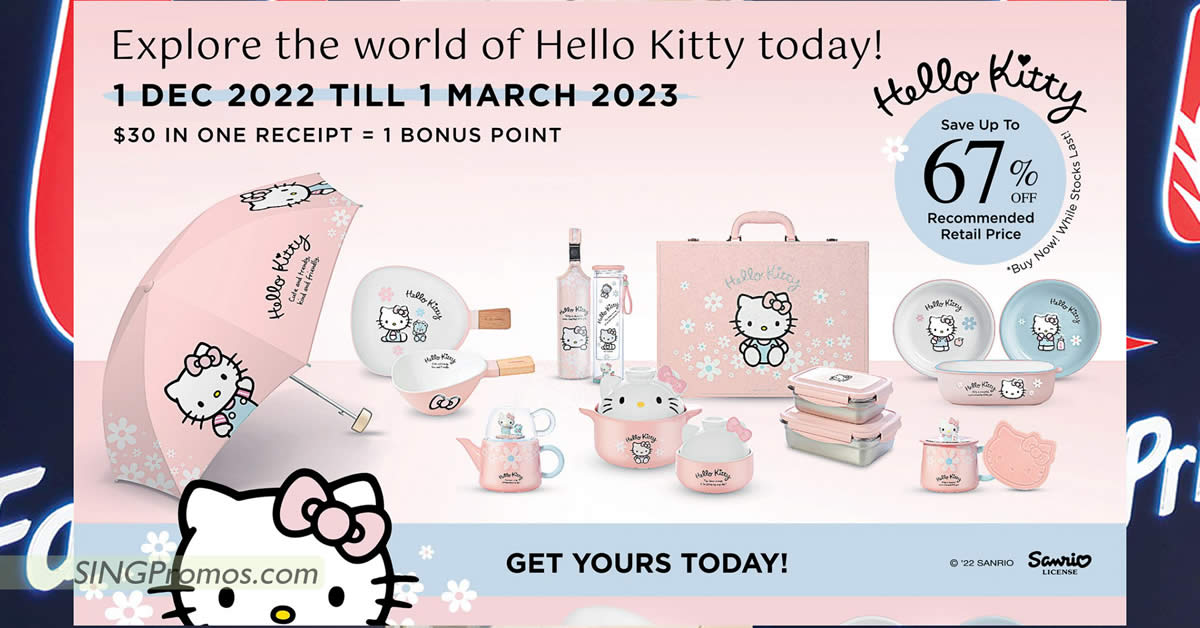 Licensed characters are great in boosting your brand presence. Due to their exquisite designs, customers often go after these collectibles merchandise when they are launched during promotional campaigns. Image source: FairPrice/Sanrio, Hello Kitty

We could all agree that adorable and witty design is always popular and eye-catching. Such elements can greatly boost the success of your promotional campaigns, e.g. spend-and-win redemption, or loyalty programme. For instance, the Hello Kitty redemption promotional gift and merchandise launched during a campaign by FairPrice present a series of exclusive 'must-have' kitchenware and daily essentials.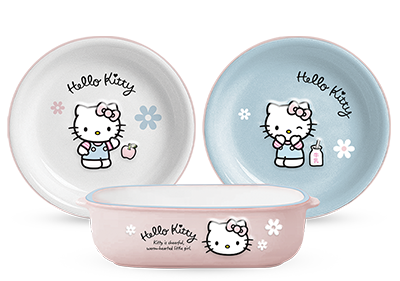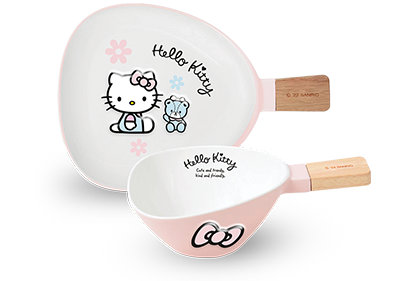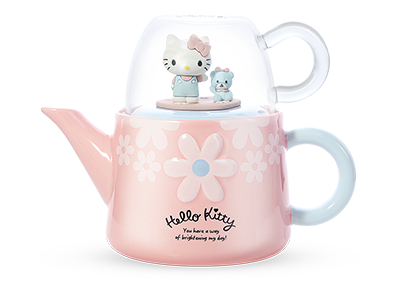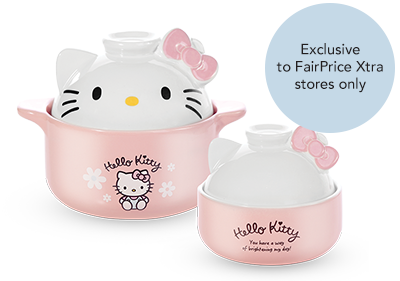 (TL–DR) From ceramic containers, to mugs and bowls, these delectable Hello Kitty merchandise are too adorable to say 'No' to. Image source: FairPrice/Sanrio, Hello Kitty
Although the latest Precious Pieces collection from Sanrio isn't officially a promotional gift item, these cute licensed merchandise products present some really interesting designs on its ceramic mugs with a lid that camouflages as a phone holder, too!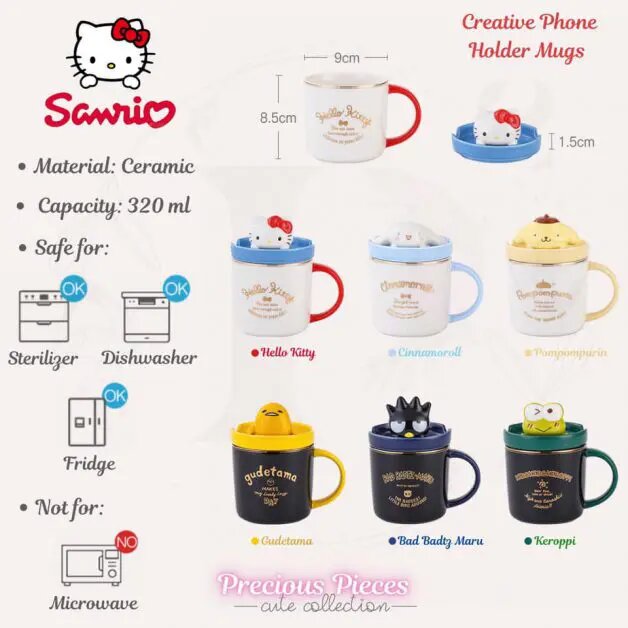 Creative phone holder mugs with cute Hello Kitty and friends winking at you. Image source: Sanrio/Hello Kitty/SingPromos.com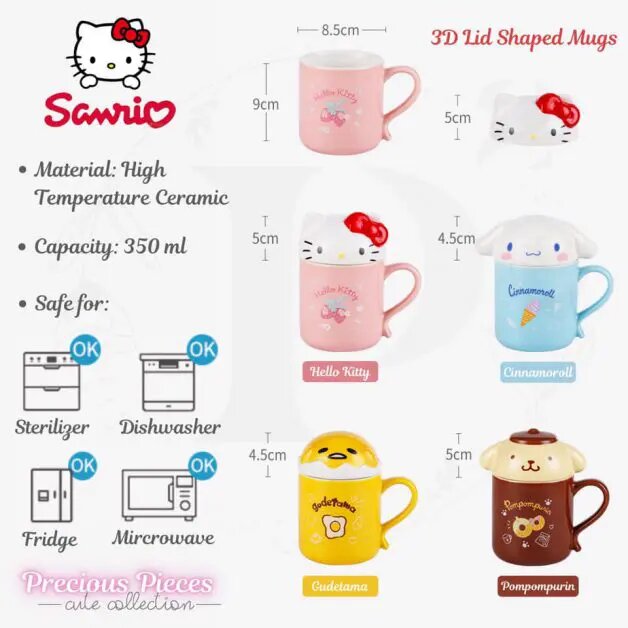 Adorable 3D lid shaped mugs that lift up your sipping experience every time you have your favourite beverage. Image source: Sanrio/Hello Kitty/SingPromos.com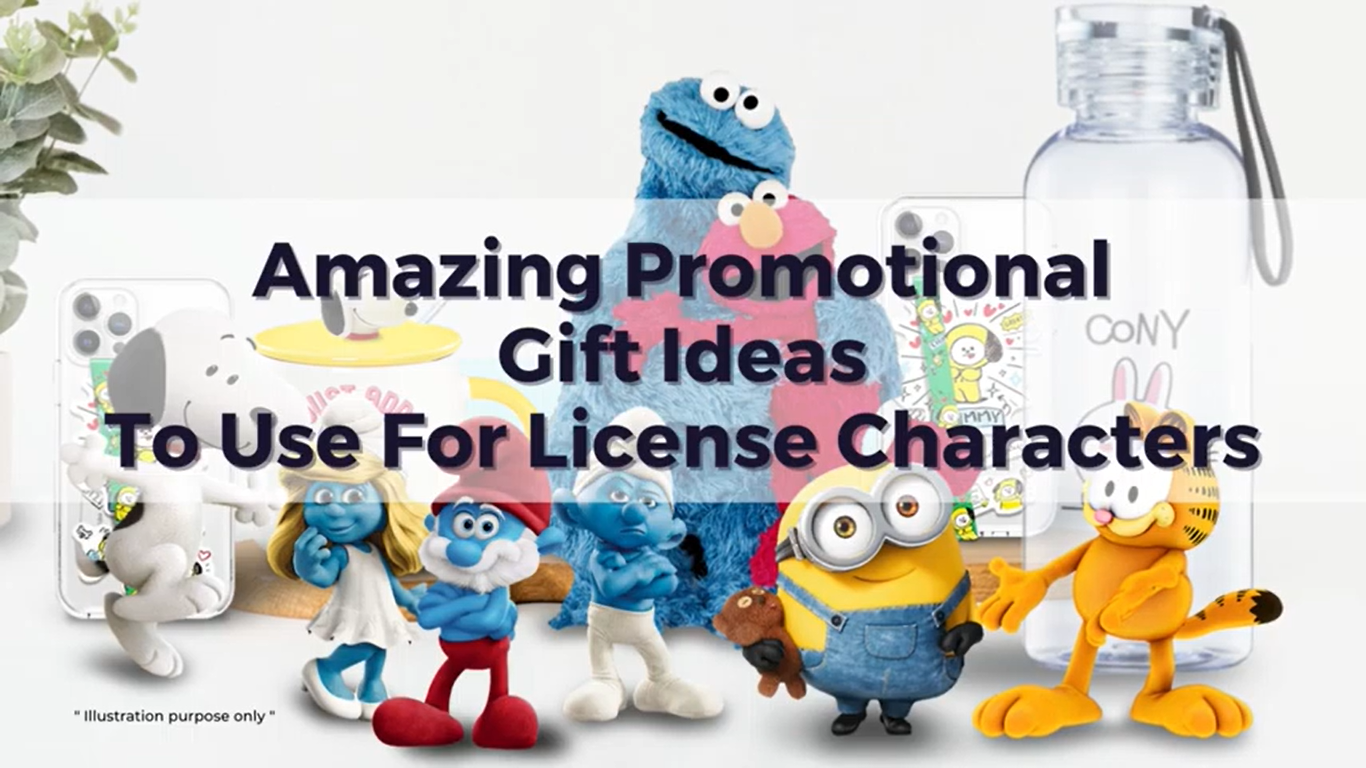 Incorporating the right character into your promotional gift merchandise and campaigns not only elevates the look-and-feel of your product, it also serves as an impactful boost to your sales figure. Let our extensive experience in promotional merchandise help you in your ultimate licensed character fulfilment. Get in touch with us today!
Another captivating GWP promotional gift idea which features some of the popular licensed characters is the following exclusive ceramic ramen bowl collectibles. Come in different colours and combinations of your favourite characters from Disney, Pixar and Marvel, these ramen bowls are up for grabs among the ardent fans or both ramen and these characters! Spend, redeem and collect.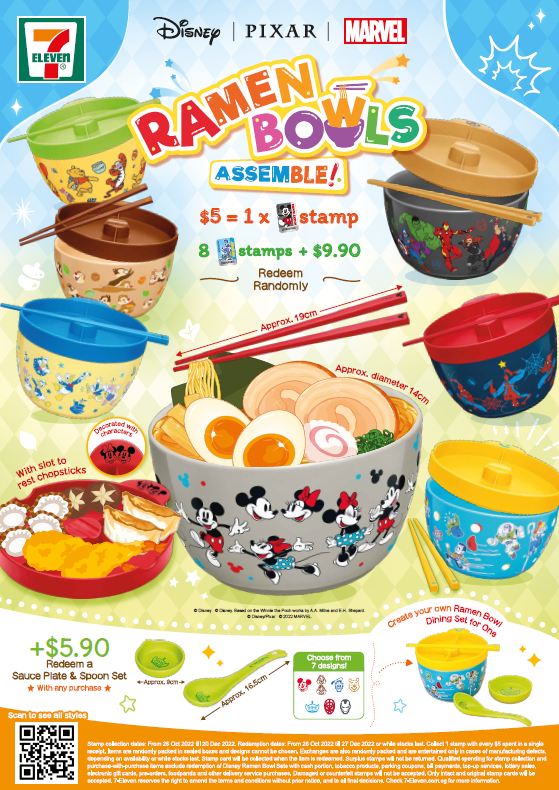 A mix-and-match feature that accompanies these ramen bowls, a series of licensed promotional gifts in a collaborative campaign by Disney, Marvel, Pixar and 7 Eleven. Image source: 7 Eleven, SG/Facebook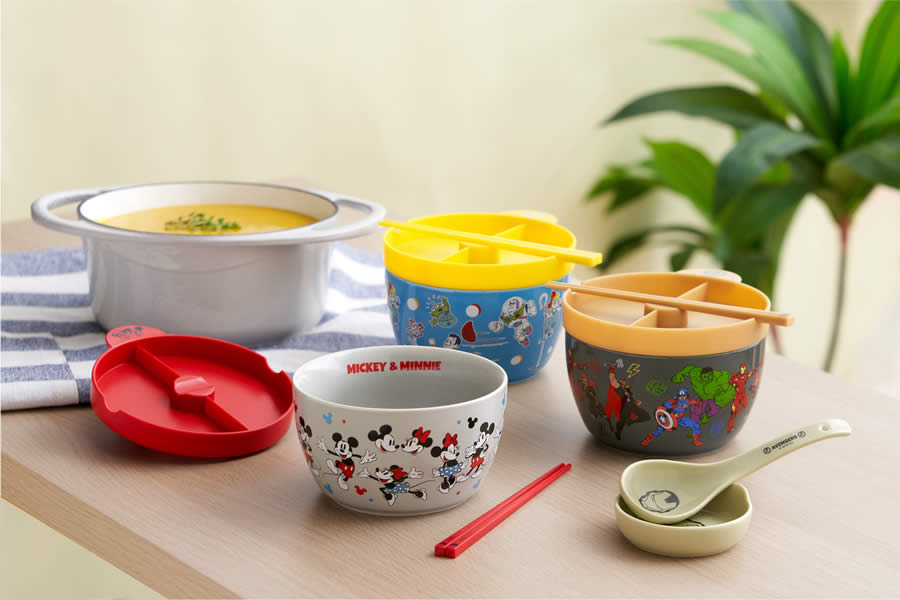 Image source: 7 Eleven/Great Deals Singapore
Closing Thoughts
What makes a good promotional gift product? We believe it all boils down to the design impact, functionality, representation, cost-effectiveness, as well as, material quality and product durability. Whether it's dinnerware to usher in the festivity with the best treats and feasts, or exclusive licensed promotional mug or bowl to add to their collection — we understand you are always looking for something distinctive, one-of-a-kind to enhance your brand presence and ultimately, elevating your sales volume.

There are endless ideas of gift products to explore with ceramic. If you'd like to discover more of these ceramic promotional gift ideas we've shared with you in this article, just put our team to work. Let us guide you along the selection process to achieve your desired promotional or gifting pieces.
Note: Cover image by DTC World with images for respective items sourced from Pinterest, AliExpress, Shopee.
Here are other promotional gift ideas to echo your brand identity through your marketing campaigns:
Darlie – Hello Kitty Thermal Flask

The Laughing Cow Ceramic Plate Set
Top 10 Eco-Friendly and Sustainable Gift Ideas for 2022
Cork-based Merchandise Gift: The Perfect Balance Between Practicality and Sustainability